On the metal-punk spectrum, there are a few holdout bands who choose one end or the other and dig their heels in, disavowing the opposite end. Most bands these days, though, hover somewhere between the points, calling themselves crossover, thrash, USDM, beatdown, metalcore, d-beat, or any other of the infinite permutations of the metal-punk marriage. There are a rare few, however, who force that linear spectrum into a horseshoe, taking the extremes on either end and bending them until they meet. Tooth and Claw is one such band.
As it did for many artists, quarantine proved an opportunity for these musicians to pursue a new creative avenue. Scott Crouse (Earth Crisis, Sect), Daniel Austin (Die Young), James Chang (Undying, Catharsis, Sect), and Cameron Joplin (Magnitude) took the forced break from touring as a window to start this powerful alliance of hardcore and metallic forces.
Multi-instrumentalist Scott Crouse says, "I had a few songs that I thought were worth something, but they didn't really fit with either of the other bands I do. I had always had in the back of my mind to ask Daniel if he would be interested in working on them with me, and when Covid hit, the excuse of 'not enough time' didn't really hold much water anymore. Thankfully, when I reached out to him, he agreed and the rest is history."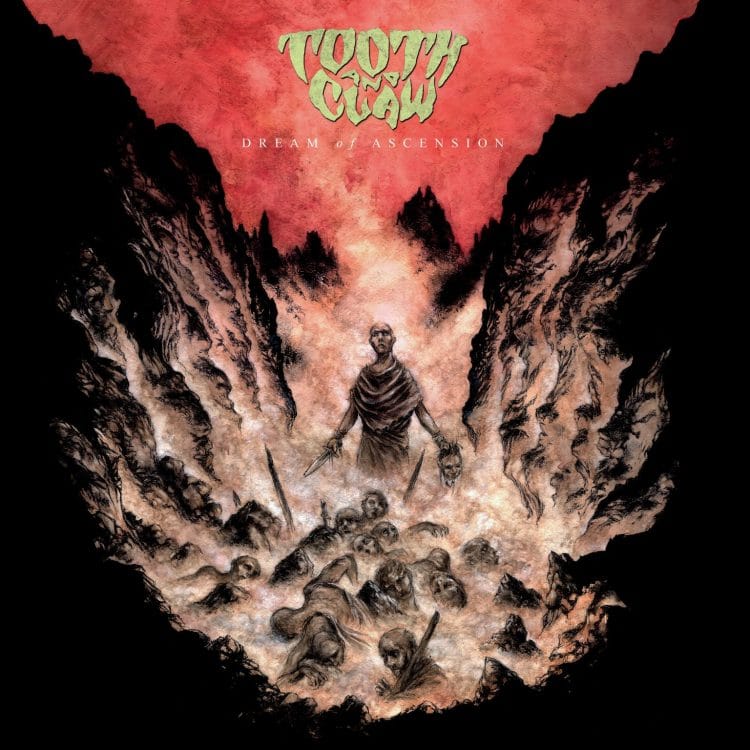 From the start of the title track, there is no question that this is a band of skilled musicians who have put in their dues and can walk into a brand new project with confidence and poise. Merging the suffocating death of Decapitated with the real-world, gut-felt aggression of Strife, Tooth and Claw joins bands like Black Breath, Iron Curtain, and Like Rats in blending the riffing versatility of death metal and the stage-diving, roundhousing energy of hardcore. It's no mystery about where their mastery comes from, with each of these musicians hailing from some of the most influential bands in their genres.
Regarding musical influences, Crouse says, "For me, it's not so much about trying to fit a genre or any specific influences. They're the same influences I have always had, but with Tooth and Claw I'm allowed to explore certain avenues of them musically that just wouldn't work with my other bands. Adding some subtle synth or orchestration allowed room for some more ambient moments which I really enjoy."
The hammer-ons and pull-offs as well as the chanted lyrical sections in the immense and riff-heavy first single, "Your Crucifixion," are fitting considering the existentially poetic lyrical content. "Days like nails are hammered in/ Human filth crawls beneath your skin/ This is life, this is love/ Eternal circles that we're spinning in."
Vocalist Daniel Austin adds, "Lyrically, I wanted to come from a more primal place within rather than just a reactionary, angry kind of headspace. Both headspaces, the primal (or the subconscious), and the reactionary can be associated with aggression, sure, but to me, exploring the primal and subconscious parts of ourselves might yield more wisdom and balance in our lives than mere reactionary rage. I think the world has had enough reactionary rage for too long, and when I look around, so many people are just worn out. I've been worn out, too. I've had real personal problems, let alone the media blitz of murder, hate, and lies that scrambles our minds every day. We already live in the crossfire of real psychological warfare, so rather than say 'hey everybody, here is the issue and here is the solution' like the hardcore genre is wont to do, we felt it might be more fun and appropriate for the spirit of our era to just illustrate situations, feelings, or perspectives, and then let the listener/reader make their own meanings of the songs. Certainly, the songs all started with deeply personal experiences for me, but I tried to filter them out to make them more universal and relatable to others. When I think of the masters who write (or wrote) in this suggestive manner, I always think of Leonard Cohen. He was just existentially heavy and vulnerable at the same time. Sometimes his words crush you, bring you to both tears of joy or despair, or make you chuckle. And then within the more limited world of metal, I thought of bands like Neurosis and Paradise Lost, who don't always spell out exactly what they are pointing to in their songs, but they draw on deep archetypal, symbolic themes, and then leave it to you to feel your way through the experience of the song. I hope I achieved a sliver of the felt response those masters bring to mind in their works."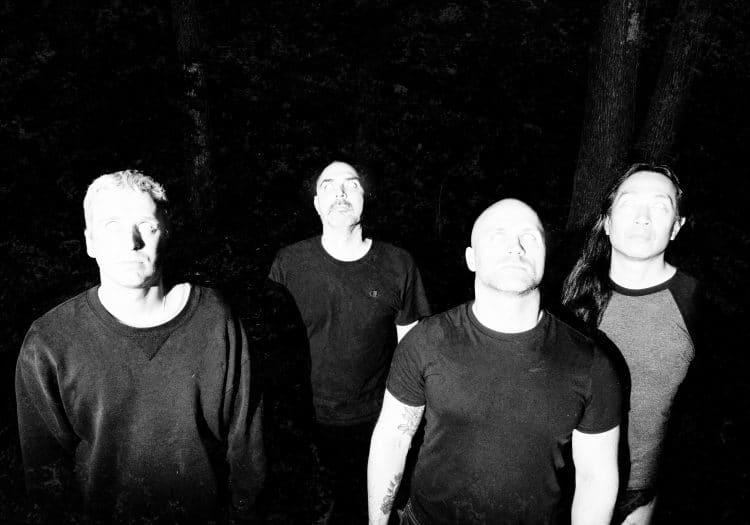 Daniel Austin's lyrical compositions certainly possess the qualities of some of metal's best lyricists. Specific but universal, the personal and often-dark meditations in these words are familiar with anyone who has tangled with existential angst, with meaningless suffering, with unanswerable and urgent questions. Like the work of good poets, Austin's writing can be an inkblot test for the invested listener, an aural image onto which they can project their own personal meaning. He continues, "I'd say the lyrical content all started out from deeply personal places within myself based on experience. But I didn't want to just write about me and my own opinions. I wanted to write about psychology, coping, healing, making sense of the mess of consciousness. Given what's going on in the world on a wider scale, I think all those personal themes can still apply. It's fair to say the ideas in these songs can work on the micro and the macro lens, and leaving that ambiguity was absolutely intentional."
While the musicians in Tooth and Claw have been in important bands for long enough that they themselves are often cited as influential artists for newer bands, and while the songs on this album are their own beasts, on the cutting edge of especially heavy metallic hardcore, it is tempting to plumb for similarities to classic forerunners of this genre. There are sections of the excellent "Time's Arrow" that sound like "Blackened" if it were written by Dismember, and the fleet fingers on the chorus of "Arrival" remind one of post-Necroticism Carcass.
On the band's approach to writing the songs for this new band, Scott Crouse says, "It was similar to how the other bands I'm in write actually. I did the bulk of the music at my home studio and then I sent the songs out to the other guys for their input. I had been working that way pre-pandemic for the most part so it wasn't all that different really. Usually, there is a point where we all get together for drum tracking and vocals, but this time we just all worked remotely and communicated via text, email, or phone call if we wanted something changed or had an idea."
Daniel Austin continues, "I just let Scott work his magic musically. Then I did my best to just capture the feeling lyrically and in the vocal performance. Basically, I tried to not ruin the greatness of his riffs. Also, he was trying some new things musically, so it inspired me to try some new thing vocally that I never did in Die Young before. I am really happy with how it all came out, as well as the doors it opened for us to try more things down the road."
Second single, "Seventy Times Seven," is a highlight in an album full of them. It is dynamic in its highs and lows, with subdued, haunting arpeggiation accompanied by dark prayerfulness exchanged for cathartic metal militarism. This is a band demonstrating that its musicians not only have explored a range of metal styles, but that they can call upon them at will, and they use them as rapiers and war hammers to attack in varied ways.
For a band whose previous projects have laid the groundwork for many of today's musicians, Tooth and Claw are especially suited not only to up the ante at the heavy music betting table–which Dream of Ascension does so well, daring any band to outdo them in songcraft–but also to comment on the state of music today.
Crouse says, "I feel like it's the same as it ever was. There are some great bands pushing things forward, and then there are even some great bands who are just paying tribute to things that have already happened. I don't really hate anything, it's all just music so no point in getting mad at it. It's supposed to be a good time!"
Austin continues, "I think the music world is just like the real world at large–sure, it might seem like there is a ton of garbage afloat, but there's more music available than ever before, and likewise, there is probably more great material to check out than ever before, too. So yeah, like Scott said, keep it fun because it is supposed to be fun. The older I get the less I try to be reactionary and cranky about the stuff I don't like. On to the next good thing!"
Their open-mindedness translates into an album that blends the musicians' backgrounds smoothly into something entirely, not only for them but for the world of heavy music. Never rejecting an idea because it doesn't fit into a certain label, the band has composed an album of songs that both become instant favorites and require repeated listens.
Dream of Ascension is an instant classic and will find eager listeners everywhere.
In closing, Crouse says, "We are very proud of the record, and we are looking forward to playing live and also working on new songs when the time is right!"