Time to Die Again: DEADFEST 2015 Full Line-up Announcement!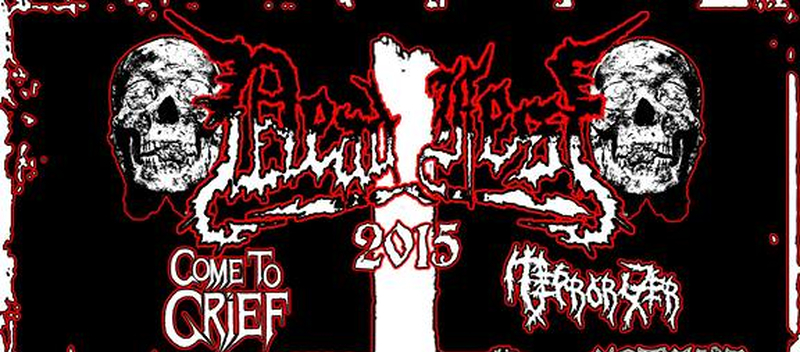 Welp, it's that time of the year again; that time in which we announce to you that the raddest DIY, no bullshit, 100% independent metal and punk fest of the year is happening again. And of course, once again, DEAFEST is packed to the fucking roof with a TON of awesome crust, grind, doom, powerviolence, sludge, death and black metal bands and beyond.
DEADFEST 2015 (click link to RSVP) will happen once again at the Oakland Metro Opera House in Oakland California, and will only be 20 bucks per day. Now feast your eyes on this bitchin' lineup below, that, by the way, includes Noothgrush, Nausea, Capitalist Casualties, Gehenna, Terrorizer and (drum roll)… a reunited (version of) GRIEF!!!
COME TO GRIEF (MA/NH)
Terry Savastano/Guitars (Martyrvore/Goat felch /Founder of Grief ex-Disrupt ex-Warhorse etc.) Rick Johnson/Drums (ex-Grief ex-Slugpuncher) Ken E. Bones/Guitars and Vocals (Negative Reaction) Justin Christian/Bass (ex-Morgion ex-Keen of the Crow) Will be performing mostly early Grief material ( First 7″, Dismal 12″ Come to Grief LP)
With:
TERRORIZER (LA)
NAUSEA (LA)
CAPITALI$T CASUALTIES
NOOTHGRUSH (OAK)
EXCRUCIATING TERROR (LA)
ENDLESS DEMISE (LA)
CRETIN (SJ)
STAPLED SHUT (LA)
CLOUD RAT (MI)
CATHETER (CO)
LAUGHING DOG (NM)
BACKSLIDER (PHILLY)
SORROWER (AZ)
CAVE STATE (LA)
DOPE RUNNER (CO)
PRIMITIVE MAN (CO)
MASS GRAVE (CANADA)
GEHENNA (RENO/SF)
ABSTRACTER (OAK)
BADR VOGU (OAK)
HAGGUS (OAK)
FUNERARY (AZ)
WORTHLESS EATERS (PDX)
YOUR ENEMY (OAK)
ARGENTAVIS (SANTA ROSA)
XHOSTAGEX (OAK)
CHURCH (SAC)
FOLIVORE (SANTA CRUZ)
WAKE (CANADA)
VASTATION (PDX / X-NIGHTNURSE)
FEIND (FRESNO)
DEATHGRAVE (SJ)
DREAMING DEAD (LA)
DEAD ISSUE (LA)
DEAD CONSPIRACY (PDX)
LOGISTIC SLAUGHTER (LIVERMORE)
REALITY SHOW (FINLAND)
BIO CRISIS ( MEXICO)
USNEA (PDX)
AGE OF COLLAPSE (SD)
NEGATIVE STANDARDS (OAK)
HORRENDOUS MISCREATION (CANADA)
TRANSIENT (PDX)
ENDORPHINS LOST (SEA)
Enjoy this post? Donate to CVLT Nation to help keep us going!