THIS IS AUSTIN, NOT THAT GREAT Vol 4 Fest – March 2nd-5th, 2023 get tickets here!
Austin, TX, LIVE MUSIC CAPITAL OF THE WORLD.
Well, kinda not really so much anymore. For decades, it was defined by the independent-friendly, widely popular SXSW music festival. Legacy acts in country, blues, indie rock, and more got their start playing around town. More importantly, it's had waves of a healthy punk/hardcore scene since the 1980s. Punks, metalheads, and hardcore kids of a certain age from all over fondly remember the days of saving all your money to drive or fly down to Chaos in Tejas in the 2000s and early 2010s, arguably the culmination of aggressive music in Texas and one of the best fests in the country for its time. CiT was often the only place to see legendary international hardcore and punk bands in the states back then. If you got to attend or play, you were witness to something very special.
Of course, every heyday ends, and something else has to begin. As the city grew, things took a turn in Austin. SXSW has largely become a corporate junkfest that doesn't offer much in the way of exposure and is now mostly known for branding and underpaying talent. ACL is for people who want to go to Coachella but also go shopping on South Congress. It's just business, it's what happens in a city that grows exponentially every year. Levitation and Oblivion Access keep a candle burning for locals but are understandably focused on showcasing out-of-town/international artists that will move tickets. Smaller DIY venues open and shut in less than a year sometimes and musicians are increasingly getting priced out.
Enough shoe leather; Enter Juan Carlos. Born and raised in Austin, he's been playing in bands since he could start one. He immediately realized that in order to have a punk scene, you have to make it happen yourself. It seems like a no-brainer, but over and over you see hardcore/punk/metal scenes die all over the country simply because members of a couple bands move away, or a venue closes, or someone stops booking because it doesn't pay much. Juan Carlos has always found a way to come up from setbacks and put on for his hometown. The simple formula of booking bands he meets on tour, trading contacts, and pushing younger bands on the public has helped keep the hardcore punk scene in Austin vibrant for the past decade. 
In a logical step, a few years ago he decided to cultivate his contacts and sway with local venues into a weekend punk fest. THIS IS AUSTIN, NOT THAT GREAT is now in its fourth year. The event has expanded to multiple venues, day/night/after shows, and even showcasing artists outside the immediate realm of aggressive music over the course of four days, just two weeks before SXSW descends onto the city this year.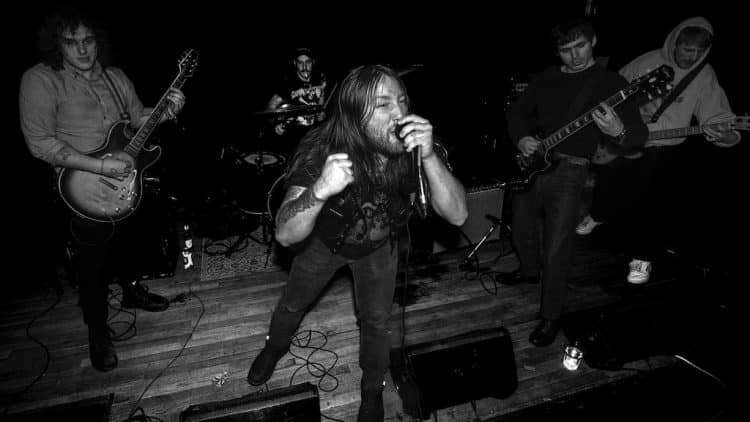 As someone who plays in, and also often manages and does crew work for touring bands/artists, what made you want to do a fest that's all your own? It's obviously a shitload of work. i.e. What makes you wanna spiral over this in particular?
JC: I've said it before and I'll say it again, I think the biggest driving factor behind making this fest happen is the Texas-sized hole left in all of our hearts with the absence of Chaos in Tejas. Trying to recreate something as special and meaningful as Chaos was for me as a young punk the end goal and reason I put myself through all of this. If more young punks can break out of their echo chamber of branded content and actually get exposed to a world of Punk, Hardcore, and Metal bands who really put in the work without paying some publicist to make them trend on tik-tok, and take influence from this, then I will feel accomplished. It's all about guiding the next generation in the right step, sonically, without being too elitist about it.
How has booking, promoting, and running the fest gotten easier?
JC: Over the past 3 fests we've been able to make a little noise and gain a little attention so I think it's been easier finding acts/artists who are eager/want to come to Austin for the festival. Also I've gotten a little better at time management and planning things more in advance. (Basically I've matured, slightly, in my organization). Most importantly I've had more and more friends able to pitch in their skills on things like stage managing, design and art, physically promoting, etc. I'd be nowhere without the homies (also shouts out to my mom for helping me with spreadsheets, budgeting, all the boring shit no one wants to think about)
How has it gotten harder?
JC: The most obvious thing I would say is the loss of clubs like Barracuda and the scarcity of mid-sized venues, the cost it takes to book them, and how far out they get booked. Because of this shortage, most venues and artists' tours are booked so far out in advance that it's hard to even know what will happen between the initial booking and the event. It's the same with DIY venues, it's a miracle that Pat from 523 Thompson has been able to get Club E up running and make it such a success, and I am so glad to be able to have after shows there. ​​Also, I know LiveNation buying up all the good venues and turning them into soulless corporate outposts for all the acts either managed or signed by the labels that fall under their private ownership umbrella has been a huge problem for every genre/scene in every city in the US and is THE biggest problem musicians have to face right now. It's gotten to the point where no matter what, the only people who make a profit after a show or tour are the venues or promoters.
How do you set yourself apart from the other punk fests across the country that have sprung up before and after TIANTG? What kind of voice are you trying to curate with the acts and events you try to put on?
JC: I think the biggest thing is that I'm not trying to book a punk fest for a certain demographic. I'm not trying to please the old heads, the record snobs, or the hype loving starter pack punks. I'm just trying to book acts that I love and want to see, acts that I believe are worthy of attention, and hopefully everyone feels so too. The other thing that sets us apart is obviously the kick off shows, having a completely different set of genres that has crossover in fans but not sound. I don't think any other punk fest can boast helping resurrect the career of a legend as prolific as Tommy Wright III.
What do you think needs more representation in Austin, or Texas as a whole?
JC: Youth in general. Not a lot of under 21 punk bands are still grinding. Austin does have some younger bands like Bosh, Molly Ringworm, User Unauthorized, etc, but we are sorely missing that youth revival of 80's American hardcore that we had in the aughts. I think in general, not just Austin, there's too many new bands that are comprised of borderline geriatric weekend warriors trying to relive their youth receiving all the hype instead of uplifting the ones who still have their whole lives ahead of them. No hate to the OG's but I just think after a certain point you're not "full of passionate rage" anymore you're just jaded.
What's something new for you/this fest that you're excited about this year?
JC: The newest thing is the expansion of the genres under the HCPM umbrella. Changing the schedule and fest layout to have "Main" shows helped me book different shows each day of the fest, like having Extreme/Black Metal/Grindcore acts like Antichrist Siege Machine, Miasmatic Necrosis, and Weregoat on Saturday and Thrash/Death Metal/Slam bands like Fugitive, Fleshrot, Sadistic Force, and Ozone on Sunday was something I always wanted to delve into, but on a year round booking basis it's kind of hard for me to pull off, especially with more qualified bookers in town. Nonetheless I wanted to make a show like this happen because I know punks still crave it.
What would make you stop doing this fest?(I ask this because I remember Timmy Hefner said he'd stop doing Chaos when he couldn't top it the next year and I figured you've thought about this sort of thing)
JC: I think I'd stop for the same reason Timmy did. If I felt like the final product wouldn't be better than the last year, then I wouldn't see the point. But hopefully this fest sparks even more amazing connections that lead to more good bands and it becomes its own self-sufficient machine with a synergetic cycle of inspiration, connection, and creativity.
Finally the easiest one: What are the bands/artists you're most excited to see this time around?
JC: Back to Back: A lot of people are coming out of mosh retirement for their return. I'm assuming we will have to relocate the Saturday and Sunday day shows because Chess Club will be nothing but rubble and ash after Friday.
Sociedad Bastarda: I've never seen them and I'm just so happy that a band this young and raw exists in this subgenre. I wish they toured more.
Invertebrates: Another band I've never seen who's releases are all killer and no filler.
Krigshoder: Never seen them and live shows are rare. I think the music speaks for itself. Easily top ten current HC.
Salvaje Punk: An amazing group who's live show is absolutely face ripping, raw and fast as fuck.
Prision Postumo: Absolute best lads who make punk fun without compromising the quality. Good street punk is maybe the rarest thing in punk in 2023.
State of Siege: A demo-core supergroup who is playing what I'm assuming to be their only show, with members of Nosferatu, Tower 7, Kaleidoscope, Straw Man Army, etc. Basically a hype band with none of the hype and all of the riffs.
Cartier God: I mean not much to say about this absolute legend other than it will be a privilege to pay respects to someone who paved the way for a lot of music I love. Live Performances are EXTREMELY rare from him. And the whole lineup of the Kickoff show is just kinda crazy, I can't believe it's actually happening.
THIS IS AUSTIN, NOT THAT GREAT VOL. 4 happens March 2nd-March 5th in Austin, TX. Flyers below, and link to tickets under that. Don't fuck up.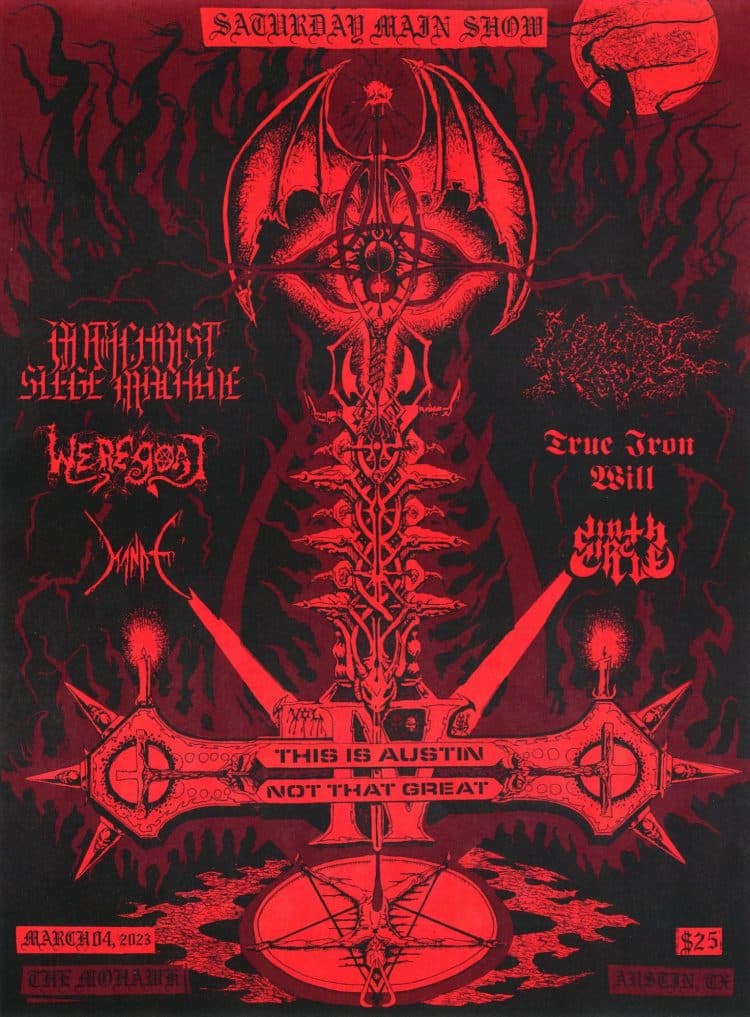 Tickets for all shows available here:
https://www.prekindle.com/events/this-is-austin-not-that-great