The Planet of Doom… Full-Length Stoner Animation!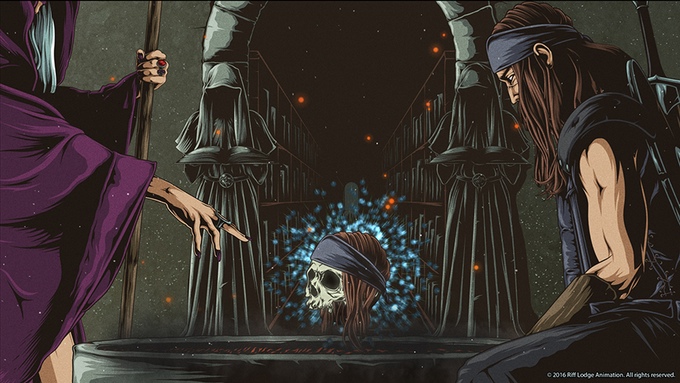 The name David Paul Seymour is no stranger to us, as we've been admirers of his artwork for a long time now. He creates scenes of psychedelic journeys through heavy metal wastelands, so it makes perfect sense that he is creating a feature-length animated fantasy/science-fiction/doom-fueled movie called The Planet of Doom. Seymour wrote the film and it was animated by the director Tim Granda (Riff Lodge Animation), and features some stunning visuals accompanied by the menacing sounds of CONAN, WO FAT, SLOW SEASON, DESTROYER OF LIGHT, THE WELL and many more sick doom and stoner metal bands. Tim Granda collaborated with artist like Seymour, Gorgeous George, Adam Burke, Skinner and a bunch more to create a movie that is serious fucking eye and ear candy! The currently have a Kickstarter campaign running to help them fund the release of the movie, which is currently set to 2018, so take a peak at the trailer below and get fucking stoked on how rad this movie is going to be. Now THIS is an animated movie I'll take my kids to! Fuck Frozen, it's all about The Planet of Doom!
The Planet of DOOM – Teaser 1 from Riff Lodge Animation on Vimeo.
The Planet of DOOM- Kickstarter April 11th from Riff Lodge Animation on Vimeo.
THE BANDS
ORCHID
PHILLIP COPE (KYLESA)
CONAN
MOS GENERATOR
WO FAT
SLOW SEASON
SCORPION CHILD
SUMMONER
THE WELL
ORDER OF THE OWL
MOTHER CRONE
DESTROYER OF LIGHT
GOYA
IRONWEED
THE ARTISTS
SKINNER
DAVID PAUL SEYMOUR
VANCE KELLY
JASON CRUZ
ALEXIS ZIRITT
ADAM BURKE
MAARTEN DONDERS
TONY PAPESH
SCOTT TRERROTOLA
SIMON BERNDT
BURNEY
GORGEOUS GEORGE
BRIAN PROFILIO
NICHOLAS COLEMAN
TIM GRANDA
Enjoy this post? Donate to CVLT Nation to help keep us going!