Hardcore has never been apolitical. A righteous anger has fueled bands like Bad Brains, Dead Kennedys, Youth of Today, Earth Crisis, Refused, and Los Crudos ever since the term "hardcore" was being bandied about. Unfortunately, injustice is no fad, and the same indignation that was an engine for angry punk in the 80s and 90s continues to drive bands like Racetraitor, Closet Witch, Redbait, Soul Glo, Incendiary, Brother, and of course, Faim.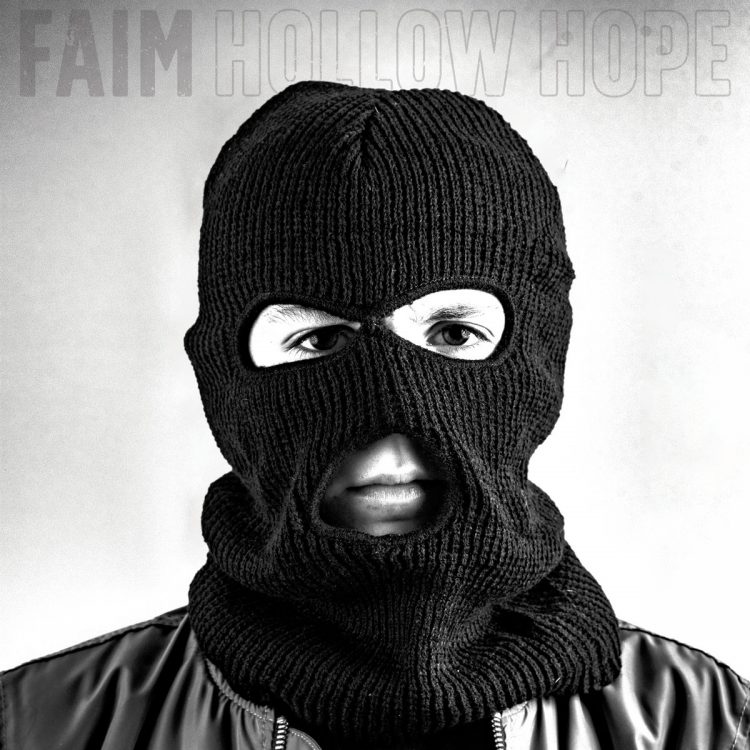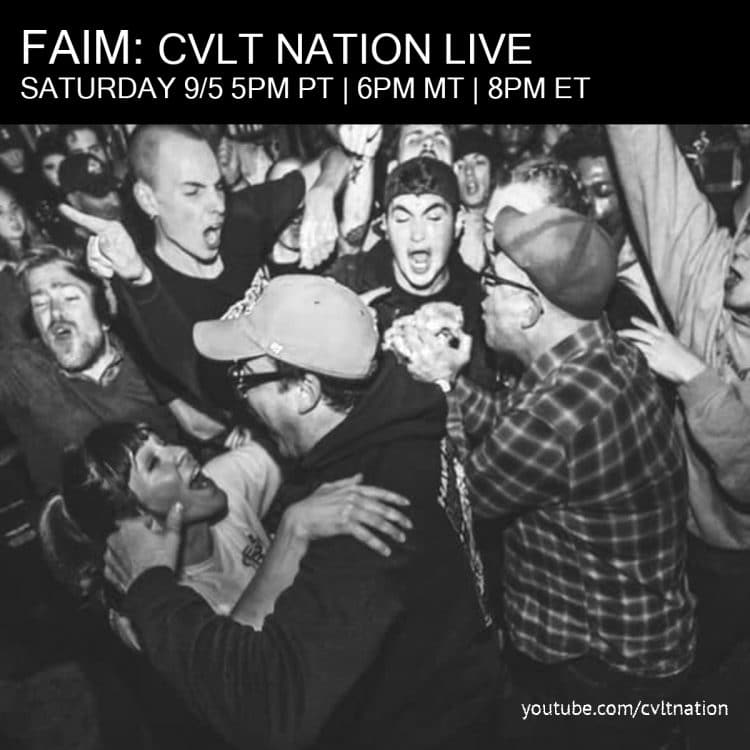 It's taken Denver hardcore cadre little time to establish a reputation as one of the most powerful rising voices in political hardcore, and in times like these, their voice is more vital than ever. With civil unrest growing over the no-longer-ignorable injustices that occur daily, Faim and other like-minded bands serve as mouthpieces for the people, as a voice for the voiceless. While it is arguably irresponsible for a band (especially a hardcore band) to put out a record that fails to address the state of the world, there is nothing calculated about Faim's message. This isn't a trend. This isn't a bandwagon. This is a band who demands that you attend to the blood being shed on your very sidewalk.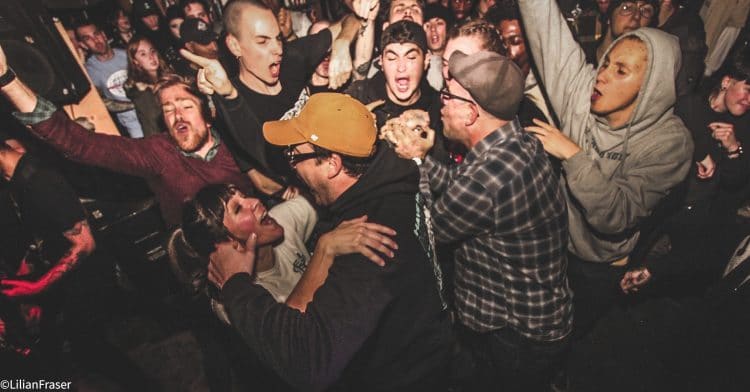 As with the best hardcore songs, many of the songs on Hollow Hope work on multiple levels. "Cheesman Park," the throat-raking, chest-pounding album opener, boils over with anguish over inescapable problems and unanswered questions. "Running from things I can't hide. Will the sun ever rise? Will it ever out alright?" Whether they interpret this as a lamentation over internal struggles like depression and anxiety, or whether they see it as a cry of frustration over the seemingly-eternal inequalities that plague humankind, they can find in this song therapy, motivation, and catharsis.
The Blacklisted-style metallic hardcore of "Rain City" and "Sleep" continue the theme of desiring to escape that which can't be evaded. "How can I find peace and quiet?" and "2:18 and I can't sleep" are lines that should be familiar to anyone awake and aware. In these songs, in the words of the '60s student and feminist movements, "the personal is political," and strife of the self is reflective of strife in society. How can anyone rest at a time like this?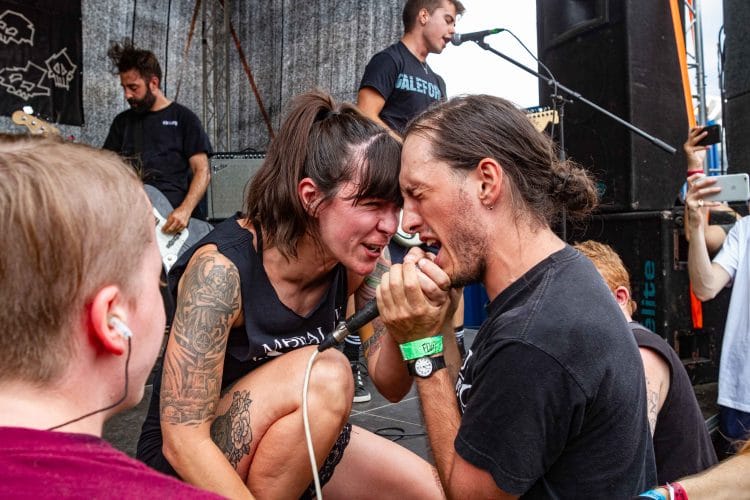 The galloping hardcore of "Division Ave" finds the band's vitriol directed more specifically at decades-old structures that are built and maintained to perpetuate racist power structures in place, at policies and systems like redlining and mass incarceration. The dueling vocals give the impression that vocalist Kat is some fiery union leader stirring her comrades into a frenzy over unfair practices. This song, which in the era of Black Lives Matter, could surely be a rallying cry against insitutionalized racism, sung call-and-response style during protest marches. One of the band's many strokes of brilliance on this unforgettable album is the inclusion of a partial James Baldwin interview as the lead-out for this song. If there were ever any ambiguity about what the band stands for, if anyone is listening "just for the music," this should clear things up. Baldwin was one of the greatest minds that America has ever produced, and his integration with Faim's fantastic 21st Century metallic hardcore is masterful, and it shows the unfortunate timelessness of his message.
The album's title-track takes a turn for the sentimental, and there's a shift musically to more sweeping, emo-infused post- and melodic hardcore like Birds in Row and Touche Amore . "Hollow Hope" is raw, honest, vulnerable, and perhaps most importantly, it is what so many fans need to hear. Singer Kat's openness about emotional turmoil may well put into words the suffering of some young hardcore listener in their time of need, making it more tenable, more manageable. The chorus line "Kill The Abuser Inside Your Head," which is rightfully the title of their recent collection of earlier work, is destined to change lives, destined to find itself tattooed on a soul that it saved.
On Hollow Hope, Faim's balance of music-as-therapy and music-as-weapon is exactly why hardcore is such a meaningful and powerful medium today, why it is so necessary. Musically, they are taking creative risks–alternating stylistically between sounding like Curmudgeon, Backstabbers Inc., and Modern Life is War–that one wouldn't expect from a band until much later in their career. Those risks yield great rewards, and Hollow Hope is a testament to the versatility not only of the excellent musicians and songwriters who created it, but to the hardcore genre more generally.
Put this album in a time capsule, so that people living in whatever future lies ahead can experience the complexities of living in a crumbling society and fighting for the right to rebuild it better.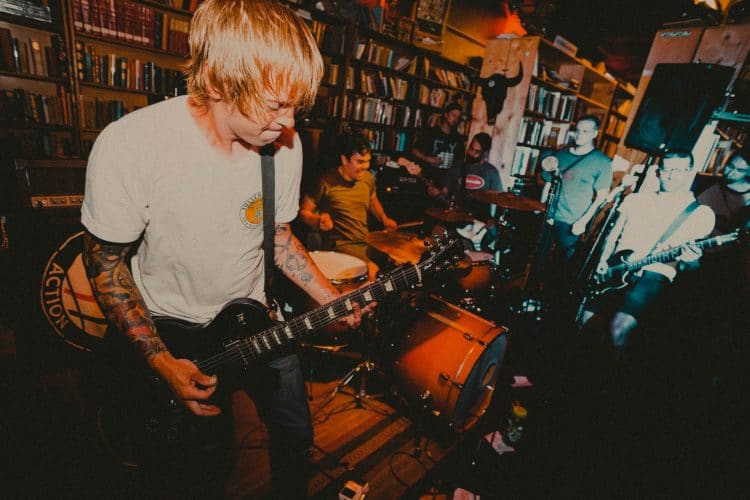 Faim were kind enough to answer some questions about their amazing new album.
Now that you have some years of recording and touring under your belt, was there anything different about your approach to recording this release?
For our prior releases (the demo, 7", and split 7" with Lift and Discourage), those just happened to be the sum worth of songs we had written. For this record, it was very much an intentional project of looking at the record as a whole, instead of just an assortment of random songs.
Who are the most significant influences for this release (these can be musical and/or philosophical)?
Musically, we wanted to write a record that was a little darker and more dynamic. Chris was listening to a lot of stuff on Deathwish (like Hope Con and Cursed), and there is one song that was directly inspired by a Bush song. The song "Division Ave" is influenced by The New Jim Crow as well as the included James Baldwin clip.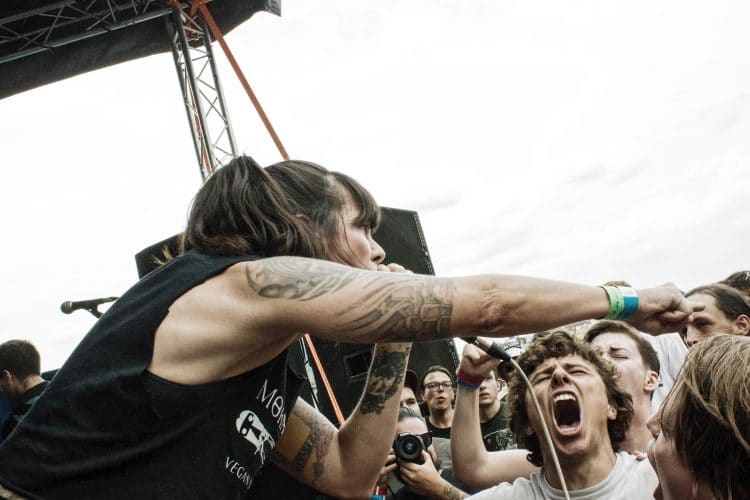 You had a tour planned with Brother, which would have been a great lineup for musical and ideological reasons. Who are some other bands you would like to tour with? Who are some bands that more people should know about?
We are so bummed to not get to tour with Brother, and we are hoping we can make that happen some day! We would love to tour with No Man or Entry who both put out the album of the year. There are a lot of bands we wish more people knew about like Outskirts from New York, With War and Dry Socket from Portland, Chemical Fix from Philly (Kat's personal favorite), and of course bands like Raw Breed, Tuck Knee, and Moral Law from Denver.
Hardcore can, in some ways, be more inclusive than many genres, giving voices to people whose identities are too rarely given a platform. However, as a whole, it still harbors a lot of machismo and toxicity. What do you love about hardcore, and what needs to change? What will it take to make necessary changes?
As a woman in the hardcore scene, I have a love/hate relationship with it. I love the community and connection I make with so many people. I love that it can be political and used to help promote social justice. I love that it has changed a lot since I first became a part of this scene. It is much more inclusive than it used to be, but we are still dealing with a male-dominated scene. Many men are still very unaware of the things they say or the actions that they do that are exclusive. The majority of bands that are formed are still all men, the word "brotherhood" is still used in songs, and many men are still mainly friends with other men.
I believe there needs to be a proactive approach done by men that includes expanding their friend circles, band members, label mates, etc. Men need to recognize that women and other non-cishet men, while welcomed at shows, don't fully feel like they are a part of the scene because it is still built for men.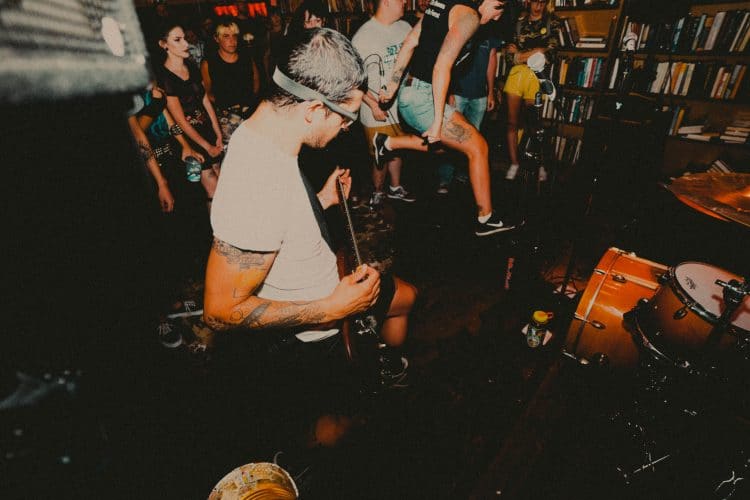 It seems that, over the last several months, there have been some large scale awakenings to issues about which Faim have always been outspoken. Topics of racism, classism, sexism, homophobia, and transportation are increasingly becoming a part of the common discourse. How do you expect our current social climate to affect our future world?
At the same time a lot of things that need to be talked about are being talked about, we're also seeing a huge backlash. The resolution of these contradictions will naturally create our future world. However, we're not passive observers of this process. We can, and must, be involved to shape how we move forward. It's the ultimate DIY ethic.
So go in the streets; organize your workplace; volunteer; (don't just) vote; support marginalized communities in the ways those communities want your support; examine your own shit to reduce ways in which your own actions are harmful. We've got agency, time to use it.
What should fans and new listeners know about you and your new record?
We do this band to bring awareness to social issues and to make connections with others. This record is very vulnerable and raw. It is meant to be a record for those who are fighting constantly for others and themselves. It is meant to be cathartic. While the outside world is on fire (in so many ways), we have hardcore as a form of therapy and as a catalyst to drive us to go out and fight for a better world.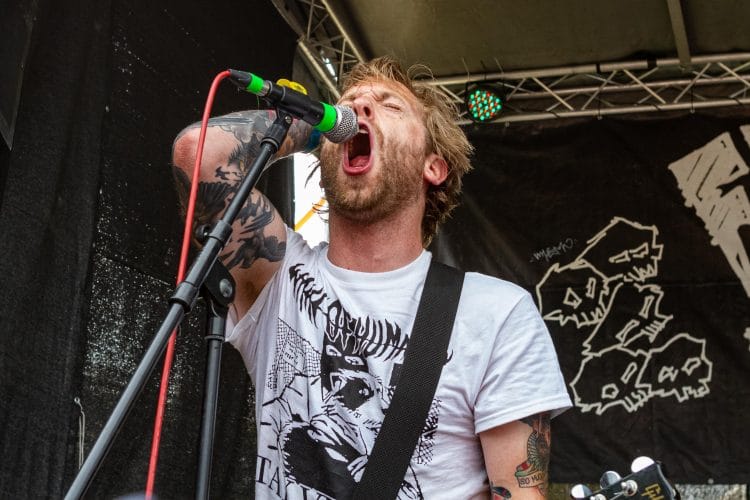 Faim's Hollow Hope is released on vinyl through Safe Inside and is available at Deathwish. It is also available on cassette through Version City Blues.
Hollow Hope was recorded and mastered by Jack Shirley at Atomic Garden.
The art for Hollow Hope is by Chris Mollet at Youth Energy Designs.