Almost from the very beginning of CVLT Nation, covering AMENRA has been a part of what we do here. So today I'm so proud that we can share a very special interview between us and AMENRA. The focus of the interview is the inspiration and vision behind their albums DE DOORN and DE DOORN 2 (alternate mix), as well as the daily evolution of the artists behind the art.
CHVE, talk to us about how singing in Flemish on DE DOORN changed the way you express yourself in the music, on record, and live?
It was something different, alright. I see every new idea as a study, a means to grow and analyze your being and doing; how you 'work,' how you express yourself as an artist. In all honesty, it was a relief to me. To be able to tap into my mother tongue's vocabulary, imagery, poetry, and the like. Everyone is always drawn towards English and holds their ground with it mostly — but being able to write in my own language made things more profound, at least for me. It felt like I was able to tell my story in a more personal way because they were "my" words, they weren't borrowed from another culture.
How the change manifests itself live is yet to be seen. But I know I will not solely continue on this path. As much as this feels right, I do feel a moral obligation, to all our non-Flemish speaking and understanding followers, to not "shut them out" content-wise forever. I do think people who understand have been given the opportunity to experience our music and lyrics to a new depth, but then at the same time, I wonder if we have deprived others of a certain level of experience. Maybe, to be able to focus and take in an album, without any grasp of the literal or poetic content, offers them a deeper sense of freedom to interpret the piece. My thoughts go in all directions…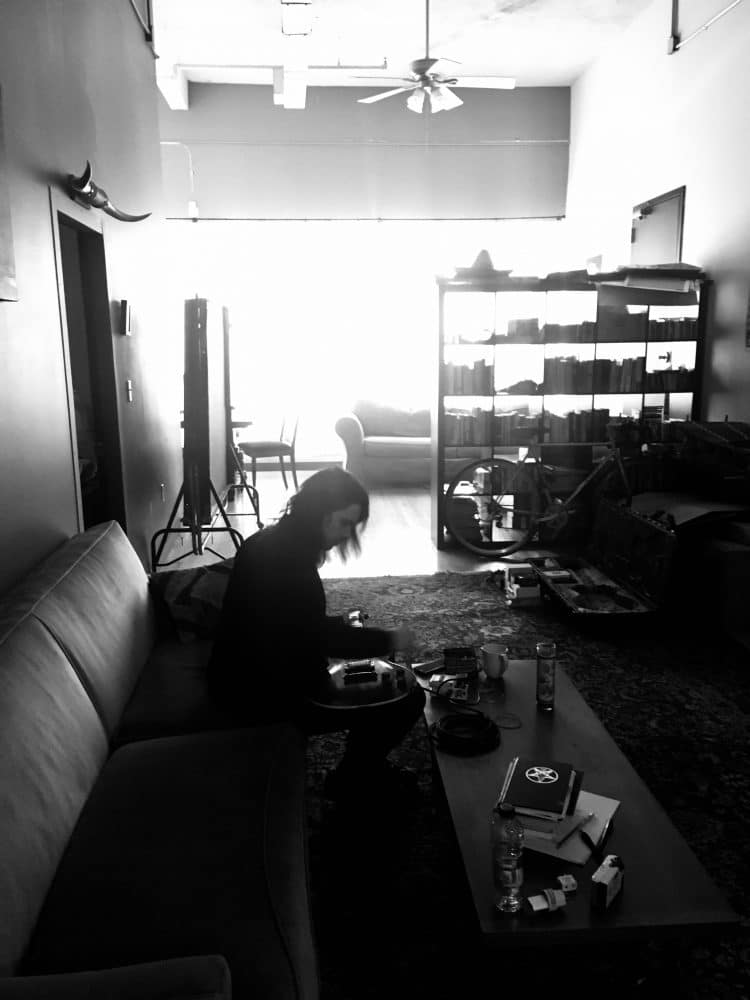 Lennart and Mathieu, does Colin singing in your native tongue impact you differently when y'all perform live?
Lennart: For me, this does make me reflect more on the lyrics. As the vocals are in my mother tongue, I tend to take them in more directly and this makes the music and lyrics feel like more of an integrated experience for me. So yes, it can make the live performance even more intense for me.
Mathieu: It definitely has an impact on me. The power of our native language only makes the feeling stronger. It feels closer, it feels more "me." That energy will also be visible live.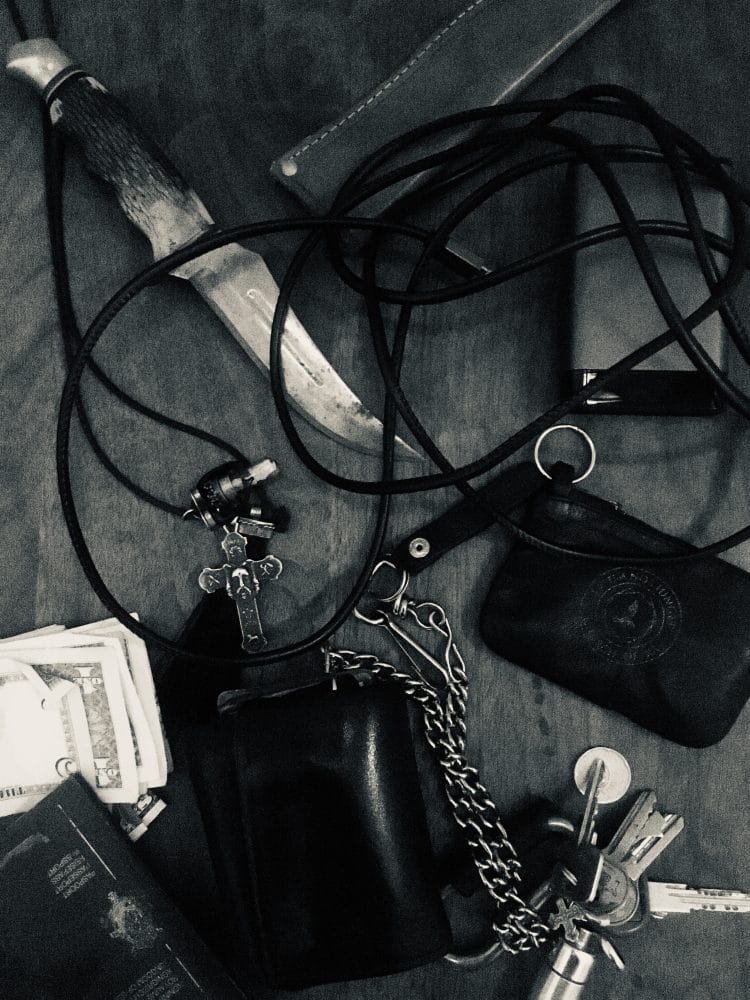 Explain to us how each AMENRA record cover is an expression of the different mix? CHVE — can you also talk to us about the creative process for each cover?
CHVE: We pretty much did both mixes simultaneously, one was kept in-house at Much luv studio and two of us went to Machines with Magnets. The same goes for the creative process of the artwork. While working on the aesthetics of De Doorn, here as well there were multiple studies and phases of creation. Mostly and simply because we can. It is ours, we made it. And that's what makes us masters of it. During the period of both Doorns, we had to move out of the rehearsal space we had been in for over 15 years. It was an old squatted school in Bjorn and Lennart's hometown. We took photographs of the golden spray-painted thorn branches there with Stefaan Temmerman. It took us some months and panic attacks later to find our new home with the band, and that's where we took the images for De Doorn 2.
The idea was there, but it took us a while to work things out and move through the different phases. The thorn branches needed to be gold-colored to emphasize their value to us. First, we spray painted real ones and took black and white photographs. Second, we had cast six different thorn branches in bronze. Each symbolizes one musician that worked on and contributed to this album. We all have our specific kinds of thorns to protect ourselves from outside harm. We also included a statue by Johan Tahon in the second version, as he was there, too, with his work on the fire rituals that stood at the cradle of the writing process years ago. It is simply our specific way to tell our own specific story.
Could each member of AMENRA speak to the mindset you were in while manifesting the song "De Evenmens"? It has a very uplifting quality about it.
Tim: When Lennart passed us the demo for "De Evenmens" it was already had all of the key elements and feel that it has today. Once I started thinking about what the role of the bass should be, I figured I wanted it to compliment his style of songwriting, which to me feels like crushing heavy accents supporting the gorgeous melody. My mind was set on playing something that was equal parts simple and pummeling, yet also had that melodic feel. A balance of brutality and beauty.
Mathieu: As we were preparing for the studio, the connection with the song started to grow. Lennart has a different approach to playing and writing. The song, for me, was different, but still Amenra. There were certain guitar techniques that I was not used to. For that, I am grateful to Lennart for pulling me out of my comfort zone and pushing me to learn those things. Technically, the record has definitely improved my guitar playing and broadened my spectrum to translate feelings into a different way of playing guitar.
CHVE: The lyrics to "de Evenmens" have a (Flemish) saying "with heart and soul," meaning that if you dive into something, you have to give it your all, be the best you can be. Seen with a humanist's eye, where you try to aim for the global emotional growth of man. To fully trust one's heart, and have empathy in their decisions towards other fellow living creatures. In an attempt to harmonize. It also has a passage where I talk about a home that gives warmth. Here, too, it can be interpreted in different directions, our new rehearsal space is a south-oriented block of concrete, and in summer, when we go outside in the evening, the outside walls give off the heat they have absorbed from the sun all day. Standing there still, talking a little, you experience something like a contemporary melancholy. Beauty. Friendship.
Lennart, talk to us about your guitar work on "Het Gloren," it really draws me in. What emotions did you want to express with this song? Also, how does Mix 1 differ from Mix 2 in your mind?
Lennart: Instrumentally, the song is mainly built around two big parts, that are each in a different key, which is rather uncommon for an Amenra song. To me, this key change accentuates an emotional shift between the two parts.
When I write music, I see myself more as a conduit of ideas, rather than a creator, which is just a fancy way of saying that I cannot really steer these ideas very well. In that sense, I didn't really "want" to express anything with the song, the parts were just suddenly there at some point. The first part makes me feel a profound solitude and desolation, while the second half to me exudes total surrender.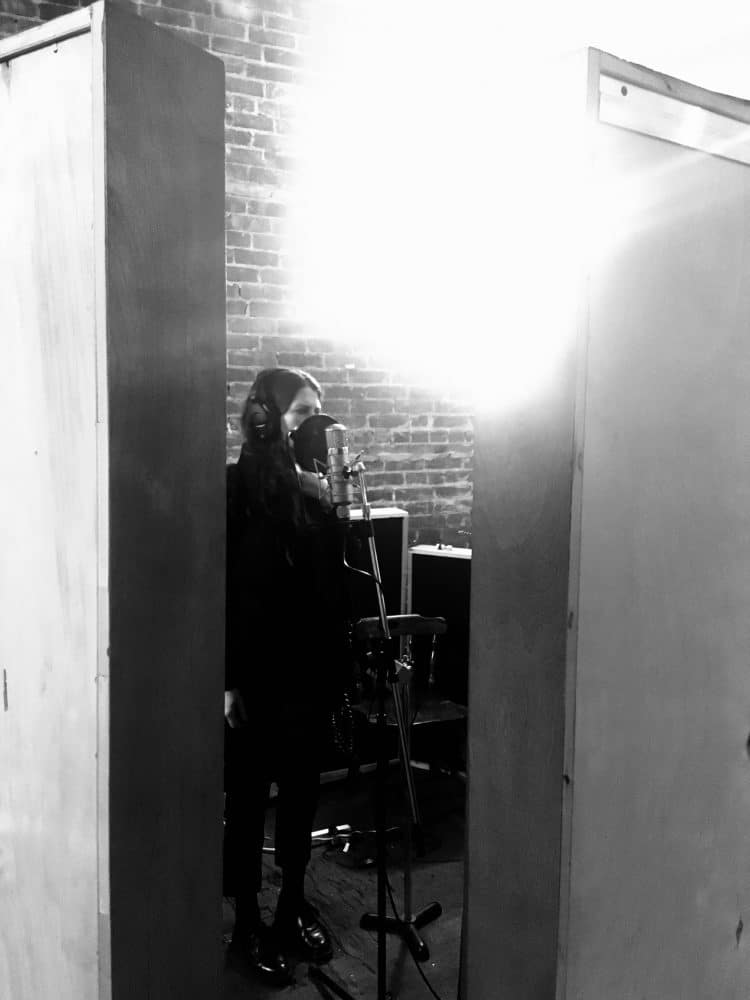 The most obvious general differences between mix 1 and 2 to me are the fact that Caro's vocals sometimes come in at different points; that mix 2 is a lot more distorted at times; and that the drums sound quite different, which makes all of the other instruments sit a bit differently in the mix as well. Aside from that, we also spent quite some time altering the sound of some of the clean parts on the album; for instance, by recording the guitars on tape, and then making the tape warble a little bit or doing some small percussion overdubs to add some character and liveliness. Things like that have, for example, made a song like "Voor Immer" quite a different listening experience between the two mixes.
CHVE: The second part of "het Gloren" might be my most favorite part of the album. Once the heavy passage hits, I sense an immense power coming from its sounds.
What inspired AMENRA to work with Seth Manchester? What was your initial reaction when y'all heard Mix 2 for the first time?
Lennart: We knew some of Seth's work, like the Full Of Hell/The Body album, but it was Kristin Hayter from Lingua Ignota who actually introduced us to Seth, as she herself was very positive about her collaborations with him. It felt very intriguing to see what someone like Seth would do with our music. Colin and I were actually present when Seth was mixing, and we were setting out the framework for the mix together, so when we heard the finished version, it was not a huge surprise, but no less satisfying.

Colin: Plain curiosity. I love his productions, they show a bold and determined vision, a will to not give in to outside expectations of convention. His frame of reference is different, and he has a very distinct ear.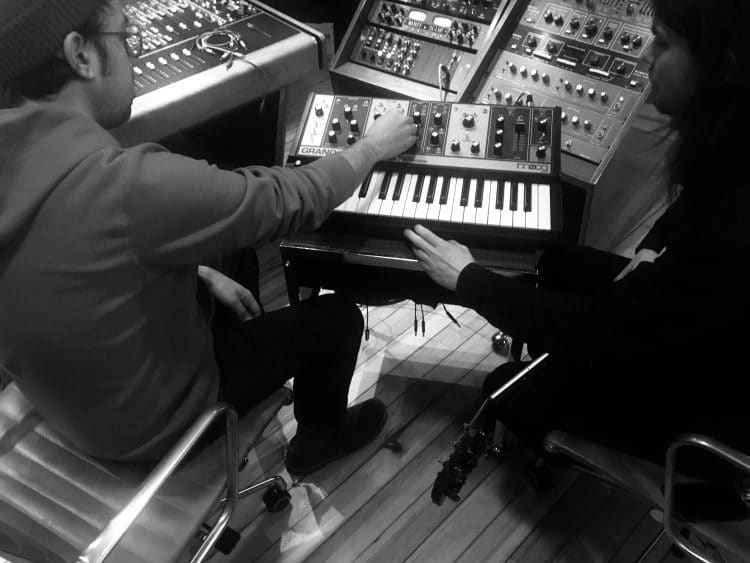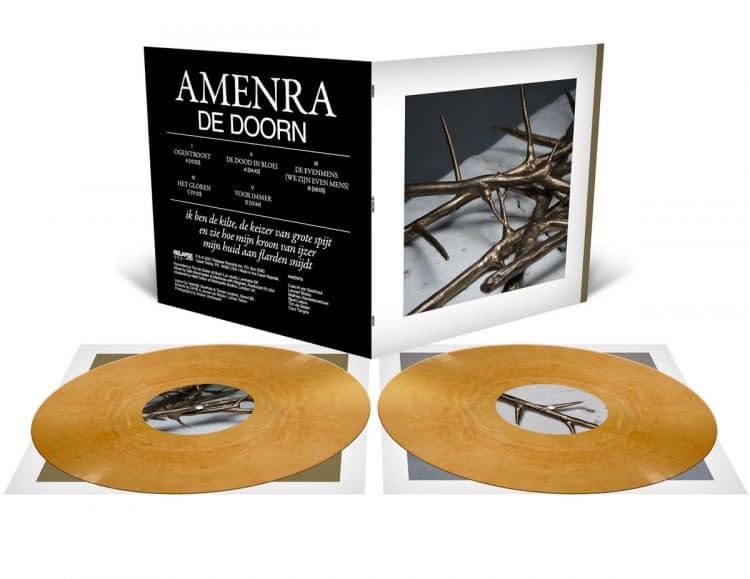 Can each member of AMENRA tell us something positive that came out of being isolated because of the pandemic, and how your experience over the past two years impacted your creativity?
Lennart: The pandemic is definitely a good exercise in patience and acceptance. It has also made me more appreciative of the good situation I have at home. As for creativity, it's a bit on and off. There are times that having more time on my hands is very motivating and stimulates me to write music, but then on the other hand the lack of perspective to really being able to do anything with it can be equally demotivating.
Tim: To me, something positive out of this whole thing would be that for the first time in many years, I was forced to stop living at 300 miles per hour and ask myself what exactly I was doing instead of just doing a lot of things and living in the afterthought. I developed a different kind of relationship with music, as I've been playing a lot more than before and enjoying it differently than just playing at shows or rehearsals. I feel like the pandemic/isolation has confirmed how vital music is for me to function, which has in its turn allowed me to switch gears on the creative front, and is something I'm very grateful for.
View this post on Instagram
Photograph by @ambervanbossel

Bjorn: I have to admit, during the first period of the pandemic, it was nice to have some time to spend at home with my family. We have had a very busy schedule, so I experienced it as a kind of pause that was welcome at that moment. Nonetheless, I long to play again and be on the road with my friends. Although we saw less of each other during that period, we are as close as we ever were.
CHVE: I have to follow everyone. For some unexplainable reason, it drew us even closer together and forced us to be more appreciative of everything we have.
Mathieu: Before the pandemic, we played a lot of shows with Amenra and we went on tour all over the world. So, in the beginning, I was glad we had to stay at home. Because then I could spend more time with my family. My children are of an age that it's currently important for them to receive my full attention. So I'm very happy about that. In addition, we also had more time with Amenra to rehearse and to sit together without any performances being linked to our meeting. The pandemic has put us back on the ground. And has shown us how important Amenra is in our lives. The friendship we have is invaluable to me.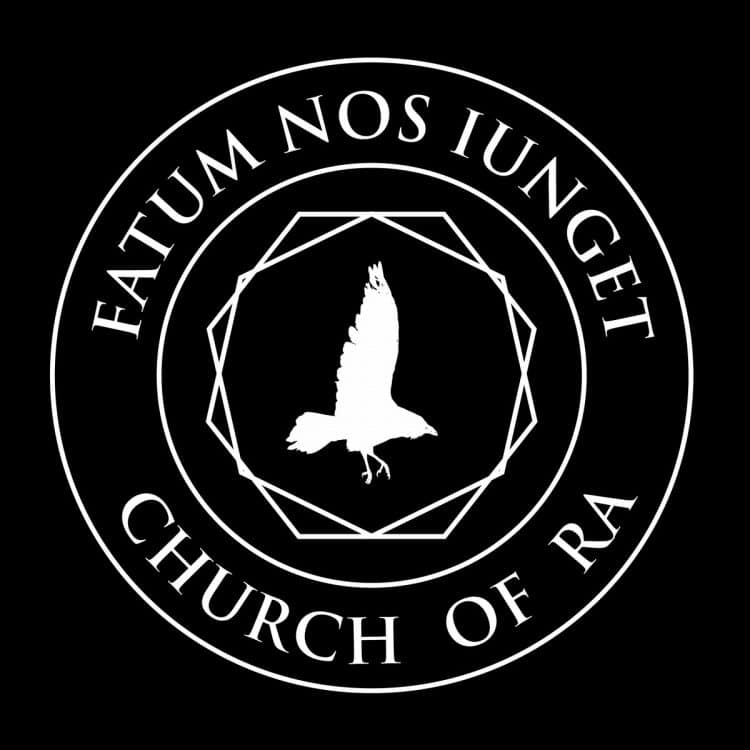 Could each member of AMENRA describe the opening song "Ogentroost" as a force of nature?
Lennart: I do not really understand this question. What I can tell you about the song is that it's a piece of music that has been with us for quite some time already. We even recorded a demo version of it while we were working on Mass VI with Billy Anderson, but didn't quite get it to a point where it felt right to have it on the album back then. Playing it now always takes me back to the first time we performed it live, at a WWI commemoration in Diksmuide, Belgium.
Tim: I feel like Ogentroost embodies the "primal" kind of feel that some Amenra songs seem to have. The first couple of minutes set the tone for the record. It's gloomy, oppressive, and yet somehow soothing. The vocals to me feel like a hand guiding you through the dark and when after four minutes the heavy guitars kick in it's just like a pair of floodgates opening and then the stream's dragging you along through the song.
Mathieu: There is indeed something powerful, natural, and menacing about the song. The sense of "threat" is very important to Amenra. Because that feeling usually turns into an instinctive behavior. It makes you afraid of something that is unknown. But you have to undergo it anyway.
CHVE: The sense of unease. An incoming storm, you see the dark clouds gathering in the sky, and it's time to board up the windows. To spend a night in the basement, only to come out the day afterward.
Mathieu, can you speak on why it was important for you and your family to attend the 2020 BLM marches in Belgium? Also, I'm curious to know if children in Belgium are taught about the country's colonial past at school?
Mathieu: For me, it is very important to show my support to every human that has ever been discriminated against. And here, certainly, the BLM movement. We are now in 2022 and it is understandable to me that we still have to deal with that. History has shown us many bad things. Especially shown us how not to do it. White supremacy also urgently needs to disappear. Everyone is flesh and blood. Has feelings, has family. I raise my children to have respect and love for everyone. We should help each other instead of practice against each other.
View this post on Instagram
Photo by 𝐌𝐚𝐭𝐡𝐢𝐞𝐮 𝐉. 𝐕𝐚𝐧𝐝𝐞𝐤𝐞𝐫𝐜𝐤𝐡𝐨𝐯𝐞

Indeed, at school, they learn about the Belgian colonial past. When I was at school, everything was covered up. In history, we learn a lot about WWI and WWII. Because of course, we were the victims of that. But Congo was not discussed. Belgium has grown through the cruel exploitation of Congo. And I am ashamed of that. Terrible what happened there. More and more people here in Belgium are protesting against the statues of the Belgian king who was in power at the time (King Leopold II). Statues are being removed. We want to send a signal that we are against racism and discrimination in any form of expression. Equality for everyone. Love always.
CHVE, looking at your past while looking forward, did your younger self envision you being a part of a powerful creative collective like you are now?

Not at all. Not in the least. I have always seen myself as a living failure.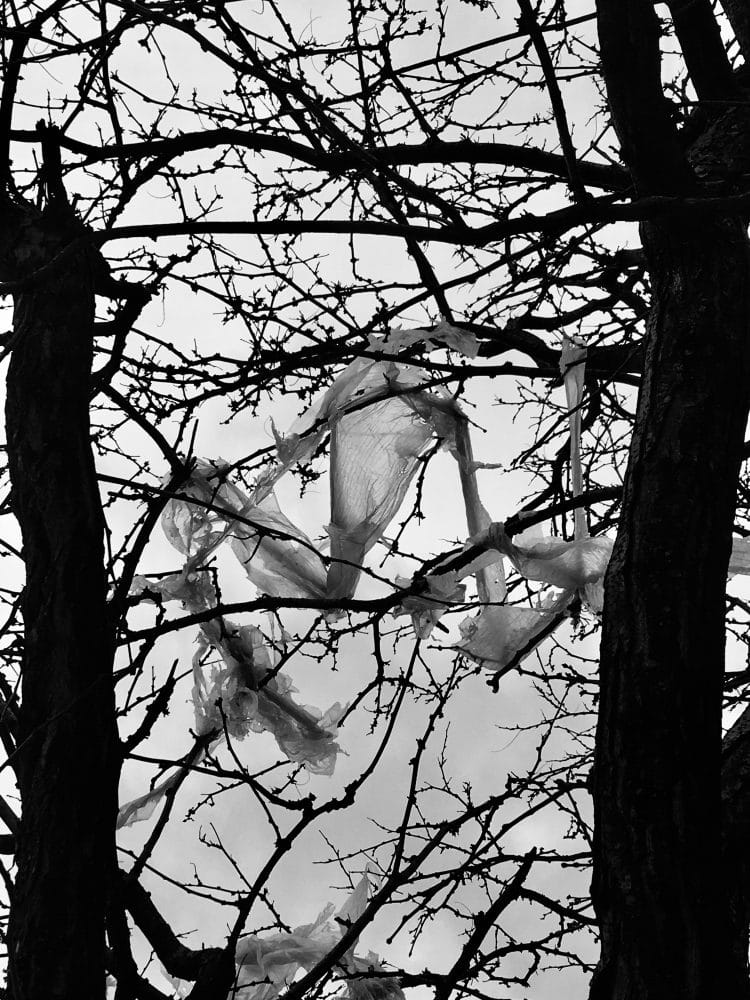 If AMENRA could perform DE DOORN anywhere in the world, where would it be? What is your ideal setting, and why?
Bjorn: Since we weren't able to play a lot the last two years (for the obvious reason), I just want to play the album everywhere we can. We have had the luck to have played at extraordinary places and respectable festivals, but I would say: now I especially miss playing at venues where you are close to the fans. I miss the smell, feeling, and all that is part of a good old-school show.

Lennart: The songs of De Doorn were first performed during a few live rituals in Diksmuide, Gent, and Menen. On these occasions, we were out of the typical "concert" setting (of having the band on a stage in a venue), and by not being the sole point of focus to the audience, I felt that there was more of a unifying factor between the people present and us, a deeper than usual connection. Unfortunately, as the band has grown a bit over the years, events like these are absolute logistic nightmares, and we've only been able to do things like this in or around Belgium. Disregarding the practical side of things, it would be nice though if we could have these experiences in other parts of the world as well, no matter where.
CHVE: I'd love to play the abbey of Villiers someday here in Belgium. Where we recorded the Solitary reign video. I love to keep building, by tying things together. In the future, from the past.
AMENRA Tour Dates:

23/03/22 : Cirque Royal – Brussels (B) – De Doorn Release Concert
27/03/22 : Effenaar – Eindhoven (NL)
01/04/22 : L'Etage – Rennes (F)
02/04/22 : Elysee Montmartre – Paris (F)
03/04/22 : Circo Magnolia – Milano (IT)
04/04/22 : Rockhal – Esch/Alzette (L)
05/04/22 : TivoliVredenburg / Ronda – Utrecht (NL)
06/04/22 : Essigfabrik – Köln (D)
07/04/22 : Meet Factory – Prague (CZ)
08/04/22 : Durer Kert – Budapest (HR)
09/04/22 : Kruhnen Musik Halle – Brasov (RO)
11/04/22 : Kwadrat – Krakow (PL)
12/04/22 : Astra – Berlin (D)
13/04/22 : Freiheiz – Munich (D)
14/04/22 : PTR – Geneva (CH)
15/04/22 : Le Rex – Toulouse (F)
16/04/22 : Shoko – Madrid (ES)
17/04/22 : L'Atabal – Biarritz (F)
18/04/22 : CCO Villeurbanne – Lyon (F)
19/04/22 : L'Aéronef – Lille (F)
12/06/22 : Best Kept Secret – Hilvarenbeek (NL)
17/06/22 : Graspop Metal Meeting – Dessel (BE)
19/06/22 : Grauzone Festival – Den Haag (NL)
26/07/22 : MetalDays – Tolmin (SI)
10/08/22 : Brutal Assault – Jaromer (CZ)
18/08/22 : ArcTanGent Festival – Bristol (UK)
08/10/22 : Amplifest – Porto (PT)
11/12/22 : Waregemse Metal Day – Waregem (BE)