Sunn O))) Shoshin (初心) Duo at The Great American Music Hall, San Francisco, CA, January 24, 2023
"Don't remove your earplugs. DON'T REMOVE YOUR EARPLUGS." It was almost an internal mantra for me at one point in the night. Standing against the edge of the Great American Music Hall stage, being pummeled by a dense guitar tone tickled by serpentine feedback, I found myself entranced, trying to explore the sound with my ears, and dig into it more deeply. Standing perhaps 15 feet from the semi-circle of amps tenderizing the meat of the audience, I knew removing the earplugs would be a bad idea.
And despite this, I desperately wanted to hear the show unfiltered and raw, pulling in any missed information that could be gleaned by more intense study. The first wave of sound hit me with intense force after Sunn O))) took the stage, but like sinking into a hot bath, I found myself acclimating and wanting to return to that initial intense sensation.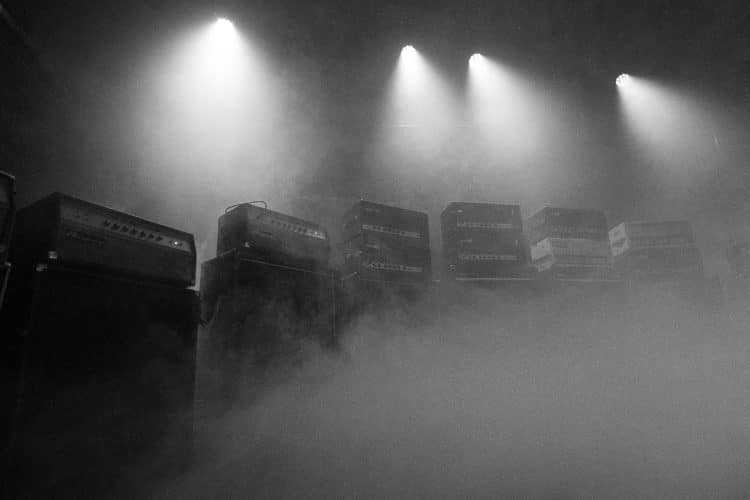 The two robed figures onstage continued to hold onto these long, sustained tones, slowly moving, and mostly facing each other as if they were locked into some kind of telepathic battle or collaborative thought process. Core members of the metal "band" Sunn O))), Stephen O'Malley (aka SOMA) and Greg Anderson (aka The Lord) commanded the attention of the audience for nearly an hour and a half. Anyone not staring straight ahead at the stage had their eyes closed in meditation or deep contemplation. Studying the soundscapes or allowing it to take them over.
I knew photographing this performance would be challenging, and I accepted that even some abstract photos of fog would be a valid visual representation of the performance. Making my way from one side of the room to the other, I felt genuine guilt disturbing the purity of the experience of so many whose eyes were closed or minds in deep focus, disrupting them as I tried to slither past their bodies. The audience was a motley bunch. Some sporting classic stoner rock or contemporary death metal tees. I spotted a few members of the local Industrial music scene, goths, and some nondescript folks that could have popped by after working at a mundane office job shuffling papers.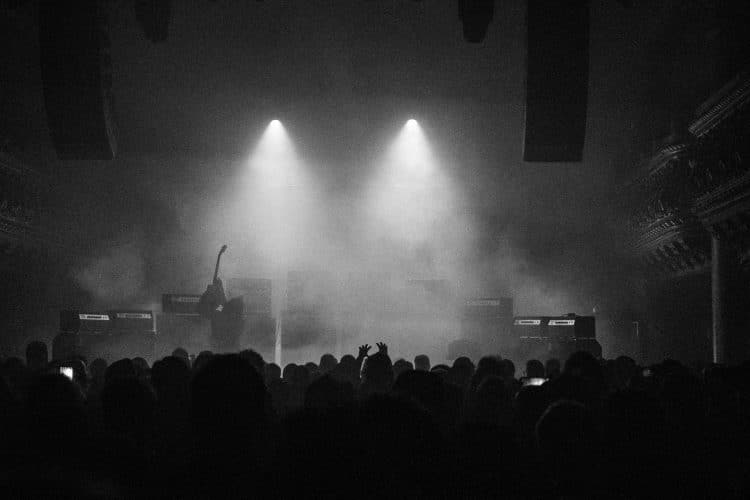 And yet, the audience was a single, mostly stationary unit. While the long periods of sustained tone left room for people to potentially chit-chat with each other, I rarely witnessed anyone actually talking during the show. There was this sense of shared respect among the crowd. We were all playing a role in absorbing the sound filling the room, contributing to its overall tone in some minute way, like a John Cage recording experiment. And anything we added to it through carelessness would have been disrespectful.
I attended the show sober. I wanted to soak in everything the performance had to offer. As a casual fan of Sunn O))) I've immensely enjoyed their past couple of releases, 'Life Metal', and 'Pyroclasts'. I've managed to catch them live a couple of times before where they had more contributors onstage. Vocalists. Keys. An ominous figure with fragments of mirrors affixed to the cloth of their robe. This date of their Shoshin Duo tour was even more stripped down usual. The average music listener might hear a Sunn O))) recording and scoff at the apparent simplicity. This show took things even further, with an almost academic study of specific tones and auditory immersion.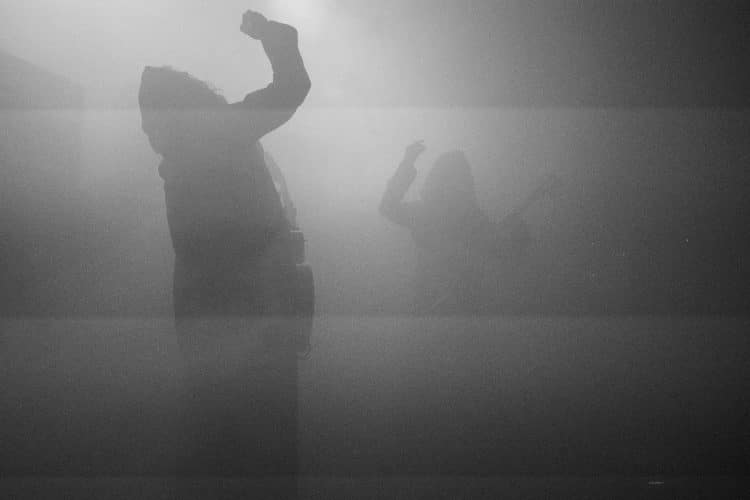 The visually imposing black robes of the two members and the immense speaker stacks were merely incidental as far as aesthetics go. Sure, they look cool, but that wasn't the point. They had utility and served to focus your attention on the soundscape being generated instead of the stage decor or band member attire. Even the stage lighting was simplified, with the absence of colored gels giving the whole experience a film noir vibe. The frequent strobing of lights helped separate the venue from the show, hypnotizing the observer, and taking them somewhere else.
At times, the environment being generated was like an isolation tank. As a sustained tone played, and I was surrounded by thick fog, I couldn't see more than a foot in front of me. As the floor vibrated, my feet felt like they were sinking in, and I lost my spatial awareness. I wasn't sure if the nearest audience member was one foot from me or 50. My perception of time melted. A couple of times I blinked and had some kind of mental glitch, then snapped back to awareness. I couldn't tell whether I'd been standing in one spot for 30 seconds or twenty minutes. The only thing that kept me cognizant of the passage of time was that I needed to capture some usable shots before this experience was over.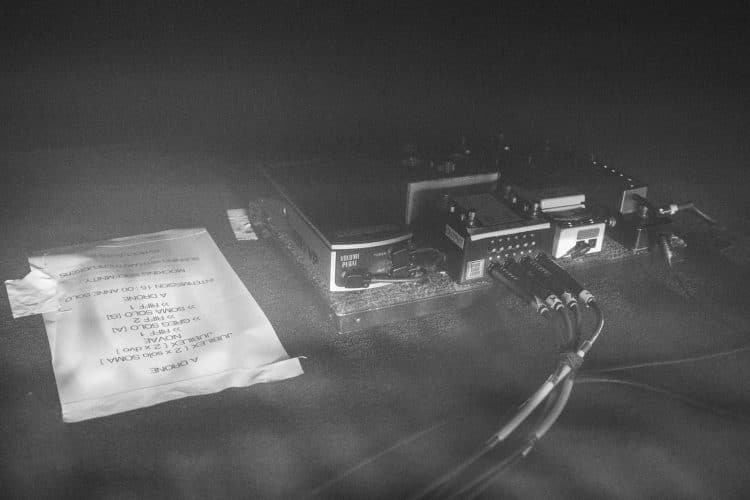 What did Sunn O))) play? Not sure. You'll have to examine the seemingly alien writing on the setlists I photographed. But I'm not sure that's even important. Sunn O))) isn't a "play the hits" kind of entity. Would I recommend seeing them perform? When it's the more conventional Sunn O))) show, with a larger lineup and elements that make it feel more like a traditional concert performance, absolutely! I'd recommend seeing the band in that format at least once to anyone who is a fan of music in general.
With the Shoshin Duo tour, this definitely felt more like a special treat or an academic workshop for the hardcore fans looking to see the project dig even deeper into aspects like tone and distortion that live behind and between the notes of metal music.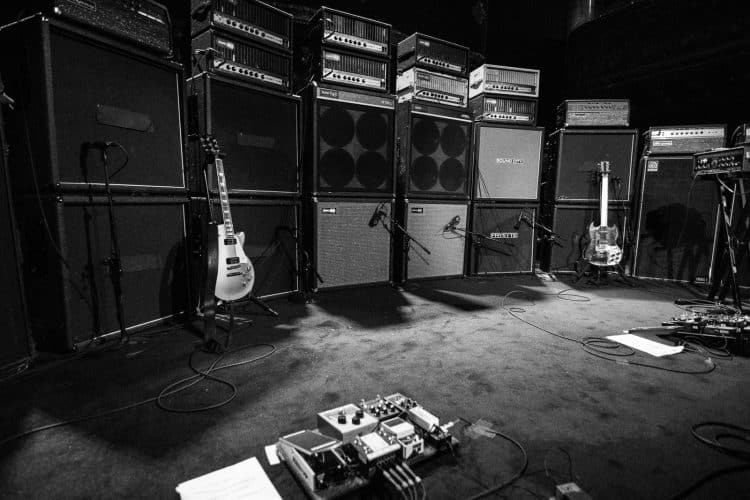 Sunn O))) Shoshin (初心) Duo Tour
Remaining dates:
January 28 Seattle, WA @ Neptune Theatre [tickets] w/ Kali Malone
January 30 Salt Lake City, UT @ Metro Music Hall [tickets]
January 31 Englewood, CO @ Gothic Theatre [tickets] w/ Kali Malone
February 2 Tucson, AZ @ Rialto Theatre [tickets]
February 4 Los Angeles, CA @ Lodge Room [tickets] w/ Tzompantli – SOLD OUT –
February 5 Los Angeles, CA @ Lodge Room [tickets] w/ David Pajo