ACCESSTOGOD is the new industrial project from Cincinnati native Tyler Bollinger (Formerly of Flesh Mother, Felixx Moon, etc). Nods to mid-era industrial acts like Ministry, Skinny Puppy, etc. I sat down with him to learn more about the new project and influences—and because, to be frank, this band is already underrated as hell. If you're remotely into goth/industrial, give the new EP a listen. You can read more below. 
Matthew: Where are you from, and what bands have you played in before?
Tyler: What's up my dudes! My name is Tyler and I'm from Cincinnati, Ohio. I've been in bands since I was 14 but most recently I've played in Flesh Mother, Cough It Up, Mr. Phylzzz for a little while, and Felixx Moon. I'm now focusing my energy on my solo project ACCESSTOGOD.
What was some of the lyrical inspiration for your debut EP "Aperture"?
To be honest, about a year and a half ago I experienced a life-altering event. I walked through a pit of hell, as in the walls literally turned into a pathway of fire. I was devoid of any and all joy like a depression that was indescribable. I was thirstier than I've ever been in my entire life — water literally did nothing. I know this sounds like a crazy made-up experience but I know what I saw. And through that experience, I found a creator who is loving and forgiving but also bigger and more powerful than anything we can comprehend. I guess I finally realized there is a spiritual realm just as real (and more) than the physical realm. Most people don't even think about it or about what comes next, and if they do they either bury it or try to water it down, at least that's what I did up until recently.
What are some of your main influences for this project?
For real my neighborhood/environment. I live in an area called Camp Washington, which is essentially an industrial wasteland. The scrap yard is located a block from my house, the rail yard right next to it, and the highway on the other side of me. A bunch of factories take up most of the rest of the space which are all sick spots to get sound samples at. I literally hear the screeching of the trains 24/7 on top of the metal grinding at the scrapyard, gunshots at least once a day, and pretty frequently neighbors fighting. Oh… and an adult man in a hair net riding a children's scooter with an extremely loud motor that he rides to work every day.
What are some of your favorite bands right now?
For real, I genre hop A LOT with what I'm listening to, but in the "vein" of ACCESSTOGOD: Skinny Puppy, Youth Code, Street Sects, HIDE, Crim3s, Warthog, and Public Acid.
What show would be your dream lineup for ACCESSTOGOD?
Ministry, Atari Teenage Riot, Skinny Puppy, Crim3s … would be sick to see how the OGs throw down. The show would be at the actual scrap yard that is at the end of my street. Honestly, I've been meaning to ask them if we could do a generator show there. I'd love to set up a fest there this summer. That place is crazy — They have half of a decomposing airplane, mountains of rusted cars, literally anything you can think of in a pile of rust. Think of the Human=Garbage Dystopia album cover lol.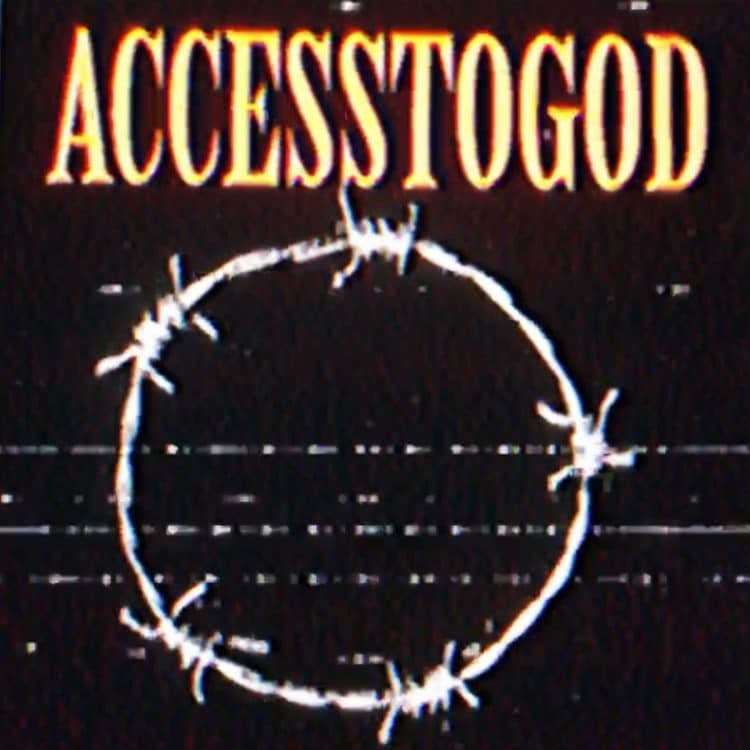 Do you have plans to make this project full band (why or why not)?
My idea from the beginning was to have a project that I can do on my own but also if people want to sit in on drums or guitar or any instrument they can. So honestly, yeah I would love to. But my first handful of shows is going to just be me so I can get a feel for things.
Any plans to tour?
For sure! Nothing booked yet but I definitely want to 100%. That's what makes being in a band so fun… going on the road, stopping at crazy places you see on the way, and eventually making it to the show.
Last words are yours…
I'm honestly just really excited to be playing music again and want to play all the generator and obscure shows I can. Yeah, bars and venues will have better sound but that's literally all I've been doing for the past 15 years. Cincinnati has a lot of really cool stuff happening in it this upcoming year with art and music! My first show was in April at an art gallery in Northside called (DSGN)CLLCTV with two other local artists Decide Today and Eugenius, surrounded by skate ramps, art, and all the homies. It was sick! Can't wait to play again soon. My EP Aperture will be coming out on Realicide Records, so if you want a physical copy and can't make it to a show snag one from there! Follow me on IG @accesstogod_ for upcoming shows and to listen to what I've been working on