The recently rechristened Indianapolis quintet Veilcaste (formerly known as Conjurer) is set to release its third full-length Precipice on February 10th courtesy of Wise Blood Records. While the name has changed, the high-quality doom sludge these guys produce remains the same.
For the uninitiated, Veilcaste work with a stripped-down doom sound, somehow sounding more epic for their straightforward approach. Each riff is given room to breathe and possesses a hypnotic urgency. Opener "Asunder Skies" illustrates these principles perfectly. After kicking off with some glorious harmonized guitar work, they find a nasty chug riff and ride that into sky-ripping glory. Each riff that follows sounds integral to the song, nothing extra is added, and nothing important is taken away.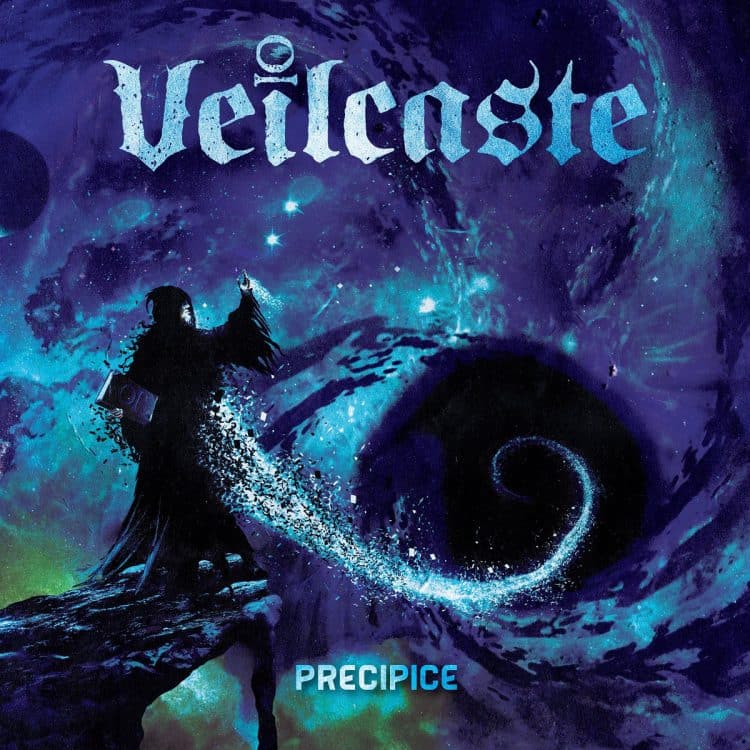 "Dust & Bone" is equally economic, but sees vocalist Dustin Mendel adding a gritty yet melodic quality to his vocals during the chorus. He is a big part of Veilcaste's sound, his vocals sounding authoritative if not almost godlike in their delivery. He sounds like a disembodied deity calling out portents of doom from the skies above.
Despite the singular focus, Veilcaste finds a way to give each song its own unique identity. "Drag Me Down" alternates between moody guitar arpeggios and syncopated doom chugs to create a moody masterpiece, while "For Us" possesses a gnarly riff that wouldn't be out of place on a death metal record. Meanwhile, "Relapse in Reason" rides a more stoner rock groove, but as the bridge proves, there's an apocalypse on the horizon.
The album closes with the one-two punch of "A Gasp of Air" and "Empty Hell". The former possesses an increased urgency, an almost palpable physicality in the main riff. The chugs explode into open chords, each riff builds tension. As the song reaches its climax, it begins to sound like the cover art. One can imagine a vortex in the sky, sucking the matter from this world and setting our tired souls free. "Empty Hell" follows and is the most compositionally involved piece on the record. An arpeggio is played that brings to mind "While My Guitar Gently Weeps" while a Black Sabbath-style riff rides out overhead. The band drops out, allowing the vocals to declare the end of all things. Midway through, they fall into a slow march like they are trudging off to hell. The first riff then returns and begins hammering the final nail into the coffin.
Veilcast might be operating under a new name but they continue to perfect what they do. This shit is heavy and emotionally impactful. Precipice carries the weight of finality with it and one can assume it is the human race, if not the entire planet standing on the edge of its own demise. So take this record as you will, as a warning or a soundtrack to the end times, either way, don't miss out.