Texas dark punk and postpunk fest San La Muerte has been gaining steam over the past few years and is now in its third iteration. San la Muerte III will occur from August 4 to August 6 in San Antonio, and will feature 20 bands from as far away as Denmark (Moth), Spain (Belgrado), Australia (Masses), and Brazil (Rakta), as well as bands with more local national (Bellicose Minds) and Texas (Slimy Member) origins – quite an accomplishment given that the original event in 2012 had 6 acts. San la Muerte III promises to be the most extensive yet; this year extends the festival's showing of bands with acts culled from the punk, anarcho, deathrock, postpunk, and darkwave scenes.
Robert Flores, the organizer of San la Muerte III, center, with Christ vs Warhol.
Robert Flores, who lives in San Antonio but drums in the L.A.-based deathrock band Christ vs Warhol, began the fest originally as a way to get a few bands and friends together to play a date with another project he is involved in, Soriah (Portland). By 2015, acts like Anasazi and Crimson Scarlet were on the bill and this year's event promises to be the biggest yet (a full list of the bands is at the end of this article).
I reached out to Robert for this interview to ask him how San La Muerte started, what started it, and what his plans are for this year and upcoming years.
Flyer art by Cait Autonomy
Robert Flores was interviewed by Oliver in June 2016.

Robert, how long has San La Muerte been going on now, how often does it occur, and what year is it in now?
San La Muerte first started in 2012. That was the first year. I was on tour with friend and fellow musician Soriah from Portland. We needed some Texas dates and I ended up coming up with a fest. It wasn't the idea I had for it now but I basically invited a few friends and ended making a fest out of it. Guilty Strangers from Texas, The Spiritual Bat from Italy, Deadfly Ensemble from Los Angeles, Soriah and many other greats were part of the first one.
I tried to do it every year after that, but I got really busy in 2013 and 2014. I was touring and doing other stuff with music. So I kinda bypassed those years. It's going on its 3rd official year.
Where did you get the idea for San la Muerte, and what is its purpose and aim?
Well, during the year 2011 or 2012 I was on tour in Europe, and I'm a huge underground DIY punk enthusiast, and usually I'm out taking photos or documenting anywhere I can, especially out in different countries. I basically wanna know what's up with the punks and goths out there.
Anyways, I was in Paris and ended up finding out about this fest called "Unpleasant Festival" taking place in Paris, and you had to basically see the flyer for this thing! It was unreal. The lineup was sick. Band after band after band – I had to go to it. And I did. Spectres, Tanzkommando Untergang, Hagar the Womb, Elvira and the Bats, The Mob, UK Decay, Cravats – only to mention a few. It was insane. Probably one of my favorite things I did on that tour.
Belgrado from Spain, who will be playing at San La Muerte III this year.
Anyway, I really wanted to do something similar, and really nobody was doing that in the States, at least that I knew of – a kind of Dark, Punk, post punk fest. So I decided to throw another San La Muerte and have it resemble that lineup I saw at Unpleasant Fest in Paris, France. And I hope with the 2015 SLM lineup I did. Because 2015 SLM lineup so far was a sick set. Anazasi (NYC), Cemetery (CHI), Fangs on Fur (L.A.) Crimson Scarlet (SF), and tons more.
Where did the name "San La Muerte" come from and what is it supposed to represent regarding the theme of the fest?
I wanted to come up with somewhat of an obscure name for the fest, but something that resembled our geography – part of where we're from. Our culture – that is Mexicans, Latinos, Chicanos. In Spanish "San La Muerte" means Saint Death, which resembles a darker side of things, in this case the music. So basically, I wanted to make the name stand out in Spanish because of my culture and our location in this nation. You always hear things come out of NYC, L.A., PDX, or everywhere else, but you never hear much regarding this scene from Texas.
I'm also a huge fan of rituals, dark magic and death, and you can say the name was influenced from that as well.
Rakta from Sao Paolo, Brasil, who will be playing at San la Muerte 2016.
I went to the first San la Muerte and you had a fairly eclectic mix of bands – goth (Spiritual Bat), postpunk (Guilty Strangers), and neofolk (Awen). Since then you've had a lot of deathrock and dark punk bands, but also power electronics (Consumer Electronics in 2015). What do you think ties all these bands together and how does it fit into the overall goal of what San la Muerte is trying to achieve?
Yeah, like I mentioned earlier, the first SLM wasn't really molded into anything yet. It was more goth than anything else. It was created by inviting tons of friends of mine to play one event. But it basically transformed into a darker, punk, post punk event after the first one.
Masses from Australia, who will be at San la Muerte III in August.
I know you're in Christ vs Warhol. Will CvW be playing San la Muerte? Can you give readers a rundown on what bands have been confirmed so far for this upcoming San la Muerte fest?
No, unfortunately, Christ Vs Warhol will not play this year's SLM. But cross your fingers for 2017.
Yes, this year's headliners will be Belgrado from Spain and Moth from Denmark. We have a ton of amazing bands that are confirmed. Masses from Australia, Rakta from Brazil, Bellicose Minds from Portland, Rhythm of Cruelty from Canada, Pawns from NYC, Annex from Texas, Dead Cult from Portland, Slimy Member from Dallas, and tons of other great bands. You would be crazy to miss this event.
What do you do outside of organizing San la Muerte and Christ vs Warhol? Are you involved in any other bands? You seem to be busy.
I play drums for several bands. There's my band, Sullen Serenade (TX), Christ Vs Warhol from L.A., Monica Richards (Faith and the Muse, Madhouse, Strange Boutique), and Soriah from Portland. And I'm currently working on a new project here in Texas in which I will be playing bass. I have a photography thing called Punkitos Photos that's basically capturing the DIY punk scene. I run a studio which is called Sullen Studios that will be open for business late this year, and of course I run San la Muerte.
I know at one point you were working on a kind of documentary, or maybe it was simply a collection of filmed interviews of bands, djs, and others involved in the Texas dark music scene. Are you still working on that and what is the status of the project? Did it have a name?
Yes, I'm still working on it. It's been in the making for 5 years, and I hope to release it sometime in 2017. It will be a photography book on Underground Punk, post punk, and goth culture around the world. I'm also working on a documentary regarding the same culture. The documentary will contain interviews and live footage of bands from all over the world. It's based on the DIY ethic and how it's looked upon in different countries as well as in different time periods. How it's changed from back in the day to more current days. Lots of people are involved, but it's still in the works.
The name of the book and documentary will be called "Vida Subterranea," meaning Subterranean Life.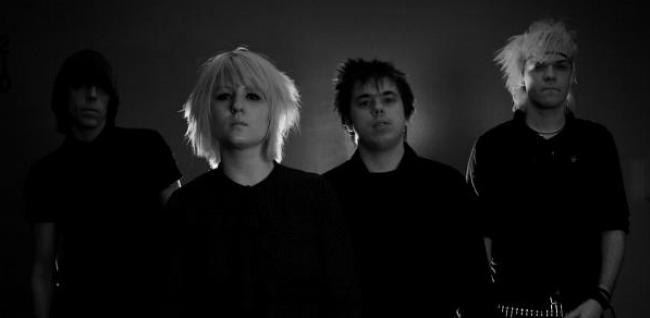 Portland's Bellicose Minds, who will also be playing at San La Muerte III this year.
Thanks so much, Robert. Anything else you'd like to give a shout to?
Yes! There will be a kick ass art show opening day of the fest. With tons of artists from different parts and bands as well, Aug. 4th at High Wire Gallery. If you go to the web site you will find all the info you need, schedules, tix, lineup, etc.
====================================
San La Muerte III has a website here: http://sanlamuertefest.com/
There is also a Facebook event page for San la Muerte III fest here.
Robert's Punkitos Photos project is here.
====================================
Bands at San La Muerte Fest III:
Belgrado – Spain
Moth – Denmark
Rakta – Brazil
Masses – Australia
Rhythm Of Cruelty – Canada
Pawns – NYC
Bellicose Minds – PDX
Shadow Age – VA.
Cold Complex – L.A.
Arcane -Seattle, Wa.
Maudlin – Ga.
Dead Cult – PDX
Dead Tribe – L.A.
Otzi – Oakland, Ca.
Annex – TX.
Slimy Member – TX.
AmyGdala – TX.
Encrypted – TX.
iiLL – TX
Aztec Death – TX.