In The Tempest, the jester Triunculo famously says, "Misery acquaints a man with strange bedfellows," and though the four artists on this split could fairly be described as an odd grouping, it is not misery that brings them together, but rage. These four bands—Neckbeard Deathcamp, Closet Witch, Racetraitor, and Haggathorn—are among the most important, most vocal socio-political bands active in heavy music today, and their philosophies of being a voice for the voiceless, of speaking truth to power, align perfectly to make this initially unlikely split cohesive and powerful.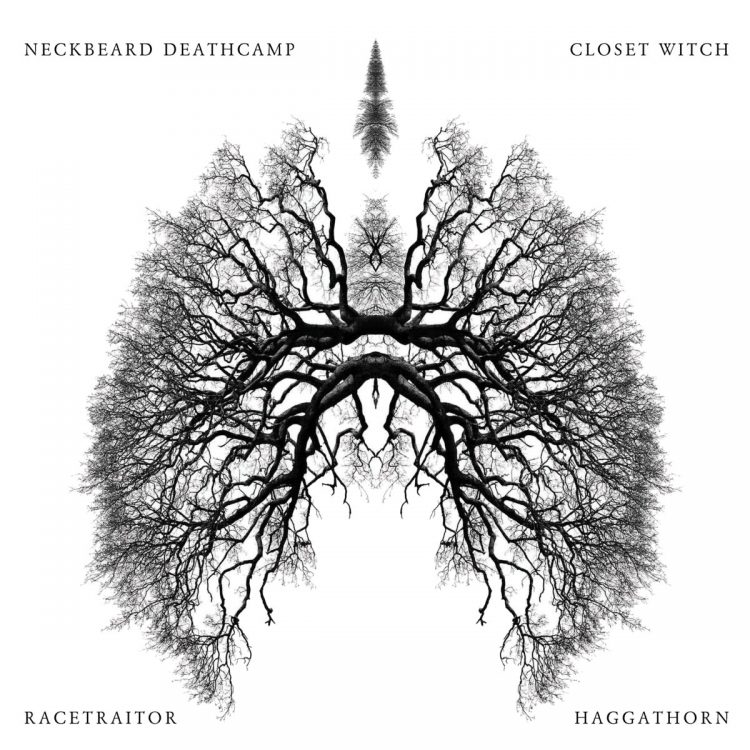 Like Shakespeare's jester, Neckbeard Deathcamp is deceptively comic. Although they are billed as a parody band, and while their imagery (e.g., a Totenkopf with the skull replaced by Rick Ross's head) utilizes humor, the band's maintains its messages of anti-fascism, anti-racism, and anti-homophobia earnestly, even parting ways with Superkommando Uberweinerschnitzel, original guitarist, after questionable social media posts from his past surfaced.
Neckbeard Deathcamp (or Neckbeard Funcamp on Facebook) is satire in the sense that it takes tropes consistent with NSBM and turns them on their ear, pointing out their ridiculousness by reversing them and exaggerating them. Their aesthetic is a War Metal one, but with current alt-right imagery mixed in and lambasted.
Dismissing this band as a joke would be a mistake. Musically, this outfit is grave, urgent. It is no-nonsense, it is raw, and it is deadly, with blast beats and growls that rival any "serious" black metal or war metal band active today. Though this band could easily be successful without their element of humor, that schtick has given them a platform to draw more attention to their lampooning of the alt-right. Their earlier album, So Much For The Tolerant Left (whose album art features famous neo-Nazi Richard Spencer receiving a wedgie in a Terry Gilliam-esque photo collage) captures the spirit of the two songs on this 4-Way, and in fact, captures the spirit of this split as a whole. NBDC and their three split-mates are pissed and militant, bearing aural brass knuckles, brandishing verbal razor blades.
"IT IS OUR HONOR TO JOIN FORCES WITH ACTS AS RELENTLESS AND MIGHTY AS CLOSET WITCH, HAGGATHORN, AND RACETRAITOR FOR A RELEASE. THOUGH THIS SPLIT HAS BEEN A PROJECT LONG IN THE MAKING, THERE IS NO BETTER TIME THAN THIS EXACT MOMENT TO RELEASE SONGS ABOUT HOW THE SO CALLED MIGHTY AND FREE THINKING OF THIS COUNTRY HAVE COME TO HEEL LIKE HOUSEBROKEN DOGS FOR THEIR CORPORATE MASTERS. IF ONLY I HAD KNOWN A YEAR AGO WHEN WE WERE WRITING THESE HOW FUCKING STUPID THE TIMES WERE GOING TO GET BY THE TIME WE WOULD COME TO PUT THEM OUT. THOUGH I GUESS I SHOULD NO LONGER BE SURPRISED. THANKS FOR LISTENING. SOLIDARITY FOREVER" – Neckbeard Deathcamp
Indeed, solidarity is what holds this album together. The bands show solidarity with one another and with those who don't have a platform, those who, now more than ever, need allies. This release, hanging in the eaves and building anticipation for some time now, could hardly have come at a more appropriate time. At a time when it takes a special innocence or stubbornness to escape political discourse, and at a time when socio-political lines are bolder than at any time in recent memory, these advocates are using the loudest voices they can muster to speak for those who are ignored or trampled by modern society.
One of the most potent voices in modern music is the mathy, violent grind of Closet Witch. In the five years since they released EPs Ergot and Black Salt, they have established themselves as purposeful channels of righteous fury. This split comes on the tails of their recently released discography (Moment of Collapse Records), which displays this band's years of innovative, complex songcraft; airtight musicianship; and fierce voice for social upheaval.
Closet Witch's songs five songs on this split, which transition with feedback and machine-gun snares from NBDC's two, show them at the peak of their musical prowess. Their emotional delivery of punishing, harsh grind is impossible to ignore, and it is easy to imagine vocalist Molly Piatetsky piloting a riot, funneling her instantly recognizable gale of a voice through a stickered bullhorn.
Closet Witch's grind is ever-changing, allowing no room for complacency, as they summon their listener to hearken to the issues that darken the doorstep of every community in America, in the world.
In 2019, Closet Witch joined an array of like-minded heavy music artists to perform for Black Flags Over Brooklyn, an "Anti-Fascist Extreme Metal Festival." A handful of the uniformly excellent acts at the festival were Cloud Rat, Ragana, Vile Creature, Sunrot, Pulsatile Tinnitus, Dawn Ray'd, Morne, White Phosphorous, and Racetraitor.
Needing no introduction, Racetraitor are the veterans on this split. In the vein of Lärm, Earth Crisis, Manliftingbanner, 108, and Shelter, Racetraitor emerged in 1996 as a vehement anti-racist, anti-Colonial metallic hardcore band influenced by leftist politics and Sufism. After releasing the celebrated Burn the Idol of the White Messiah in 1998 and an excellent split with Burn It Down in 1999, the band went on hiatus. Fortunately for everyone, the magnificent beast that is Racetraitor came out of hibernation in 2016, releasing the flexi By the Time I Get to Pennsylvania, whose title is presumably an homage to Public Enemy. After releasing the EP Invisible Battles Against Invisible Fortresses in 2017, Racetraitor released their triumphant second full-length, 2042, in 2018, renewed in their socio-political vigor to fight against white supremacy and all related ideologies by the Trump era and the rise of the alt-right.
Regarding the motivation for this split, Mani Mostofi, vocalist of Racetraitor says, "I've always loved splits. Splits seem to be a unique oddity of the punk, hardcore, and metal scenes and I think that is because of the collective underpinning of those scenes. We wanted this project to be a community building exercise in which like-minded bands each offer their take on life, politics, and brutality in a shared space. We are pretty pleased by the outcome."
Rightly so. The ferocious discontent from each band on this split is current, topical, and pointed. These bands make it their duty to draw attention to injustice, and they do so in voices loud, unique, and venomous.
Following Closet Witch's angsty, contemplative "Solar Lullaby," whose pace feels like a band finally exhausted by fighting the good fight, the torch is passed to Racetraitor, whose "Part One: Sarcophagus" is a simmering, tense build. It feels like the hopeless cries of the oppressed, pushing and pulling against their chains. "Part Two: Subordinate Terror" is the breaking of those chains, the subsequent parade of countless, furious subjugated peoples who are suddenly free of restraints, physical or spiritual. Their last track on the split, "Round Lake," is the rageful climax. It is punishing, holding accountable those who hold positions of power by stepping on others. Halfway through, the dust of the melee settles, and a distant, barely audible voice carries the song to its conclusion.
The final track on the split belongs to Haggathorn, an anti-fascist black metal band who shares members with Racetraitor. Though they share stylistic elements and political viewpoints with NBDC, their approach is serious and deadly. The two bands shared a split, Without Hierarchy: An Invocation ov Luciferian Freedom, in 2019. Haggathorn's track on this 4-Way, "Awakening," is a galloping call to arms, bringing merciless vengeance to bear on all tyrants, and it is the perfect way to end this well-rounded, sharply pointed compilation. The peaks and valleys of this, the longest song on the album at 6:10, are a meditation on the rising and falling of powers that be, a dynamic invitation to overthrow stagnant status quos.
In our current socio-political climate, social and economic inequalities are coming into clearer focus by the hour. The voices on this split are asking you to attend to this. Don't distract yourself. Don't ignore it. Don't wait for it to pass. They want you to share their frustrations, their disgust, and their vitriol. They want you to feel enraged. As in the 1976 film Network, these bands are calling on you to leave comfort, cordiality, and complacency behind, to go to your window and scream into the streets:
"I'M AS MAD AS HELL, AND I'M NOT GOING TO TAKE THIS ANYMORE!"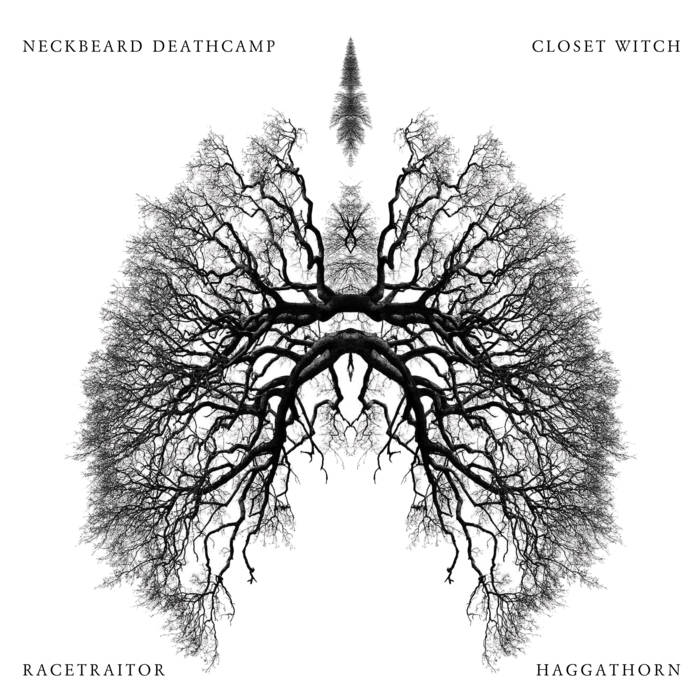 This 4-way split is released on 4/22/20 by: To Live a Lie Records, Ugly and Proud Records, Moment of Collapse Records, and Circus of the Macabre Records.