Pig Bird Vs. Bat Fawn…
Thomas Grünfeld's Misfits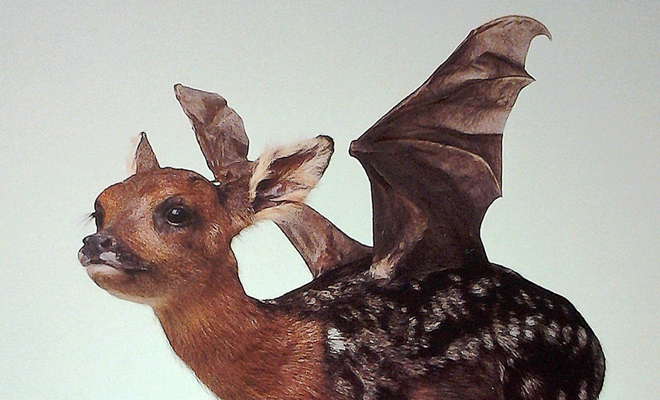 A pig-bird, a bat-fawn, a cat-dog? These are not fantasy – or rather they are, but they have been made reality by taxidermist and sculptor Thomas Grünfeld. His surreal specimens are influenced by wolperfinger folk tales, German stories of anthropomorphic animals who impart moral lessons through their shenanigans. His animals represent a dichotomy not only in species, but in their relationship to one another and in their physical form. The cat and dog are no longer enemies, they are one form; the icon of innocence, a fawn, is melded with the icon of sinister, a bat; and everyone knows how much fawns and parakeets hate each other, but with Grünfeld's vision they make amends…just kidding. But really, there is an element of humor paired with the serious, scientific treatment of these species. I get a sense of being in some sort of medieval natural history museum, curated by Ulisse Aldrovandi. Check out some of his works spanning the past 25 years below.
Enjoy this post? Donate to CVLT Nation to help keep us going!