A History of the 80's BATCAVE Scene!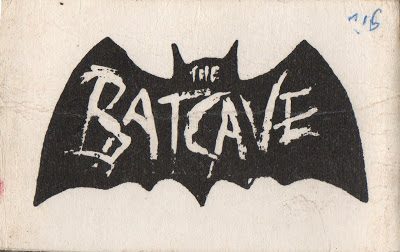 via Flashbak
Did you ever visit London's Batcave club? Opened in Soho in July 1982, the Batcave featured the likes of Bauhaus, The Meteors, Sex Gang Children, Virgin Prunes, Patti Palladin, Meat of Youth, Southern Death Cult, and Alien Sex Fiend. As one journalist puts it, Batcave was about individualism. It "defined the gothic attitude."
Run by Ollie Wisdom, lead singer in the house band Specimen, and Jon Klein as Art Director, visitors included such notables as Robert Smith, Siouxsie Sioux, Steve Severin, Foetus, Marc Almond and Nick Cave.
Valerie Siebert recalls:
Crude, spooky décor greeted the punters inside the venue. The walls were covered with torn bin liners stapled into place and cheesy black spiderwebs dangled from the ceiling. Then there was the clientele: free, jovial, experimenting regulars who had not a sniff of elitism about them. But something else was happening. At the bar Nik Fiend of Alien Sex Fiend could be seen chatting with Nick Cave while Marc Almond milled about the dance floor, watching Specimen play live.
Membership card for the Batcave nightclub, 69-70 Dean Street, London (1982) Via
Nik Fiend, of Alien Sex fiend, tells her:
"We had read about the opening of The Batcave Club in Time Out's listings in July 1982. I was intrigued to read about a club that sounded somewhat different… But that summer we were busy with the beginnings of Alien Sex Fiend – we were recording demos, doing artwork, and all that. From those demos I made a cassette tape that got a review in Melody Maker, describing us as 'The ugliest thing in the name of music…' amongst other things! The next thing the phone rang and it was Olli Wisdom, who said: 'You sound like the sort of band we want to play at The Batcave'."
Mrs Fiend has more:
'So Nik and I were invited to check out the venue at its first incarnation at The Gargoyle Club in Soho,' says Mrs. Fiend. 'It was raining and there was a big queue outside, but we were ushered straight into the tiny lift that went up to the club."

"The lift would only fit in two people at a time, it was quite a ride up and we had no idea what was going to greet us at the top," says Nik. "The door opened and then there was a coffin shaped doorframe which you had to pass through. It was a real coffin with the bottom knocked out, so we knew at that point that there was something different going on!"
Or maybe something a little familiar to older Londoners who frequented Soho's Le Macabre Club, where the tables were coffin lids and the jukebox only had songs to do with death?
Mr Fiend: "But what made the biggest impression on us. was when they put on a Sex Pistols track."

Nik: "The dancefloor cleared! en masse! We took it as a sign that people there had started moving on from punk and were looking for something different, something new."
"In contrast to the battle lines later drawn between teen tribes, it didn't really matter what you looked like: the club operated with an open-door policy, and welcomed anyone who sought a space to state their difference from the everyday… The do-it-yourself dynamic of the Batcavers' style, finally, reconciled the tension between fitting in and standing out." – Claire Marie Healy.
Was it all moody and dark? Olli Wisdom told one reporter in 1983:
"It's the people that make the atmosphere. It's not 'Suck your cheeks in and pose in the corner'. It's very friendly. Basically, it's about fun. It's about having your tongue firmly in your cheek and being able to laugh at the realities of the day-to-day existence."
If you want to grab a sound of the scene, try the 1983 album The Batcave: Young Limbs And Numb Hymns. The inside notes tell us:
"Look past the slow black rain of a chill night in Soho; Ignore the lures of a thousand neon fire-flies, fall deft to the sighs of street corner sirens — come walk with me between heaven and hell. Here there is a club lost in its own feverish limbo, where sin becomes salvation and only the dark angels tread. For here is a BATCAVE. This screaming legend of blasphemy, Lechery, and Blood persists in the face of adversity. For some the Batcave has become an icon, but for those that know it is an iconoclast, it is the avenging spirit of nightlife's badlands — its shadow looms large over London's demi-Monde: It is a challenge to the false Idol. It Will Endure."
The club was influential in that anyone could come to the Batcave and have a great time – no one was rejected at the door (unlike the exclusivity and pretensions of the Blitz Club). Weirdos and freaks danced together without judgement in the spider web and fog machine filled cavern. Because of its importance to the scene, the Batcave eventually became its own musical style and ignited the first flickering of early goth. – Andi Harriman
So if did go to Batcave, you'll get a kick out of this 1983 report from the now defunct London Weekend Television. You might recognise yourself or some other faces. If you didn't go, this is what you missed  – and what mum and dad got up to:
The report features Welsh miner Glyn Jones and his son, a Batcave regular:
"The first time he comes home, I don't recognize him. I was repulsed by it. He'd been up in London about a fortnight, and he came home one day with his hair blond, and makeup all over his face, and he took one step in front of the door. I caught him by the throat, and I said, 'If you ever come home to Ynysybwl, leave your makeup in London where you can wear it, but down here you just don't do that sort of thing.' The youngsters up there, you know, you live in a different type of world than we do, simple as that."
"Where do young people go in the dark hours of the London night?"
Enjoy this post? Donate to CVLT Nation to help keep us going!