NSFW!
Cosey Fanni Tutti of THROBBING GRISTLE Nude Live Actions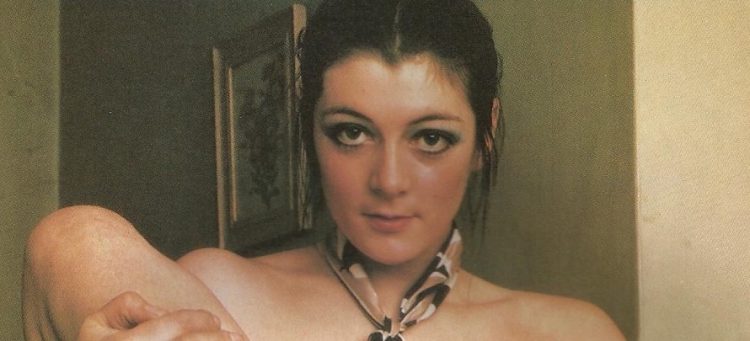 The members of  THROBBING GRISTLE are some of the most interesting artists to come out of the UK in the past century. These humans have made it their mission to shake up the status quo on every fucking level, and for that I rate them. I was a little too young to get into the band, but I have gotten into Psychic TV even more as I have grown older. As bands and as individuals, these artistic humans have helped shape underground expression and have never stopped pushing the boundaries. In the mid 70's, Cosey Fanni Tutti of COUM Transmissions and THROBBING GRISTLE posed nude for Men's mags such as Club International. Check out what Cosey had to say about using her body in art  in a 2010 interview with Vice. I have nothing but respect for people who bear all as a way of allowing their creative spirit to be free. Everyone in THROBBING GRISTLE was punk before the word punk was even used as a label. Looking back at what she was doing is an inspiration for me and many others…Check out this photo essay of Cosey Fanni Tutti being herself!
How do you relate your nakedness in the live actions to that in the magazine actions?


I was laying myself open in a different way when I did the magazine work in that I didn't have any control over what was done and what I was asked to do. That was a deliberate choice on my part. I went into it because I found the work I did in the gallery spaces had just become quite safe for me. People I'd met who were already in the sex industry said, "Do you want to do something here?" And that presented actions to me that I wouldn't normally have pursued or even thought of, or I would have just turned around and said, "No, I don't fancy doing that."

In the films and magazines, you took on ready-made personas—different names and wigs—giving your body a certain anonymity. Maybe this becomes a sort of mask in contrast to your live actions.


Exactly. In the gallery and in the live actions, that is 100 percent me. In the magazine work and in the sex films, it isn't. It's my body, but it's being used to make and present something that they want. It's not me. I'm using that process to learn something about myself, the sex industry, and the people in it. You can't do a film in the sex industry without being naked, at some point. My nakedness there was basically part of the job description, rather than me in the gallery using my body as an art object.
Enjoy this post? Donate to CVLT Nation to help keep us going!