Manic Relapse Fest Announcement – Round I: Pisschrist, Brainoil, Horror Vacui, Kontatto & More!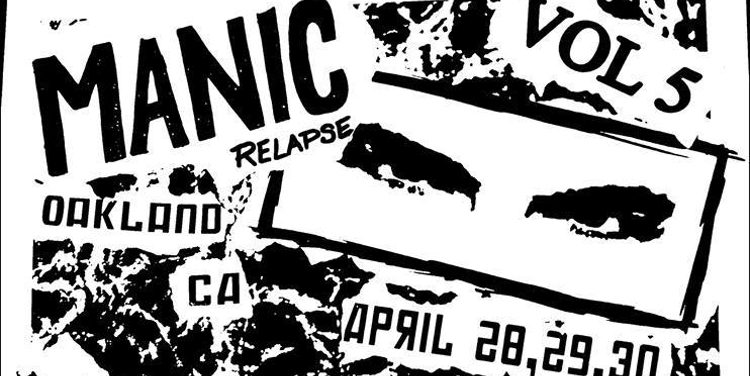 Heads up punx nationwide – MANIC RELAPSE FEST is returning to Oakland, CA this year with its 5th incarnation, which promises to be completely badass as usual. Manic Relapse is a DIY fest organized yearly in Oakland, done by punks for punks, and is completely DIY and volunteer-based, with no exterior support other than from the local Oakland punk scene. The fest takes place over the course of 3-4 days in various Oakland-based DIY spaces, record stores, punk houses, and larger live venues, and has been attracting thousands of people (and growing fast) year over year. Shows are spread out across the city, starting with matinee shows and moving throughout the day and evening to gradually bigger events, which culminate with the headliner events at the Oakland Metro Opera House. VOL. V will take place on April 28, 29, 30 2017 in Oakland CA, and these are the first bands announced. Stay tuned for round II of band announcements and more.
Zounds (UK)
Pisschrist (Australia)
Brainoil (Oakland)
Generacion Suicida (LA)
Crimen (Mexico)
Kontatto (Italy)
Horror Vacui (Italy)
Prision Postumo (OC)
flier by Amanda Moore
Enjoy this post? Donate to CVLT Nation to help keep us going!