Punk vs. Metal is dead, and Like Rats are its death knell.
When this group released their self-titled EP through A389 in 2010, astute listeners could hear that it was a hardcore band's take on death metal. That release placed Like Rats squarely in league with A389 titans like Integrity, Ringworm, Gehenna, Pulling Teeth, and Xibalba, all of whom put the –core in metalcore. Sharing members with Chicago game-changers Weekend Nachos, Like Rats' more metal-leaning tone was a departure, but ten years later, the 5-song EP still sounds totally current, confident, and catastrophic.
With subsequent releases, Like Rats (2012, A389) and II (2016, Southern Lord), the band moved the ticker further to the death metal side of the genre-spectrum, gathering influence from Celtic Frost, Obituary, Morbid Angel, and Entombed, with II especially exhibiting a slower, caveman, HM-2 aesthetic, which was fitting considering the band's then-recent transition from A389 to Southern Lord Recordings. These releases drew comparisons to other bands toeing the line but skewing to metal, such as Nails, Black Breath, All Pigs Must Die, Dead in the Dirt, and Of Feather and Bone.
CVLT Nation Exclusive premiere: "Foul Wind" by Like Rats
Singer Dan Polak says of "Foul Wind":
"The riffs of 'Foul Wind' evoke the image of the Pazuzu demon from Morbid Angel's video for 'God of Emptiness' – just wanting to be worshiped in all its misanthropic misery while the ones who provoked it bow in dismay as what they conjured was not what they had wanted. Life eternal in a world of suffering after conjuring what you thought would get you ahead in this world or others."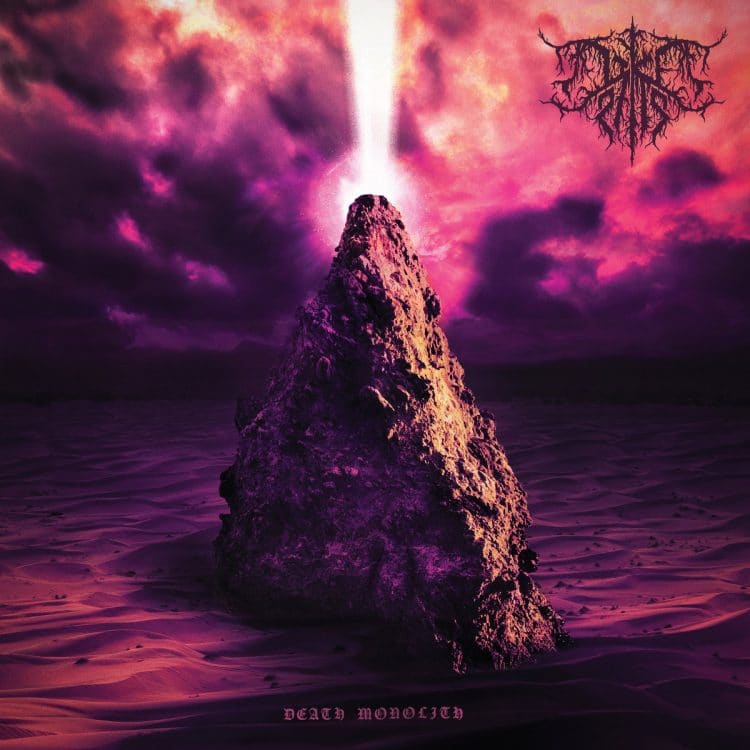 "World Devourer" the first track released off their forthcoming third LP, Death Monolith (Release Date: April 10), is the most self-assured and most "death" release from the band to date. The track starts immediately with the death-growls and buzzsaw guitars that death metal purists want from OSDM revivalists like Gatecreeper, Tomb Mold, Necrot, Outer Heaven, Frozen Soul, Spectral Voice, and Fuming Mouth. This is a solidly DM track, and it is fantastic. Despite moving sonically away from hardcore, the band still has the energy of a boot-stomping DeKalb house show. Sharing members Todd Nief and Drew Brown with Hate Force—which has a similar and equally excellent punk-cum-metal sound and which features another elder statesman of Chicago hardcore, James Pligge of Harm's Way—Like Rats should have no trouble maintaining an audience of hardcore kids who want their music angry and immediate. This band is no side-project, and never has the band sounded more defined.
"World Devourer" is an eruption, spewing spontaneously from nothing, and any crowd with a pulse should be prepared for a churning circle pit, spiraling with sweaty bodies and grimacing faces from the moment Like Rats hits the stage, because this track is a perfect opener for any death metal set. Furthermore, it is the perfect opener for Death Monolith and the perfect first step on the new leg of Like Rats' journey.
Considering "Ashen Rain" and "Foul Wind," it's not premature to say that Death Monolith belongs on all of 2020's "Best of Death Metal" lists.
While fully death tracks, "Ashen Rain" and "Foul Wind" infuse more of the hardcore on which most of these musicians cut their teeth. Growls and blast beats abound, and the most discerning DM fan should love these tracks, but these breakdowns will also get the hardcore kids roundhousing their way from the merch table to the front of the stage.
"Death Monolith" is a deserving title track, a fitting centerpiece to the album. The visualizers/synesthetes among us might see how well this track embodies the death metal and hardcore elements of this band, as this song conjures images of hordes of armored skeleton soldiers, sword-fighting and two-stepping into a dark and flaming oblivion. Death Metal snobs can ignore this comparison, but this album also reminds me of Dethklok, which is to say that, without taking any brutality or sincerity from the band, this album is a damned good time. The riffs are catchy and the beat will get you moving. Furthermore, there are points where Brown really seems to be channeling Gene Hoglan.
The second half of Death Monolith takes a turn into the "cosmic horror" espoused by bands like Blood Incantation, with reverbed vocals and complex riffs, cycling and morphing. These songs are for the invisible oranges, for the hair windmills. "Omega Equation" is perfect for push-pits and crowding the stage to sing along. "Crimson Cosmos" is bold and blinding, full of premium shredding and double-bass brutality. And though the word "brutal" is used so often to describe music like this that it borders on meaningless, it is hard to think of a better word to describe "Contagion," which might be the soundtrack to a cavalry lopping off the heads of an opposing army.
"Land of Gloom" is the perfect way to resolve the arc of this album. Though the whole album is angry and chest-thumping, this track is more solemn. Appropriately named, the song features the slowest sections on the album, complete with dirge-like bells foretelling the gradual descent and dissolution of the track as it continues to slow, to fade, as if drifting into space or falling off an astronomical precipice. It marches, as we all will, into nothingness, ceaselessly, fearlessly, defiantly.
Death Monolith is the full realization of Like Rats' powers. Shedding comparisons to their previous bands, they shed none of their skill at writing compelling, impressive, memorable songs. This is a band everyone should love. This is a band everyone should fear.