DOG BREATH's WE JUST WANNA BE ALRIGHT is one greatest Hardcore Punk albums ever made!!! I can say for a fact that this record is one of the Top 5 records of this year! From the very first moment I heard DOG BREATH years ago, I knew they were something special — now I know they are beyond special. Imagine a Hardcore Punk album created through the lens of Public Enemy's Fear of the Black Planet, Despise You's West Side Horizons, Sham 69's Kids will be United, and Crucifix's Dehumanization, the sonic outcome would sound like this brand new classic! It's not too often a band is able to harness their political power with all-out audio fury plus a HEAVY DOSE of melanated melody! WE JUST WANNA BE ALRIGHT hits like a hot summer day in NYC and has the spirit and joy of the West Indian Day Parade.
The breakdown y'all will experience in the song "F.O.M.F. ft. Flora of MAAFA" is so fucking amazing, I'm almost at a loss for words. Real talk, every time I blast this collection of anthems I get chills of joy because I can't believe how inspiring this record is! The tones that DOG BREATH is able to manifest are otherworldly and every song sounds bigger than the next! I dare y'all to bump "Hardcore Song" and tell me this tune does not bang harder than hard! I can't front — this is a Hardcore Punk album, but it's also an insanely kick-ass Rock & Roll album at its core!
WE JUST WANNA BE ALRIGHT is a sonic statement that is bigger than the band because these songs have the energy that could unify the global underground. "For Art & War" speaks to the struggle of being a POC creative in NYC, which is not easy but resonates with heads around the world. DOG BREATH has the aggro intense rage of power violence but knows how to add these Hardcore breakdowns into the mix that are direct calls to action. Their vocalist, Pierre, gives the performance of a lifetime and as a band, you can hear that they were on a mission to manifest an album that means something to the world!
The glue that holds this masterpiece together is the interludes and samples because they add so much texture! WE JUST WANNA BE ALRIGHT is not about dividing the underground but it's all about bringing us together. I'm beyond stoked to be streaming the record in full below, and if you are on the west coast, DOG BREATH is headed your way. I also want to give a HUGE shout to Alex Diaz for capturing them live in NYC with a drone — the footage is sick AF! Hardcore Punk will never die, it only gets more intense and on point!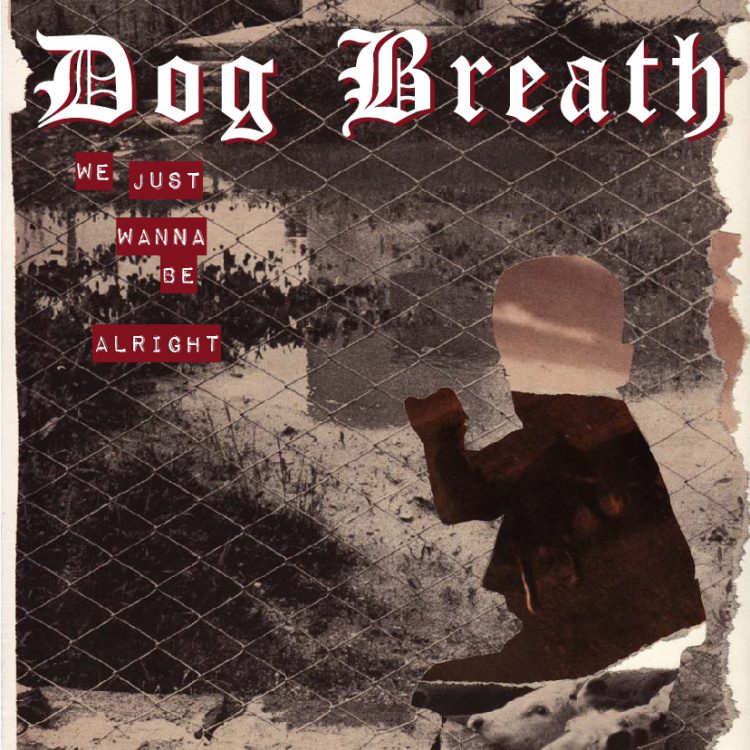 DOG BREATH WEST COAST TOUR DATES!
Aug 17 – Whittier, CA at The Stein
Aug 18 – Riverside, CA at The Raincross District
Aug 19 (Record release show) – Los Angeles, CA at Tromaville
Dog Breath – NYC train tunnel show 6/10/2023 PUNKWITHADRONE