Text via Providentia / Romeo Vitelli
On May 18, 1936, Sada Abe strangled her lover, Kichizo Ishida, to death. After laying with the body for several hours, she took a kitchen knife and severed his genitals. Wrapping them in a magazine cover, she used his blood to write Sada, Kichi Futari-kiri ("Sada, Kichi together") on his left thigh and on a bed sheet. She then carved her name on his left arm, got dressed, and walked out of the room in the Tokyo inn where they had been staying. Sada instructed the staff not to disturb Ishida and left the inn. Shortly afterward, she went to see a politically prominent former lover, Goro Amiya, and apologized to him repeatedly. He had no idea what she was talking about but she was well aware that this career was about to be ruined by the adverse publicity due to her involvement with him. She was right.
Born to a well-off Tokyo family in 1905, Sada Abe (or Abe Sada depending on the naming tradition used) was doted on by her mother who encouraged her to be free-spirited and independent. At the age of fifteen, she was raped by an acquaintance. While her parents supported her through the investigation that followed, Sada was never the same afterward.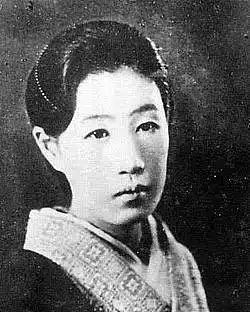 As she became more uncontrollable, her father sold her to a geisha house in Yokohama although family members would later disagree as to why. While Sada maintained that she was being punished for her promiscuous behavior, her sister would state that she had been perfectly willing. Becoming an accomplished geisha was a mark of distinction for Japanese women of the time and Sada had often expressed her wish to pursue this lifestyle.
Whatever ideas Sada had about the glamorous life of a geisha, the reality was very different. After contracting syphilis from a client, she turned to prostitution and began working in Osaka's brothel district. Working as a licensed prostitute posed more problems than she was prepared to deal with and she eventually drifted towards unlicensed prostitution (with all the usual dangers). After both her parents died, she became even more unrestrained. A raid on the brothel where she was working in 1934 led to her becoming the mistress of a well-connected friend of the brothel owner. A string of other lovers followed as she tried to get out of prostitution entirely. In 1936, Sada became an apprentice in a restaurant in an attempt at starting a new life. This was how she met Kichizo Ishida.
Despite being the owner of the Yoshidaya restaurant where Sada worked, it was really his wife who ran the business. The 42-year-old Ishida was a frequent womanizer who was bored with his marriage and it didn't take long for him to notice his free-spirited apprentice. Sada in turn, despite already being involved with Omiya at the time, didn't hesitate when the handsome Ishida approached her (she would later say that "I never met such a sexy man"). Their lovemaking bouts were legendary and often lasted for days. Whatever Ishida's plans, Sada found herself falling in love with him (possibly for the first time in her life). Just being his mistress wasn't enough for her, she wanted to be his wife, and the idea of sharing him with another woman infuriated her.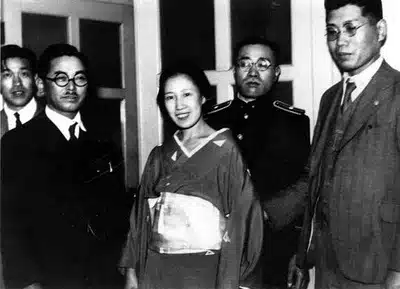 Sada grew more despondent as Ishida drew away from her and she began drinking heavily. Inspired by a play that she had seen featuring a geisha threatening a lover with a knife, Sada bought a large kitchen knife and threatened Ishida with it at their next meeting. Ishida was amused by her threats and took her off to an inn in the Ogu red light district for their next lovemaking marathon. What happened next is mainly based on Sada's testimony. After two days of lovemaking, she took the obi off her kimono and began strangling him. He found the erotic asphyxia enjoyable and told he to do it while he was sleeping. On the morning of May 18th, she strangled him to death (whether intentionally or not is open to debate) and would later say that she felt a "sense of clarity" on realizing that he was dead. After cutting off her lover's genitals, she put on his underwear and left the inn at 8:00 am. The mutilated body was found by a maid some time later and the hunt for Sada Abe began.
There was a nationwide panic over the lurid media accounts describing the deranged Sada being at large.
Reported sightings came in from all over Japan. Goro Omiya got swept up in the media frenzy and his involvement with Sada thoroughly destroyed his political career. As for Sada herself, she stayed at a nearby inn and reportedly made plans to commit suicide. Acting on a tip, police tracked her down to her hotel room on May 20 and she gave up immediately. Ishida's severed genitals, still wrapped in the magazine cover, were found in her handbag.
News of Sada's capture was reported nationwide and even announced in Japan's National Diet. Given the political upheavals of the time, the bizarre sex scandal made for a welcome diversion, and the public ate up every detail of the testimony that she provided during her interrogation.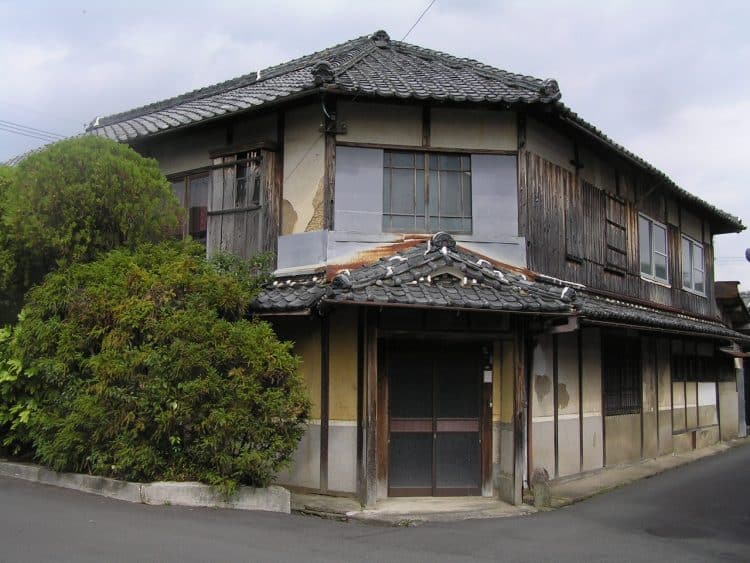 And the media frenzy was only just beginning…
During the eight-session interrogation of Sada Abe, police found her strangely compelling as she talked about killing Kichizo Ishida. Sada was emphatic in saying that "I loved him so much, I wanted him all to myself. But since we were not husband and wife, as long as he lived he could be embraced by other women. I knew that if I killed him no other woman could ever touch him again, so I killed him…..". Asked why cut off his genitals, she replied ""Because I couldn't take his head or body with me. I wanted to take the part of him that brought back to me the most vivid memories." The public was fascinated with the case. While murders due to jealousy were hardly uncommon, the strange story of the geisha-turned-harlot who killed out of love mesmerized Japanese society (and you thought the Lorena Bobbitt case was memorable).
Sada Abe's trial began on November 25th, 1936 and crowds gathered for hours before the courthouse even opened to catch a glimpse of her (she wore a bizarre conical hat when entering and leaving the courtroom to hide her face). Eager reporters relayed as much of her sensational testimony as government censors allowed (even one of the three judges who tried her case later admitted to being sexually aroused by the explicit details). Considering the conservative nature of Japanese society at the time, Sada's testimony (which became a bestseller afterward) was explosive. One leading newspaper described the fascination with the case as "Sada mania" and many of the young women who watched the case were called "Sada fans."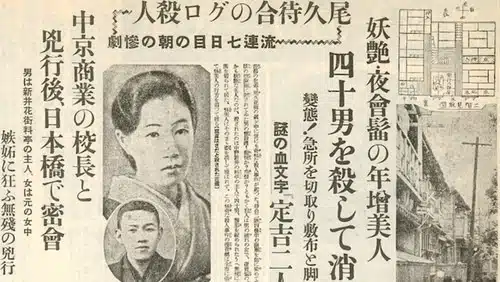 The media furor didn't focus on Sada alone. Goro Omiya had been investigated by the police for his possible involvement in the murder but was finally released. He resigned from his political and academic posts and disappeared from public view. Kichizo Ishida's wife was devastated by her husband's death (although she could hardly have been unaware of his womanizing) but managed to keep the restaurant going. Ironically, the Yoshidaya restaurant flourished thanks to the publicity of the case. Even the inn where the murder had taken place attracted eager customers (many couples specifically asked for the room where Ishida had died).
Any hope for a lengthy trial was squashed when Sada Abe simply pled guilty to the charges against her. Despite her plea, numerous witnesses were called (including Sada's sister) and Ishida's severed genitals were presented as evidence. There was no question of the verdict, only the sentence that she would receive. Sada had been hoping for the death penalty so that she could join Ishida while the prosecution asked for a ten-year sentence. The six-year sentence that she received came as a surprise to everyone in the courtroom. In handing down the sentence, the judge explained his decision by stressing the role that Ishida had played in the events leading up to his death. He also discussed Sada's mental state at the time (despite Sada's objections, her lawyer insisted that she had been insane at the time of the murder). The judge concluded that the sentence would be enough time for Sada to rehabilitate herself in prison and start a new life upon release. Since she never committed another crime, he was probably right.
Sada's time in prison would represent the most stable period in her life. She would later describe the prison staff as "loving and caring people" and actually felt herself part of a community. Despite setbacks (especially on the first anniversary of Ishida's death), she was able to function and even studied Buddhist philosophy while in prison. Due to her being a model prisoner, her sentence was later commuted and she was released on November 10, 1940. Unfortunately, her notoriety kept her in the public eye for the rest of her life.
Even living under an alias, Sada found that public fascination with her case made starting a new life impossible. Since she left prison without any real income, she lived with her sister and brother-in-law for a time but wartime rationing forced her to support herself. Under the name "Yoshii Masako" she went to work as a maid but was fired when her employers learned her true identity. A "serious man" then asked her to become his mistress and she reluctantly accepted. This relationship ended after several years when his family learned who she really was.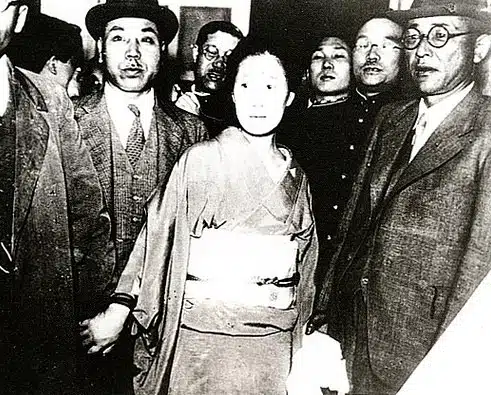 Although Sada realized that her name had become "poisonous" and was distressed that the public thought of her as a "sex pervert", this would change over time as postwar attitudes concerning sexuality became more liberalized. Still, there were few occupations that were open to her as a notorious woman living alone and the stigma of her past continued to haunt her. She sued the author of a scandalous book based on supposed interviews with her (this was settled out of court) and even published her own autobiography in 1948. After years of living in semi-anonymity and working in pubs and restaurants, Sada finally managed to drop out of sight. Last seen in 1970, nothing else is known about her life. Occasional later rumors of her committing suicide or entering a convent sprang up but nothing was ever confirmed and there is no known death date.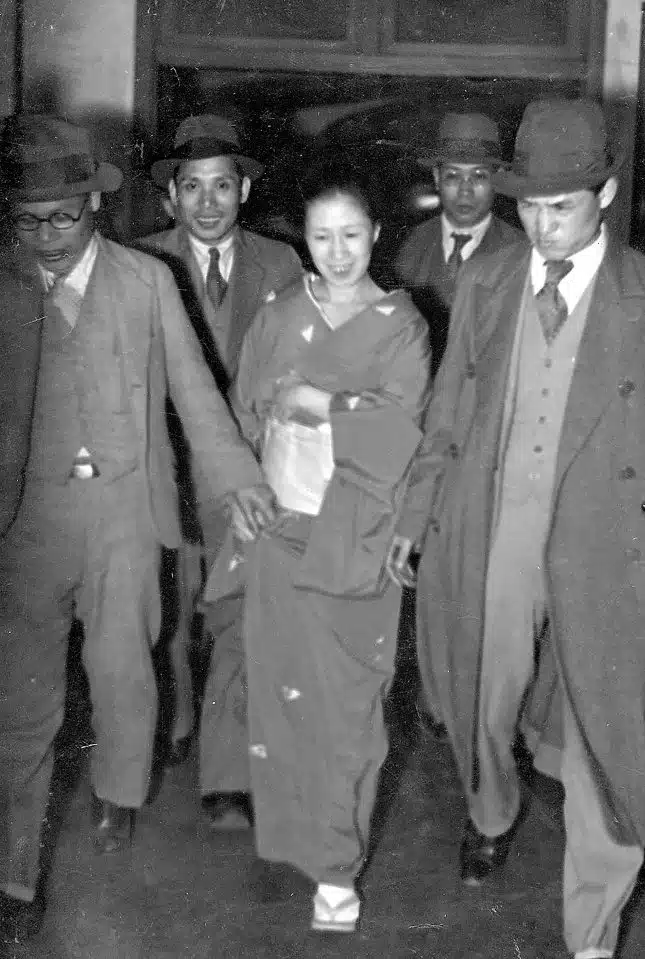 Despite her disappearance, the fascination with Sada's case never really ended. Her life has been the subject of non-fiction books, novels, psychoanalytic essays, and movies. The 1976 erotic classic, In The Realm of the Senses, is probably the best-known of the three films made about Sada's life. The film's explicit sex scenes (and its gruesome ending) caused it to be banned or censored in countries around the world but it introduced viewers to a bizarre case that is still largely unknown outside of Japan. Whether Sada Abe is a feminist icon or a notorious murderer (and she has been described as both), her case represents an important test of the changing sexual mores of Japanese culture. Whatever her final fate, Sada Abe will be remembered.