It might be trite to hold the music—particularly R&B, hip hop, and alternative—of the '90s on some pedestal. That said, alternative musicians of the '90s seemed to have caught some Pentecostal spirit, some mind-bending ghost that caused them to speak in tongues and play guitars like charmed snakes. With the rise of MTV and the music-video-facilitated spread of "alternative culture," there seemed to be a nationwide musical growth spurt. Following the pendulum swing away from the more image-conscious bands that accompanied the earlier generation of music videos, bands were focusing less on being marketable, on being pretty, or on being catchy, and were focusing instead on an anti-establishment, anti-market musical aesthetic. Of course, that "corporate magazines still suck" attitude ended up being the new style du jour, but that original anti-mainstream creativity drove bands to create music that still sounds cutting-edge thirty years later. While not sounding imitative or derivative, while not sounding anachronistic, Militarie Gun's debut My Life is Over captures the creative energy and the uncategorizable sonic pallet of the post-punk, noise rock, grunge, and experimental bands of that period.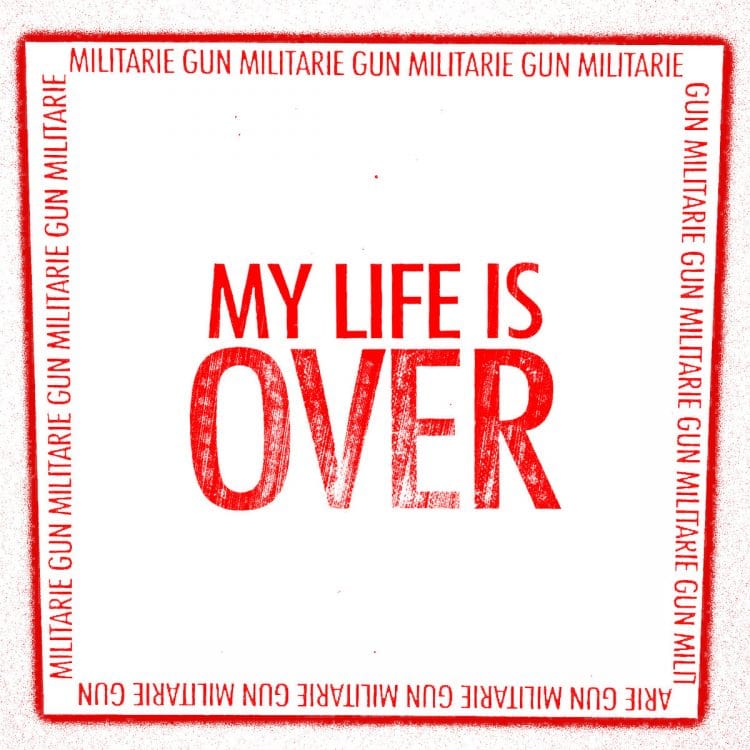 Militarie Gun is the brainchild of a restless Ian Shelton. Shelton—known most broadly for his work in bands like Regional Justice Center, End of a Year/Self Defense Family, Stress Relief, and Seattle's New Gods—is a man of infinite, irrepressible creative energy and, following the pandemic-related cancellation of a Regional Justice Center tour, he and RJC bandmate Steph Jerkova (also of the brain-busting hardcore group Punitive Damage), started writing and recording for a very different kind of project. Eschewing the powerviolence with which Shelton is usually associated, Militarie Gun—now made up of Nick Cogan (Drug Church) and William Acuña on guitars, Max Epstein on bass, and Vince Nguyen (Modern Color) on drums—channels the experimental post-punk energy of early Dischord, Vermiform, Kill Rock Stars, and and Amphetamine Reptile. Fittingly for a band playing a "post-" genre, one that is more defined by what it's not than by what it is, the songs on My Life is Over are the products of passion free of expectation, of pure artistry and enthusiasm. The result is a 4-song, genre-defying musical explosion, and the listener finds themself making a constellation of musical comparisons, none of which quite get it right.
While any new Shelton projects are going to be held against Regional Justice Center, which in its three years of existence has become one of the most potent projects in powerviolence and put out one of the most intense splits in hardcore history with Trevor Vaughan's Wound Man, and which recently released a celebrated quarantine split with Justice Tripp of Angel Du$t and Trapped Under Ice as well as the best-of-2020 single "KKK Tattoo", Militarie Gun is sonically closer to Shelton's equally excellent Self Defense Family and Seattle's New Gods. Militarie Gun combines the artists' collective freedom of SDF–which has become something of an American Broken Social Scene–with the noisy, grungy grit of SNG. A major shift on this record is that Shelton has stepped down from his drum throne and moved to the front of the stage, singing with a cleaner, more melodic tone than he has employed in his other projects. While these songs were written by Shelton in a quarantine-fueled burst, at the rate of about one song per day, the finished products also draw on the sounds of bandmates Cogan and Nguyen, giving this project notes of their respective bands, Drug Church and Modern Color.
Album opener, "A New Low for Progressive Society" draws on the melodic hardcore of bands like Unwound and Born Against, featuring riffs that could have been written by Stone Gossard. Clean, arpeggiated bridges lead from punchy verses into earworm-turned-mantra chorus: "Not everyone's problems are yours." "Dislocate Me" features minimalist, thumping verses and lush, Mudhoney-meets-Fugazi choruses. While Shelton has spent years pulling double-duty as singer and drummer, he establishes himself on this first half as a natural front-person, sounding like a young Henry Rollins doing his best Frank Black impression, and with the charisma of both.
The AmRep angst of "Kept Talking" is savory and spiny. Beginning with sea-sickness-inducing guitar line that hearkens to early Toadies, this song about suffering the inanity of small-talk–perhaps from post-concert punishers, perhaps from old high-school friends at the super market, perhaps from the talking heads on your favorite broadcast news channel–the swaggering verse breaks into syncopated power-chord-driven chorus that sounds like Goat-era Jesus Lizard if they'd been listening to Tad all weekend. A highlight of this track is the featured vocals by RJC bandmate Steph Jerkovic. While her soul-rending gravelly scream usually reminds the listener of a British Columbian Krystina Krysiak, like Shelton, she is utilizing a cleaner tone, a bell-like Skin-meets-Johnny Whitney voice that is the perfect counterpoint to Shelton's hard-edged grunge tone.
Album closer "Life in Decline" gives uneasy closure to an extremely dense, under-eight-minutes EP. It is hopeful and hopeless. It is a horizon that may be a precipice. Beautiful but anguished, the most melodic piece on the album reminds one of Modest Mouse or Guided By Voices, and between sunny, sauntering verses, the spent, one hears the frustrated emotions of someone at the end of their voice. Singing the personal and the universal, Shelton seems to scream at a sky whose darkening only he can see: "It doesn't have to be so senseless. It isn't defenseless. I can't stay in decline"
Ian Shelton was kind enough to answer some questions about his exciting new project.
Since you have played in such a diverse group of bands, it's hard to call anything a departure, but compared to Regional Justice Center, this is definitely a new direction sonically. Was this a sound that you have been interested in pursuing for a while, or was the sudden cancellation of the RJC tour enough to spark that inspiration?
I've roughly wanted to do something more melodic vocally for some time. When I started RJC, I also had just recorded an LP of rock songs but my singing sucked ass, and I was too timid so I trashed it. The best of those songs ended up being on the collaboration EP I did with Pretty Matty singing. When I was teaching Steph some songs for the next RJC LP, I just started fucking around playing the beginning of "Kept Talkin'" and just said fuck it, let's just record something now, and then I stayed obsessive on it from there.
While remaining a very individual sound, Militarie Gun sounds like it draws from many different influences. Can you talk about some of the bands you were listening to when you wrote these songs?
Born Against is always in the back of my mind, specifically with yell singing and especially their song "Alive With Pleasure". The first week of writing I was listening to a mix of Black Flag, Jesus Lizard, The Strokes, The Hives and Fugazi. I think I completely failed at writing anything similar to any of those bands besides maybe Fugazi, but I think it's better that it's a little less traceable and not some outright rip.
What were your lyrical inspirations for these tracks?
All the lyrics would just be written off top while I was recording the demos line by line. It starts as an abstraction then I slowly hone in on it. When Steph and I went in and made "Kept Talkin'" I literally was just complaining about someone who always has to be talking. "Dislocate Me" started out about hating the idea of expecting someone to change to be what you want, but by the end of the writing it ended up being more about longing for that sort of unhealthy thing. I like the lyrics being a little less specific and whatever someone wants to draw from it, they can.
What are your goals for this project?
I just want to follow whatever the influence I'm feeling at the time is while figuring out how to continue to expand musically and push myself. Eventually I want to tour as hard as possible, keep trying to make interesting art and videos to accompany the music as well. The main goal is to not be boring.
Who are some bands that you're excited about at the moment?
I've been completely obsessed with the new singles coming out from The Berries. A band that was already established as being amazing but then they started dropping left field singles that are pushing farther than ever and they feel to me like total hits. I've been listening to a lot of Slowthai, he does collaborations with a producer called Mura Masa and they're almost like punk songs but he's a UK rapper. Those songs feel amazing to me and I listen on repeat. Obviously gotta pay respect to Gulch's LP, amazing hardcore record. The new Modern Color also ends up being listened to more than most things for me.
What should the world know about Militarie Gun and My Life is Over?
Finishing up recording an LP now, you'll hear a lot more from us hopefully sooner than later.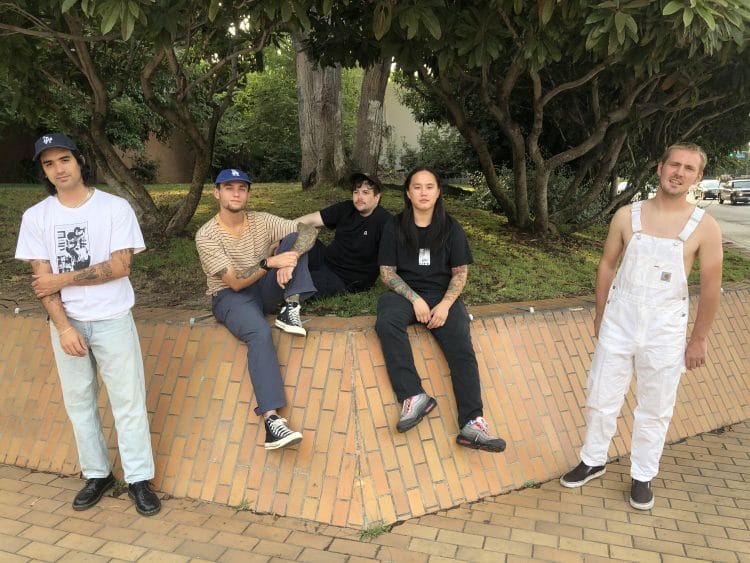 My Life is Over is available on vinyl through Convulse Records.
It was recorded, mixed, and mastered by Nick Townsend and Kyle McAulay.