Escape from the Junkyard is a fitting name for Stepping Stone's debut LP. These rollicking, rocking hardcore anthems are a soundtrack to a parade of motorcycles, fashioned from scrap metal and sweat, tearing down a Canadian stretch of open road, leaving nothing but torn asphalt and whiplash in their wake.
Following up their celebrated sophomore EP, Unreal Form, this release shows the Regina band more confident than ever in their skill and power. Opening with a subdued "Enter Sandman"-style riff, the album quickly shifts to quick palm-muted chugging before exploding into a hurricane of cross-over energy. The songs on this album are perfect blend of early thrash and modern hardcore. The vocals sound like a cross between Tom Araya, Scott Vogel, and Justice Tripp, and the band is locked in with riffs that are catchy, innovative, and complex.
Stay tuned for Stepping Stone's CVLT Nation on July 17th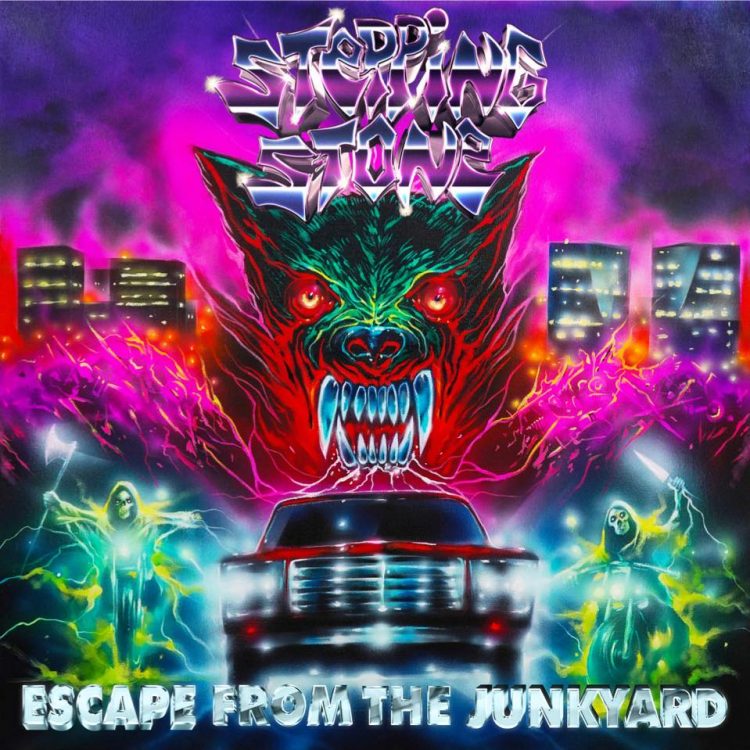 "We tried to take the feeling of prairie night rock and rolling with the mains and put it into hardcore form. I think we pulled off making a hardcore record that is uniquely Saskathewan. From a semi-truck cruising down the wheat-lined highways in the blistering sun, to a sketchy Queen City night drinking Pilsner in the park with your boys." The band's description is perfect. This is partying, headbanging, fist-pumping Canadian hardcore at its finest.
Along with Mortality Rate, Career Suicide, Cancer Bats, No Warning, Chokehold, Fucked Up, Prowl, GAZM, and The Gillingham Fire Demonstration/Trench, Stepping Stone is yet another band demonstrating to the world that Canada has much to contribute to the world of hardcore. While steadily within this cohort, Stepping Stone is making unique contributions to the "Canadian Hardcore" aesthetic, integrating more solos, more tremolo, more gang vocals, and even more death metal elements. Escape from the Junkyard should put Stepping Stone on the radar of any hardcore/thrash fans who've managed to miss their excellent previous releases, and it should position Saskatchewan more solidly in the global network of punk hubs.
The album's progression is from fun circle-pitting crossover, as if Power Trip were playing a bill with Andrew W. K.. One imagines that every most pit at a Stepping Stone ends with the floor, walls, and concert-goers slicked with Old Style and Labatt Blue, with everyone in attendance bruised and smiling. There are similarities to Angel Dust, Backtrack, Comeback Kid, Higher Power, and Down to Nothing. The songs become darker and angrier as the album progresses, sounding more like Soul Power, Trapped Under Ice, and Cruel Hand. But the band never loses its sense of fun. The songs are sincere but light, and they communicate the feeling of talking about one's hardships, one's personal struggles, with trusted friends at a favorite bar. They communicate the feeling of companions slapping you on the back, truly understanding you, and helping you to take out those feelings out at the billiard table or on the open road. They communicate the feeling of a house party with holes in the walls, with broken windows but no broken bonds.
This album feels good. It's therapeutic. The songs are tight, perfectly composed and perfectly executed. Although this is surely a band to see live (They've already toured extensively, playing with Piece of Mind, Dare, Low End, Knocked Loose, and Indecision), Escape from the Junkyard manages to capture a live energy as well as a real, inexplicable sense of community, which is no small feat.
Pick up the fantastic Escape from the Junkyard is released by Safe Inside Records. Preorder through Deathwish Records.