Footage of 22,000 Americans at a Nazi Rally in 1939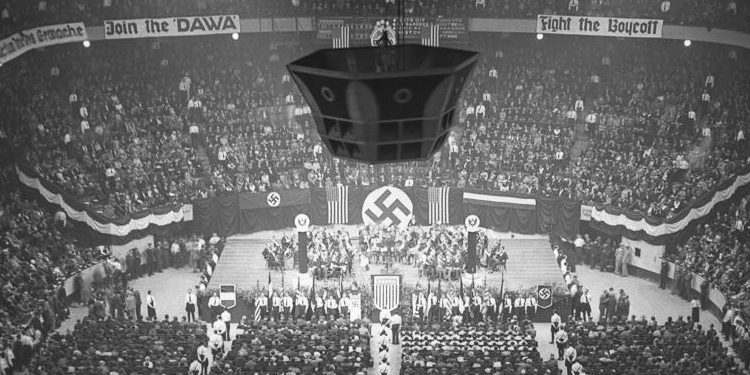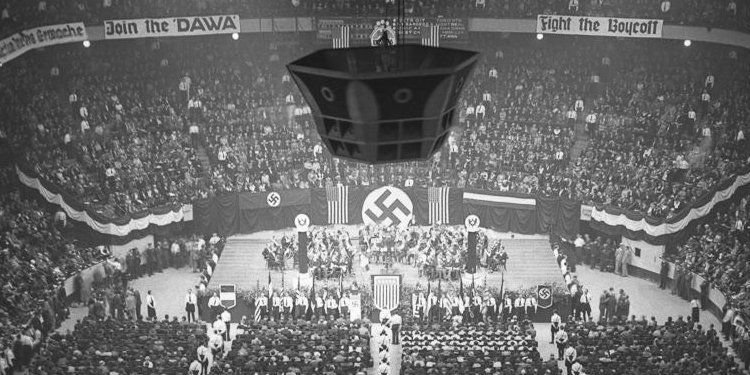 How many times have you heard a certain kind of American say something like, "if the Americans hadn't joined WWII, you'd all be speaking German," or something shitty and ignorant like that? As a citizen of one of the other Allied countries, I've heard it a few times. The way I learned about WWII in Canadian schools was that the only reason the U.S. joined the Allies was because of the attacks on American merchant marine ships – a blow to the bottom line of the companies making big bucks selling to both the Allies and the Nazis – and the attack at Pearl Harbor. While the rest of the allies were declaring war on Nazi Germany, the United States declared itself neutral on Sept. 5th, 1939. More than two years later, the United States declared war on Nazi Germany only after Hitler announced a declaration of war against the United States. Seems like we've all been fed some intense propaganda – especially those educated in the U.S. – about how the American administration really felt about the Nazis. When I was in Berlin, one common refrain I heard from Germans was that while they felt culpable for the actions of their forbears, North America – in particular the U.S. – didn't want to admit any responsibility for their own dirty deeds. Case in point is the archival footage of a pro-Nazi – sorry, "pro-American" is what they called it – rally held in Madison Square Gardens on February 20th, 1939, where the German American Bund organization hosted 22,000 Nazi-sympathizing Americans for an event that looks like something straight out of Nuremberg. How many times have we been shown this same footage, with Hitler at the helm waving his arm around like a crazy person? Why have we not been shown Americans doing the exact same thing  – isn't this important for an accurate understanding of history? Director Marshall Curry came across this footage and created a mini-documentary about this event called A Night At The Garden. Looks like America only hated the Nazis in hindsight. This should be required watching for all U.S. History classes.
Enjoy this post? Donate to CVLT Nation to help keep us going!