Experience the neck snapping metal of LOWEST CREATURE 'Sacrilegious Pain'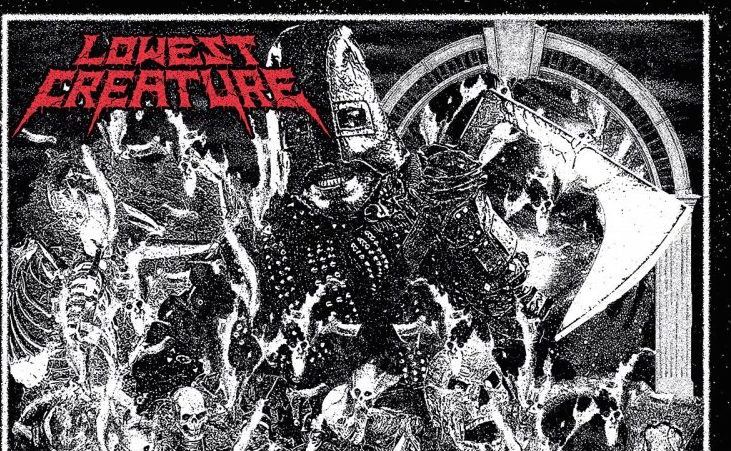 Possessing a neck snapping metal sound akin to Slayer and The Icemen, Lowest Creature also appeals to fans of Iron Age and Integrity by combing an aggressive 80s thrash sound with the sheer pounding power of hardcore. They use their finely crafted songwriting together with their lyrical content to portray a dismal and unforgiving world. Since their inception in December 2013, the band have notched up several physical releases and have made their presence known by touring many times across mainland Europe, as well as taking their robust live show across to the UK. Having graced stages with bands from both ends of their spectrum of influence such as No Turning Back and Power Trip they have shown that they can inhabit and thrive on either side of the metal/hardcore world.
Now following up to their highly acclaimed "Misery Unfolds" 7" (Isolation debut in 2018), the band are hitting out with their debut full length, 'Sacrilegious Pain' which will be released in May 2019 via Isolation Records. They have taken this opportunity to fully showcase their signature blend of hardcore influenced by the Swedish metal sound. Lowest Creature have delivered a monster effort, standing tall in their dark and cold Nordic homeland which so clearly influences their sound and lyrics – the cold winters tearing through their riffs like a knife to the bone and the harsh raw scenes painted in songs such as 'Let The Darkness Swallow Me Whole' and 'Grave Digging' leaving you in a petrified state. Recorded at Ljudkross Studio in Umeå, Sweden, this has perfectly captured everything the band is about. Mastered by Joel Grind from Toxic Holocaust (Sunn O))), Integrity, Mammoth Grinder, Midnight & more) in Oregon, USA, this metal master has truly unified the sound.
With their debut album fully written and recorded, Lowest Creature are now looking to bring their thundering beats and thrusting axes on stage. Beginning with Northcote Festival (Netherlands) in March 2019 and following this up with a 3 week EU/UK tour with legendary Leeway scheduled for May/June 2019. You can expect to hear an onslaught of riffs and witness no holds barred aggressive flying hair action, as previously seen on stage with Twitching Tongues, Disgrace, Rival Mob, Millencolin, Power Trip, Tragedy & more.
'Sacrilegious Pain' is out today via Isolation Records with physical releases to consist of an Isolation Records exclusive pressing limited to 200 copies (Evil Greed & Deathwish Inc. only), with a distribution / tour pressing limited to 300 copies worldwide and a CD digipak.
TOUR
11.05. Örebro – Niva (Sweden)
24.05. Warschau – Poglos (Poland) + LEEWAY
25.05. Berlin – Cassiopeia (Germany) + LEEWAY
26.05. Bielsko-Biala – Rude Boys (Poland) + LEEWAY
28.05. Kosice – Collosseum (Slovakia) + LEEWAY
29.05. Budapest – Dürer Kert (Hungary) + LEEWAY
30.05. Ostrava – Barrák Club (Czech Republic) + LEEWAY
31.05. Chemnitz – AJZ (Germany) + LEEWAY
01.06. Aarschot – Revelation Fest (Belgium) + LEEWAY
02.06. Erfurt – AJZ (Germany) + LEEWAY
03.06. Zürich – Werk21 (Switzerland) + LEEWAY
04.06. Geneva – L'Usine (Switzerland) + LEEWAY
05.06. Bologna – Freak Out Club (Italy) + LEEWAY
06.06. Lyon – Rock'n'Eat (France) + LEEWAY
08.06. Karlsruhe – Jubez (Germany) + LEEWAY
09.06. Ulm – Eden (Germany) + LEEWAY
10.06. Saarlouis – JUZ (Germany) + LEEWAY
11.06. London – New Cross Inn (United Kingdom) + LEEWAY
12.06. Newcastle – Think Tank (United Kingdom) + LEEWAY
13.06. Glasgow – Classic Grand (United Kingdom) + LEEWAY
15.06. Leeds – Temple Of Boom (United Kingdom) + LEEWAY
Enjoy this post? Donate to CVLT Nation to help keep us going!