Exclusive Premiere: D E C O R U M "Bloom" + Tour Dates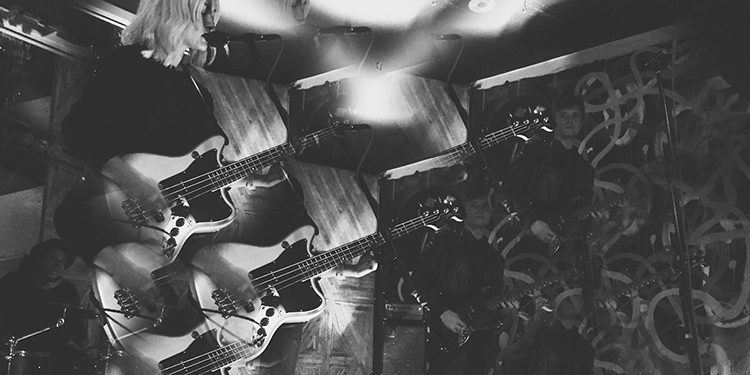 Brooklyn post punk trio D E C O R U M have a new EP set to release in early April called SUMS, and you literally just found out about it right here and now! They also hit the road yesterday and will be all over the East Coast for the next couple of weeks – we've got their tour dates posted below. Today we're rising out of our bleak, grey existence and bringing you an exclusive premiere of a track off the SUMS EP, "Bloom." The gorgeous, melancholy melody is already reminding me that I may yet live to see another change of seasons. Hit play below on "Bloom" and let D E C O R U M take root in your mind…
M A R C H :
03/29: BROOKLYN, NY – BROOKLYN BAZAAR (TOUR KICK OFF) with Pop. 1280 and Wax Idols (CA).
03/30: BALTIMORE, MD – THE HOLY UNDERGROUND with Violet Ripken, Unholy Sights and Wipeout.
03/31: PITTSBURGH, PA – SPIRIT with Bring Her, Derider and Silence.
A P R I L :
04/01: CINCINNATI, OH – RAKE'S END with The Kentucky Vampires and The New Void.
04/02: BLOOMINGTON, IN – THE VOID with Wintermute, Lather and Road May Flood.
04/03: CHICAGO, IL – SUBTERRANEAN UNDERGROUND with Staring Problem, Wingtips and Split Tongue.
04/04: DETROIT, MI – UFO FACTORY with Dear Darkness and Odd Hours.
04/05: TORONTO, ON – SMILING BUDDHA with The Whisper Game and Yi.
04/06: BUFFALO, NY – DREAMLAND with The Patterns, Slow Mutants and Orations. FB Event
04/07: SYRACUSE, NY – THE SPITFAM HAUS with Eternal Crimes, Orations, and Siren's Image.
04/08: ITHACA, NY – SACRED ROOT with Sunken Cheek, First Pet and Motorcyclez.
04/14: BROOKLYN, NY – THE GLOVE with Operator, Casper Skulls (ON) and Patio.
Enjoy this post? Donate to CVLT Nation to help keep us going!