Let me just start this by saying that if you're looking for the real deal in terms of noise rock, BALCANES is a band you need to hear. And when I say "real deal," I mean none of that 90s grunge or alt-metal shit, but a true melding of post-punk and industrial/noise to create something hypnotic, unsettling, and powerful. Ever since their first single in 2014, BALCANES has been purveying heavy, disturbing music that can serve as a soundtrack for industrial capitalist decay. On their new LP, entitled GLORIA ETERNIA, they've pushed their sound even further, and the result is nothing short of stunning – stunning in a way that's closer to the way headlights render a deer frozen in its tracks. Make no mistake, this music is ugly and damaged, like a dilapidated factory, ready to collapse at any moment.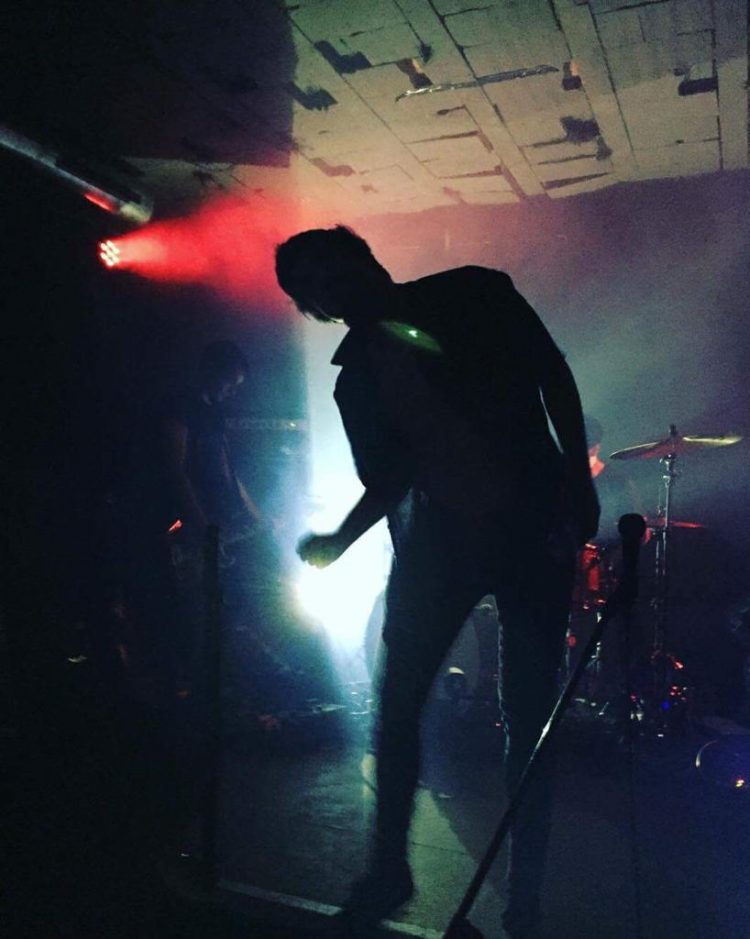 While their last studio material was released in 2017, BALCANES sound as if they lost no time at all. From pounding opening to haunting ending, there is not a single dull moment on GLORIA ETERNIA. Every second is filled with industrial dread which permeates the listener's room – blasting from their speakers and crawling into every dark corner, settling there until the end, where it slowly dissipates. "Okay, that's great, but what does it actually sound like?" you may be asking. Well, listen below and read on.
The music on this 12" is a perfect representation of the classic noise rock approach. That is, industrial/noise played with rock instruments or post-punk played with an industrial/noise approach, as bands such as BRAINBOMBS, FLIPPER, and SWANS have all been mentioned in interviews as being their intent. Slow to mid-paced, primitive riffs church over and over again, repeating until collapse, while pounding drums create a driving, unstoppable force, mimicking broken machinery and the dull yet dreadful and terrifying monotony of life in the industrialized world. This, coupled with pure industrial/noise passages of screeching, pulsing, and droning electronics, some of which merge with the rock instrumentation at times, makes this record as unpredictable as it is repetitive. For reference, I'd say BALCANES' sound on this record falls somewhere between SWANS, ZENI GEVA, RAMLEH, SKULLFLOWER, STICK MEN WITH RAY GUNS, THE EX, TUXEDOMOON, BILLY BAO, and TWIN STUMPS.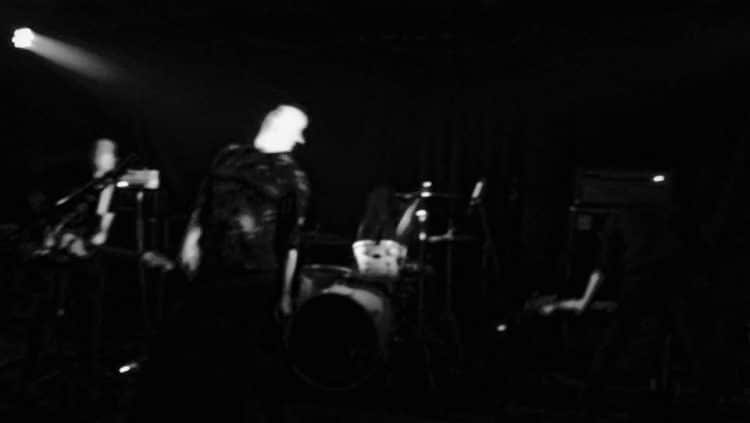 One thing that stands out in particular about this record compared to BALCANES' past output is the artwork (below). Instead of a stark, photocopied image like those used on their previous releases, the cover of this 12" is an adaptation of a colorful self-portrait titled "Beatus Ille?" by painter Tiago Barzana. It evokes a mix of emotions, from awe of the beautiful landscape and color palette to discomfort brought on by the subject's pained, emotionally empty facial expression and the tangled darkness behind the lush beauty in the background. Making the choice even more fitting is the knowledge that Barzana deals with chronic pain due to a condition, bringing a more poignant, personal feel to it. At its core, the image feels like a representation of humans' estrangement from nature by forces outside of our control, despite the fact that we are a part of it. And is that not part of what industrial music is intended to remind us of?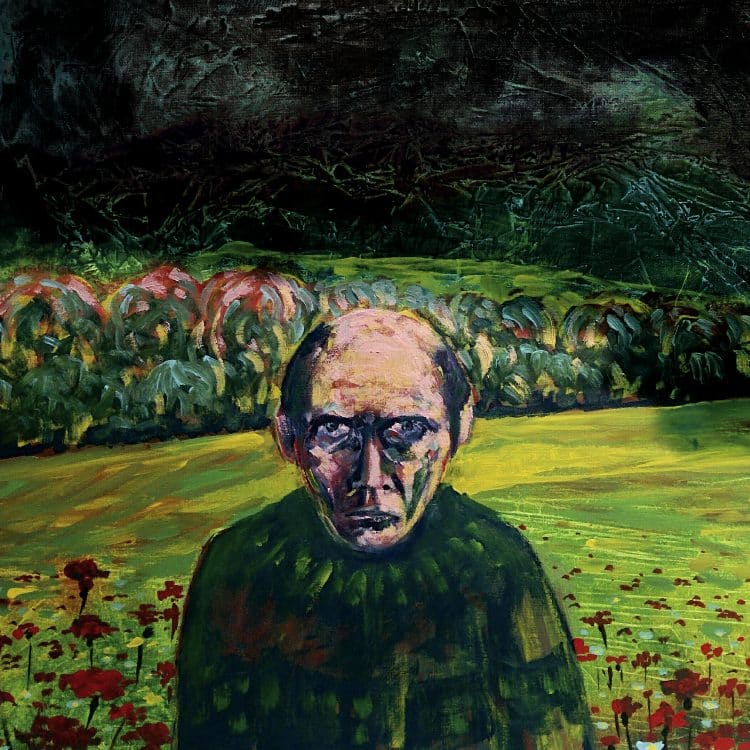 GLORIA ETERNIA is available on September 30 as a joint release from HUMO, MAGIA ROJA, PIFIA RECORDS, and FLEXIDISCOS, and I highly recommend you listen to it and pick up a copy. If you don't want to just take my word for it, consider this: if you love extreme music, why settle for something that's merely accessible and nostalgic, when you can experience something challenging and real?