Exclusive
CVLT Nation Streaming:
AKATHARSIA's "Blood Opulence"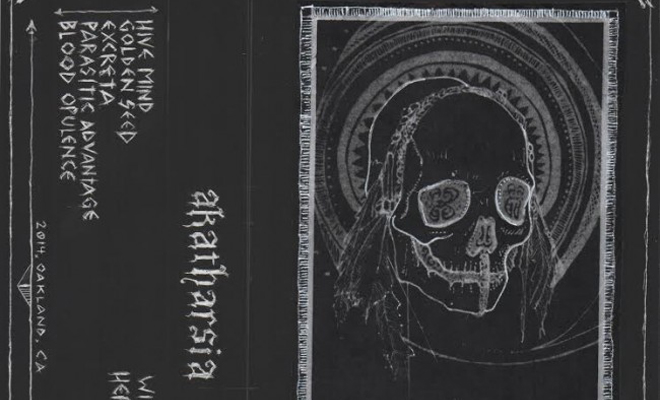 Worms are eating through my marrow. Maggots are pushing their way through my flesh, infesting my skull and tunneling out of my eye sockets. Ash is falling like snow, everything around me lies in ruin, everything is fucking dead and gone. This is how AKATHARSIA's music makes me feel. This is what the new song Blood Opulence, streaming below, makes me envision. Total death, decay and ruin. Helpless misery and the collapse of everything. Complete fucking sickness, loss and despair. A malevolent crossroad of sorts where raw and primitive thrash, post-punk and black metal intersect, lethally injected with an absolute overload of rotting despair.
This is also not your newcomer band whatsoever. This is a band of real underground vets, people who have endlessly tasted death and destruction numerous times before in their other established former and current bands. AKATHARSIA are in fact formed by current and past members of Fell Voices, Negative Standards and Lycus, and they hail from Oakland, the West Coast mothership of rotting and brutal music. This brand new Demo the track is taken from will be released on tape by Psychic Violence, and the vinyl version will be released in the coming months by Econo Jam Records (more information about this to come).  Press play on the track below and get your spleen split in half.
Enjoy this post? Donate to CVLT Nation to help keep us going!