Death Comes Ripping!
The Gore Makeup of 17-yr-old RaniRatt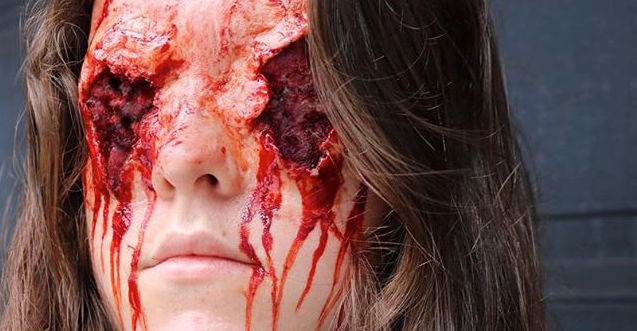 One of our favorite shows to watch as a family is FACE OFF, a special FX movie makeup reality show. Both of our daughters are fans, but our 6-year-old might be the biggest fan of the show in the family. The major reason is because she sees doing movie makeup as one of her artistic pursuits. Being the kind of parents we are, we totally support her in all of her dreams and we know she has the power to make them a reality. The other day, I came across this killer feature on Dazed Digital about young people who create unreal and gorey SFX makeups which they feature on their instgrams. Some of these looks are so realistic I find it hard to believe that it is only makeup. Check out the work of  17 year old RANIRATT and read what inspires her.
"I started special effects makeup roughly four years ago in August 2013 when I was 13 years old. My school was having a 'dress up' day for book week and I had previously been looking around on YouTube and stumbled across a lot of SFX tutorials. I got into a bit of a spiral; watching a lot of down different tutorials for the same makeup look. I then went out and bought a long zip, some cheap face paints, and searched the Internet for some liquid latex which I ended up getting from eBay. So that led to my first makeup creation which happened to be a "zipper face" makeup.

It's great that there's a community on Instagram for young SFX artists. It allows everyone to receive tips and bits of advice from other artists as well as being able to learn and grow in their work. My account started as just my personal Instagram which I had only just started before I began doing makeup. And so when I did my first makeup, I thought I'd post it on my page to remember the day that I went to school looking like an idiot. And then I just continued to post all of my makeups I there. And since I never take 'normal' photos (selfies I suppose) my page just ended up filling up with only fx makeup on it.

I've never intended on trying to create this into a full time job. At the moment I think I'll just be keeping it as a hobby, but maybe sometime in the future I might want to work towards possibly taking it on as a career."
Enjoy this post? Donate to CVLT Nation to help keep us going!