Hear the Devastating Beauty of DAXMA Ruins Upon Ruins EP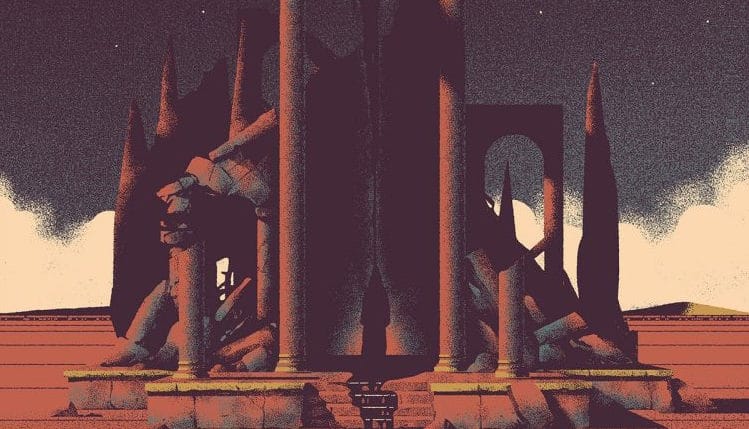 "Landslide" is a song I could sing in my sleep; it's a song that I can feel without even hearing it. It's gentle and has a soothing, melancholic vibe that speaks to me not matter how many times I hear it. So imagine if you could hear a beautiful ballad like "Landslide" but with the reverberation of doom? Well DAXMA have taken on the daunting task of recreating this classic in their own image, taking the feeling of the original and expanding on its sonic translation – and I love it. "Landslide" is off their forthcoming EP Ruins Upon Ruins coming out July 26th on Blues Funeral Recordings. It delves into the lyrical introspection with far-reaching breakdowns that carry me off into the place I always felt I was headed when listening to Stevie's laments. It's a very personal trip for me, as it is for the band themselves – they've described their process with both this track and the other track on the EP, "Minima Moralia," another devastatingly beautiful track, inspired by the Zdzislaw Beksinski's painting "Nevermore." Today we're so happy to be premiering the EP in full – you need to hear this stunning composition and then pre-order it right here. Right now, find a quiet space in your mind and hear the lovely darkness that is Ruins Upon Ruins.
Kelly: "When the idea of covering "Landslide" was first mentioned, I had a lot of apprehension. Not only is it a classic song, but it's been covered many times by many musicians and I worried that we would not be able to do it justice. We ended up approaching it not so much as a cover, but as a separate piece of music inspired by the original song. That simple change in how I/we viewed it lifted a lot of the mental hangups we were experiencing and allowed us to push the composition further than I think any of us had expected at the start."
Jessica: "I was also apprehensive about the idea of making our own version of one of the most well known and beloved songs in classic rock. In particular, the idea of us singing vocal lines originally sung by the incomparable Stevie Nicks was pretty intimidating. Ultimately, all the compositional choices we make are in service to the music. By approaching the vocal melodies the same way we approach creating the violin lines and the guitar, bass, and drum parts, it felt natural and organic. Our decisions are based on what feel right to do for the music and make it resonate with us. Hopefully, our music will resonate with our listeners as well."
Forrest: "The music we create has never been classified into any one genre. Landslide is a perfect example of this. Having so many different instruments and minds in one room has allowed beautiful music to be created. We played landslide each individually how we felt the song meant to us."
Tom: "Several years ago, I lost one of my best friends, Paul, to a car accident. Sometime after we found out that he had died, Isaac called me up. He told me about a dream he had which was partially inspired by Paul's death where he "played the heaviest version of Landslide ever made" and it brought down a mountain. For me, this album was a dedication to Paul. There wasn't a single moment in the conceptualization, composition, recording, or subsequent listening of Ruins Upon Ruins that doesn't bring back memories of my friend and his impact on this world. When I listen to Landslide, in particular, I find catharsis for a loss that time has not mellowed, and for a wound that I fear won't mend."
Isaac: "While a bit has been shared about the philosophical influences on "Ruins Upon Ruins", particularly its relationship to the work of the Frankfurt School, we wanted to share a bit more about one of the biggest visual influences on our creative process for this album. Before we had the beautiful album cover by Max Loeffler, Zdzislaw Beksinski's painting "Nevermore" was an image we all discussed as a thematic inspiration for the album, particularly for the track "Minima Moralia". The feel of this painting is something quite bleak, yet powerfully hopeful. We tried our best to get across this same sentiment in this album."
Enjoy this post? Donate to CVLT Nation to help keep us going!