#10 CIVIC CENTER The Ground Below
Like No Other, Next Level, Challenging, Mind-Morphing, Sonic Shape-Shifting are just some of the thoughts that come to mind as I listen to the new album from CIVIC CENTER entitled The Ground Below. This band has created one of the raddest records of 2020 with their Dub Wise take on Post Punk. Everything about this offering is on point. I know for a fact that Dub is at the foundation of Post Punk, and they prove that it's not dead. They look to the past but at the same time they're pushing the genre forward!
#9 CRUSH OF SOULS Bad Trip
Third Coming Records is becoming one of our go-to labels for Next Level Post Punk Dirge that pushes the genre to places that are fucking new! Now they're back at it with their release from CRUSH OF SOULS, who's EP Bad Trip is an out-of-the-box journey that reminds me of a late night trip to a dank afterhours party in in the Lower East Side of NYC (if you ever went to the HOLE then you know what I'm saying!). The cyco sax I hear on this record reminds me of some straight rad NYC NO WAVE mixed with the right amount of sleaze.
#8 HOUSE OF HARM Vicious Pastimes
I'm so glad this dreamy record from House Of Harm came across my desk this year. It's got everything I need to soothe my soul – twinkling synths, soaring guitar and vocals that sound beautifully frustrated with the constant lessons life is throwing at us.. This is a record that I put on when I just need to dance around my living room and be glad that I'm alive another day.
#7 ALL HITS Men And Their Work
Straight up – ALL HITS Men And Their Work is the best Post Punk debut of the past decade! Their music gives me chills the same way as when I first heard Rudimentary Peni's Death Church. The lyrics on this record are spot on, with lines like, "Keeping quiet for Social Clout/That's not what I'm about/Come on let's kick him OUT!/When are you going to kick him OUT!" – I think about kicking predatory males out of the Punk scene or speaking up against racism in the Black Metal and Death Metal scenes. Fucking refreshing.
Another thing that has me hooked on ALL HITS is the vocal delivery that this band lays down, from soulful clean singing that reminds me of Mia Zapata, to all-out angst! Don't even get me started on the songwriting, because every song is an urgent, catchy anthem but at the same time totally angular. I can't express how important this record is to the culture right now – it's empowering me through the dark days we're living through. I want to say thank you to the band ALL HITS for creating music that truly matters, and that has so much power it jumps out of the speakers. Respect due to Iron Lung Records for releasing this sonic gem! Read the full feature here.
#6 DEATH BELLS New Signs of Life
Death Bells may have changed shape since the last time we had them on a top list with their album Standing At The Edge Of The World, but here we are three years later celebrating their new lives in their album New Signs of Life! You can hear the growth and inspiration in their sound on this record, and it's obvious that no matter what life throws at Death Bells they're going to keep rising.
#5 KORINE The Night We Raise
When I've had a long day and I just want to dance it away, or when I'm floating on the joy of my own existence, Korine is my perfect soundtrack. Depending on how I feel their music can be such soothing melancholy that I can weep while I spin, or it can be an iridescent and bubbly breeze to soar on. Korine makes the perfect post-punk pop with a new wave shimmer in their darkwave heart. Read the full feature here. Read the full feature here.
#4 FEARING Shadow
If you've been following the current wave of contemporary post-punk, Fearing is a household name by now. Launching in 2016 after the collaboration of Brian Vega and James Roger composing synth tunes together at home after meeting online, the band wasted no time releasing two monumental EPs and touring extensively.
Their particular sonic appeal considers the catchy melodies of new wave but adds a new dimension of depth with dense soundscapes in which the respective instruments tend to meld together and become unrecognizable from each other, instead creating a sonic ocean that swirls with sparkling single-note guitar leads, complex chord voicings, thudding basses and cavernous drums.
Favoring mid-tempos as opposed to overt dance grooves or languid stalling, the pace of the 'Shadow,' is perfect for both attention or as a backdrop to daily life, drawing from its incorporeal ambiance and formless nature. With disembodied voices, often in unison, seeming to arrive at the listener's ears from some unnamed level of purgatory, the lyrics focus on grief and lament, describing regretful situations, ruminating on the awkwardness of what went wrong or even if it's possible for things to ever go right. If you've ever looked back on your past and seen nothing worth saving but carrying on nonetheless, you'll relate to their patented realm of remorse. Read the full feature here.
#3 CHOIR BOY Gathering Swans
There's nothing for me not to love about Choir Boy. It doesn't matter whether I feel like crying or laughing, their album Gathering Swans can weave its way through my moods and take me to a place of gorgeous dreams. Choir Boy doesn't make post-punk – their music is where post-punk goes when it dies, floating up in a reverie of twinkling synths and melancholy lullabies to sit on the fluffy clouds of post-punk heaven. I've had this album on repeat since I first heard it this year because it takes me out of the physical world and into the fantastical one where I can enjoy being alive.
#2 SPECTRES Nostalgia
If you're any fan of modern post-punk, Vancouver's Spectres are a household name to you. For over a decade, they've been pumping out record after record of top notch new wave that takes inspiration from early British anarcho-punk and adds dense layers of melody to create a sonic landscape with equal parts fury and melancholy. Over the years they've explored a lot of aural territory, shifting sonic atmospheres from high-paced angst-ridden geography to moods steeped in longing, adoration, loss and gratitude. With such broad experience under their belt, they have no fear in expressing even their most deprived or dispossessed emotions.
A sign of its times and the band's maturity as a whole, Nostalgia is decisively lighter in spirit than previous releases as a counterbalance to the burdensome moment humanity is facing in addition to the commonplace alienation and search for identity everyone experiences as they age. The guitars have taken on a mostly clean, chorused ambience, giving mid-tempo rhythms room to settle in as a backdrop to vocalist Brian Gustavson's hollow wails. As the era follows, their timing is more patient than urgent and the setting feels tranquil yet pining for something more. If one were to pinpoint one word that the album evokes it is absolutely "nostalgia." Read the full feature here.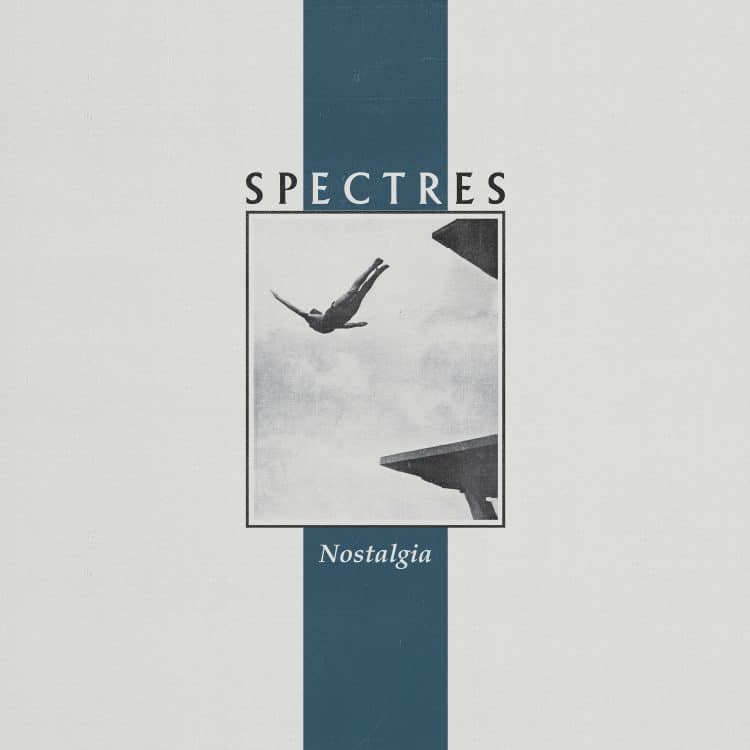 #1 SOFT KILL Dead Kids, R.I.P. City
When people think of Portland they think of knit-capped yuppies sipping fair trade oat milk lattes and walking their Bichon through a quaint city park, cursing conservatives while profiting from their policies and they're right. But Portland has another side that seasoned locals know is grimy and debilitating, ending many lives early and not giving a fuck. The sky is damn near black eight months out of the year, there are more unsheltered people per capita than New York, and the suicide rate has been far higher than the national average for years. It's a dark fucking place in a lot of ways. So dark, that local post-punk legends Soft Kill are dedicating their newest album to those lost to the bitter Portland streets prematurely with Dead Kids, R.I.P. City.
The title is an obvious nod to Kendrick Lamar's eulogy album for his hometown of Compton but the sound is unsurprisingly quite different. While we've come to expect god-tier modern new wave from these prodigal pariahs, Dead Kids aims to establish itself as a holistic testament to what the band is capable of. As a departure from their former albums, every song sounds markedly different in production and everything from the instrumentation to the timbre of the guitar tones can be discerned from track to track as uniquely selected to set a particular mood specific to the song. Read the full feature here.