#10 FUOCO FATUO Obsidian Katabasis
A cursory listen of the crushing opener "Obsidian Bulwark (Creation of the Absurd)" might lead one to question if this is somehow ambient music. Not that it's full of synth washes and gentle tones, quite the opposite. It's insanely heavy, like the sound of two dead planets colliding in space. It's heavy, but Fuoco Fatua seems to favor texture over immediacy in their compositions. The riffs are monumental slabs of Death Metal slowed to molten crawls, but they are often fighting to be heard over the cavernous vocals and thundering drums. By Todd Manning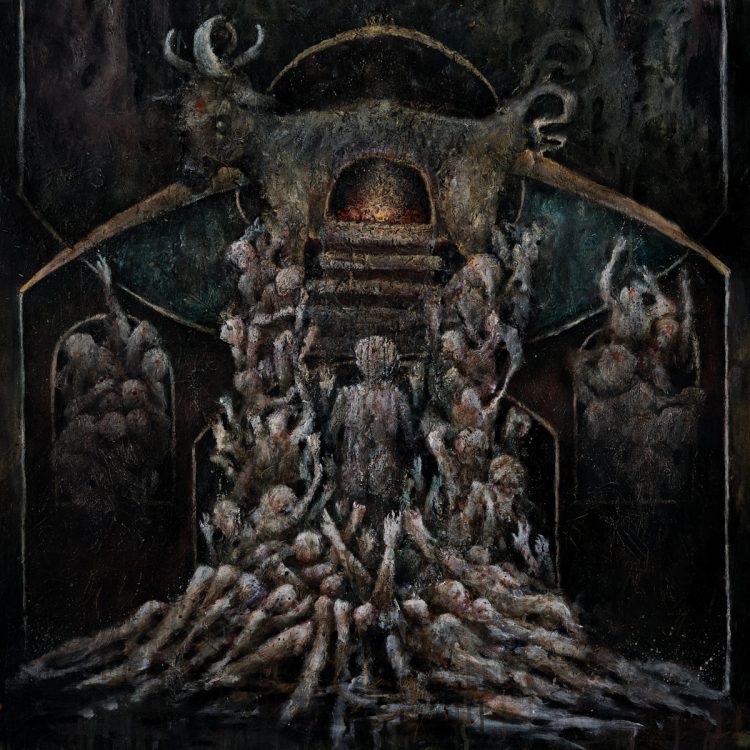 #9 Visions From Beyond Drawing Down the Darkness
WTF Visions From Beyond's new tape Drawing Down The Darkness that comes out on November 1st is RAW AF! The songwriting is grimy without a doubt, but it's the morbid valley of death-filled empathy that really makes me love this band. It's like they want to create a universe of Death Doom where Blues is the master of the world. What I'm trying to convey is that Visions From Beyond knows how to inject their compositions with the right amount of filthy melody that's very enchanting to my ears! I don't just hear their music, I can feel the torment and anguish they manifest with every moment of Drawing Down The Darkness.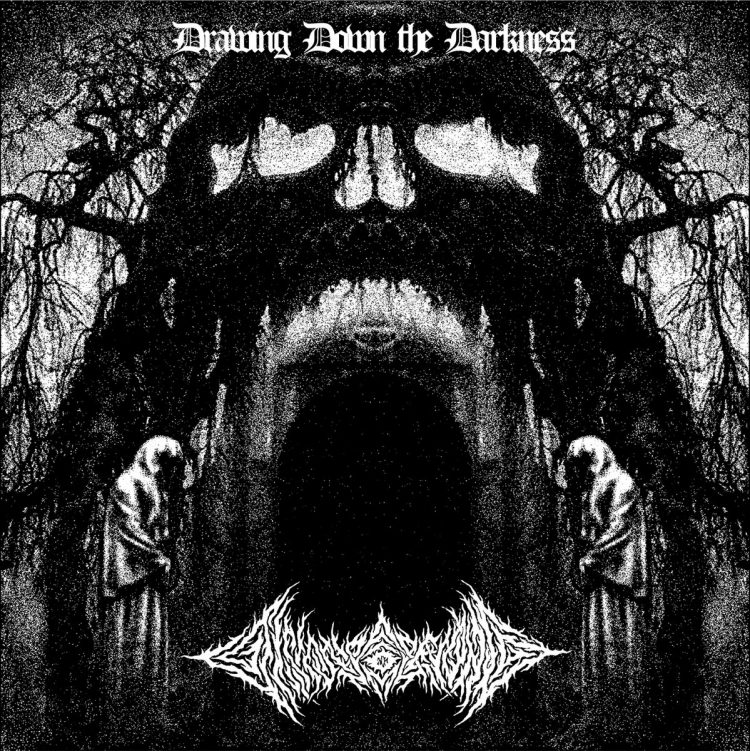 #8 ABERRATION S/T
In reality, these guys are no rookies. Aberration is in fact a new "side project" from members of Void Rot, Suffering Hour, Tvaer, and Nothingness, however, they don't sound too much like their respective main projects and belong more to the abysmal and lightless realm of abstract death metal we've seen crafted from otherworldly entities like Abyssal, Altarage, or Impetuous Ritual. Through a nebulous miasma of crushing guitar dissonance and infernal atmospherics Aberration channel a subterranean realm of decaying death and dissolution that sonically ritualizes the listener's helpless descent into an aphotic and lightless abyss. In its spiraling and suffocating fifteen minutes the self-titled work masterfully evokes grandiose manifestations of darkness and of distant and abstract forms of evil that lie well beyond our plane of reality, facing us with an incumbent and overbearing feeling of doom and finality.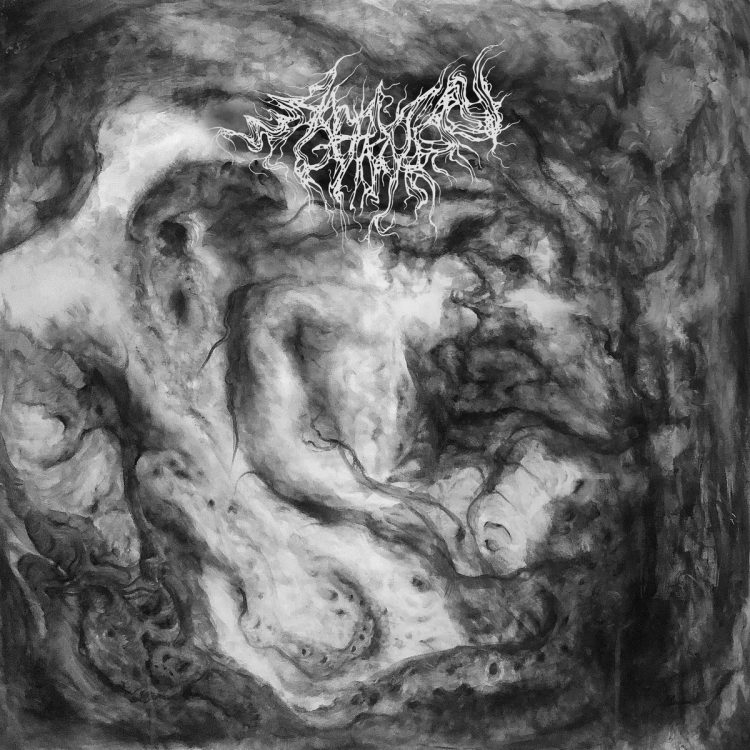 #7 ANATOMIA Corporeal Torment
What we have is a Death Doom tease from Japan's Anatomia. Real talk, this band has never disappointed me and I know with Corporeal Torment they won't let me down. Their riffs fucking reek of 10,000 maggots that are force-fed into your eardrums with each passing second! May 20th can't come soon enough because that's when their record drops! I want to say thank you Anatomia for your Slow, Dead, Grooves of Death!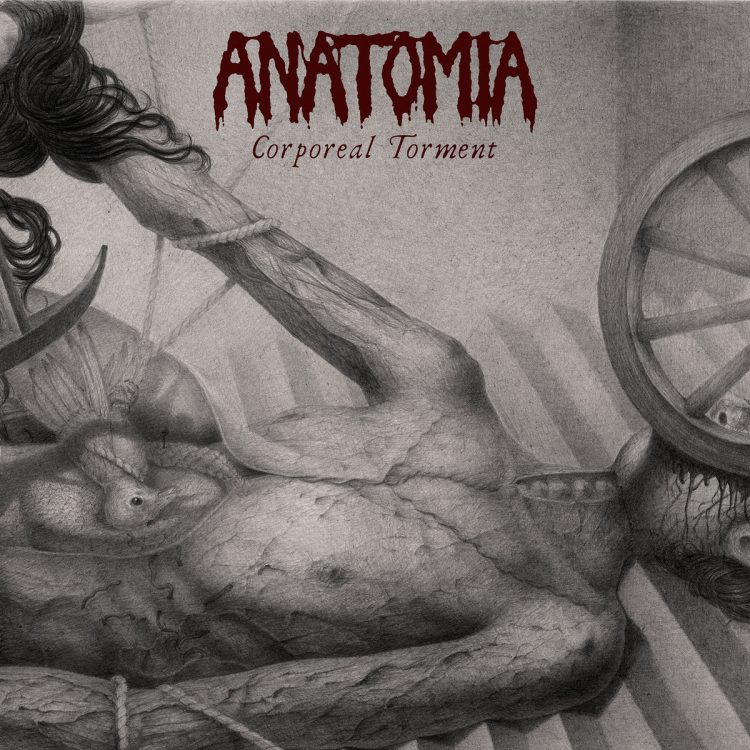 #6 ANHARAT BLOOD SORCERY
Death has never sounded so fucking awesome. ANHARAT brings the real with their new offering BLOOD SORCERY. Their mournful riffs cascade over my thoughts like a warm blanket made of nightmares. I love the tones that this band lays down and the way that they take you on a ride each second you listen to their tape. When I hear songs like "Of Witchcraft And Werewolvery," this crazy sense of power comes over me and I know would kick in the teeth of a racist on site. ANHARAT's music makes me find glory in just being me, plus I want to get high AF. My only issue with BLOOD SORCERY is that it's not long enough, but I'm really not complaining. It's for us all to give ANHARAT the props that they deserve for creating a very special DEATH DOOM piece of magic.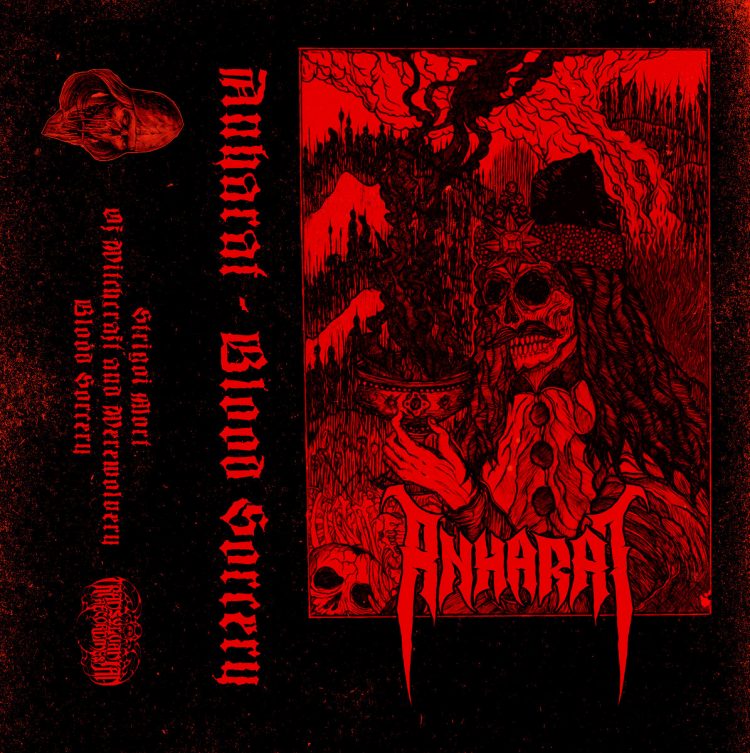 #5 Můra Doom Invocations and Narcotic Rituals

Check this out – over the course of 20 minutes these Czechian Death Doom overlords lay waste to the genre. Every minute of Doom Invocations and Narcotic Rituals is seething with dismal sonics that will not only suffocate you but also make you say damn this band is the fucking BOMB! Straight up, MŮRA deserves all of the shine they get because this tape is very far from being wack!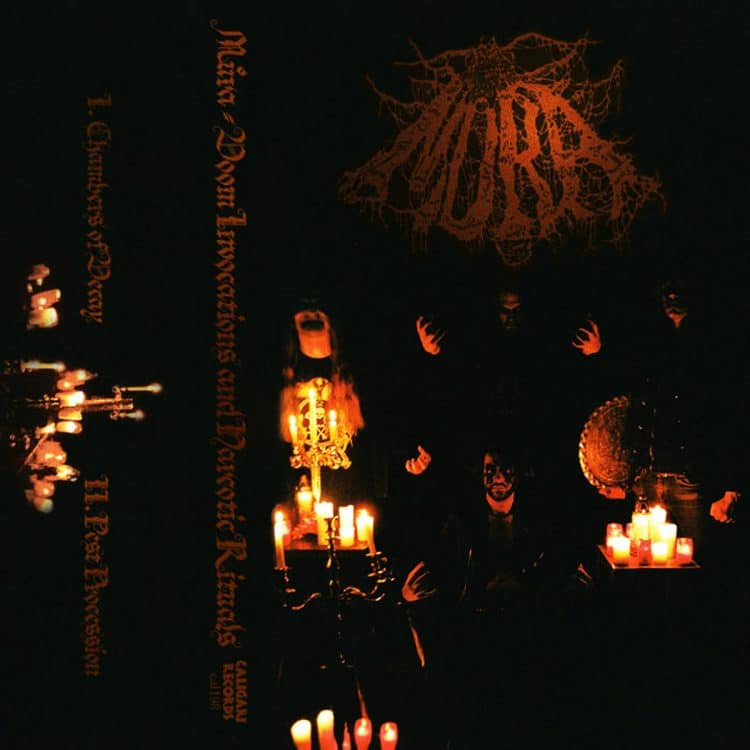 #4 MORTIFERUM Preserved In Torment
You can usually tell right away whether the album you hold in your dirty little paws is going to be one of those uplifting, fist-pumping Metal moments, or it's going to be dark and gritty and nasty. One look at the cover of Mortiferum's Preserved in Torment and you get the idea that this isn't going to be a moshpit of fun, but rather a long slog down a skull-filled road to Hell itself. And you know what? This is one of those times where the cover doesn't lie. The boys from Olympia, Washington, slap you in the face right out of the gate and don't stop punching until well past putting you in the hospital with their blackened, hateful, morose riffs, vocals, drums, and distorted bass. By Kelly Hudson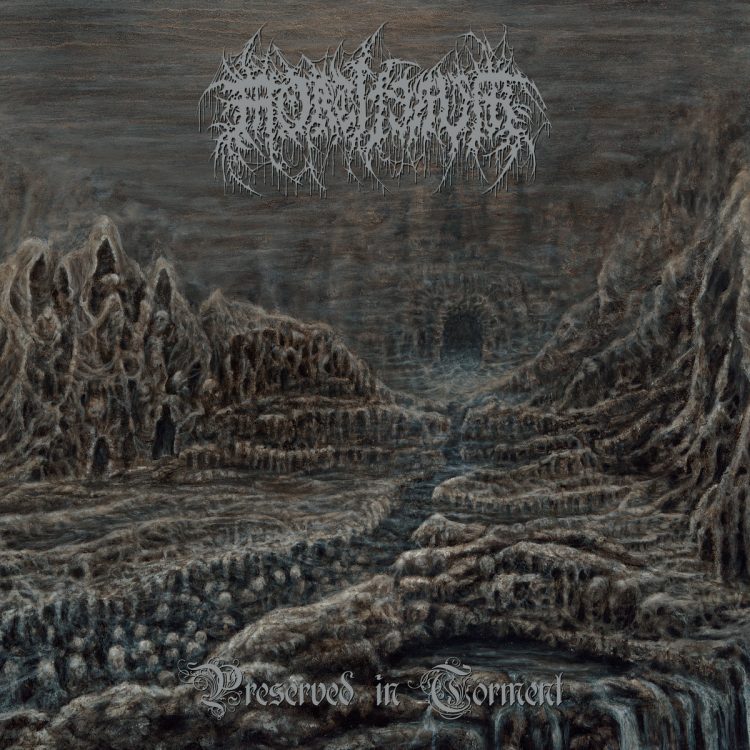 #3 FŌR The Life Feeding Flame
When done right, Death Doom is one of my favorite genres in the underground. Straight up, FŌR's new release The Life Feeding Flame out now on Nihilistic Noise Propaganda is spot on and then some. The cavernous and monolithic riffs that you will encounter on this record are otherworldly. As I listen to these death hymns I can see the ghosts of my ancestors and the pain they felt as they were tortured. I also can feel the glory they felt as they knew one day their day would come! The grim sonic atmosphere you will encounter on FŌR's new tape is suffocating and captivating at the same time. It's now time for you to enter the dank world of FŌR and allow your reality to be taken over by their twisted reality!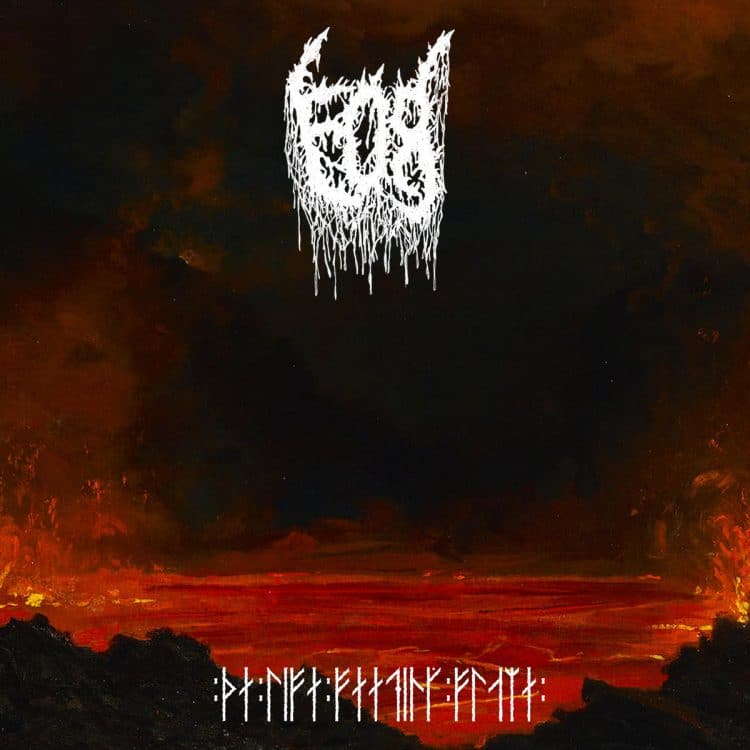 #2 CHURCHBURN Genocidal Rite
With all the various influences working their way into Churchburn's sound, it is still not hard to put a finger on their overall effect. There exists an imminent physicality to all their material. After the noisy intro of "Toll of Annihilation", the six-plus minute title track lets loose with everything they got. The song oscillates between lumbering doom and ripping blackened grind with ease. The slow parts seem to be the aural equivalent of sinking in toxic sludge while the blasts feel like a body being shredded in hurricane winds. There's a dichotomy of feeling weighted down to becoming weightless that proves utterly intriguing. By Todd Manning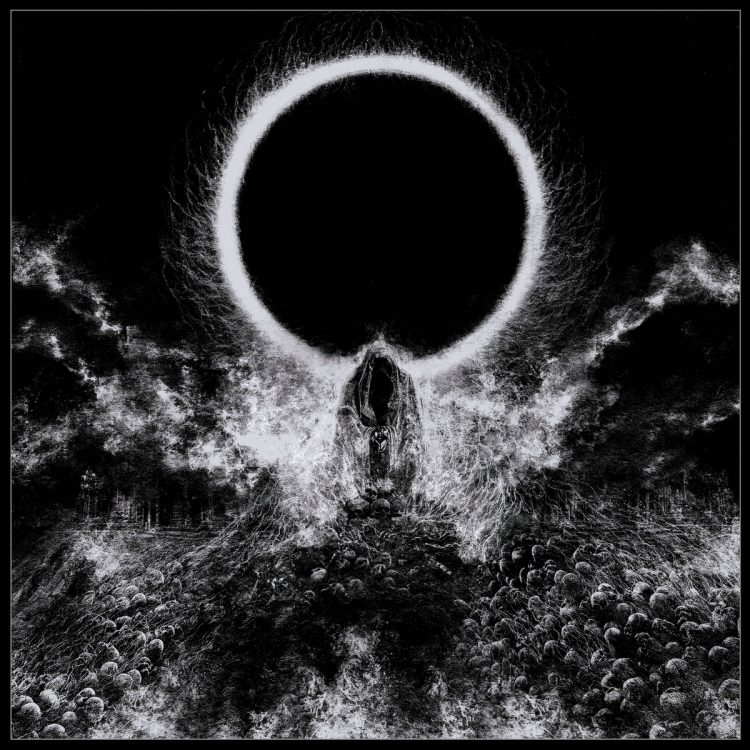 #1 BLACK WOUND To The Endless Depths
WTF, hold on, I've got to say that one more time — WTF! BLACK WOUND sounds like sonic cancer eating away at this thing we call life. From their first vomit-laden song "Absence Of Will" you know that this band can't be fucked with. The vocals are straight D-Tuned weapons of DEATH and they're an instrument unto themselves. In between their sewer riffs, I find myself in a state of cryptic meditation. When y'all hear the beginning of "Unending Labyrinth" y'all will realize the To The Endless Depths is a fucking beast!!!