HOMESICK FESTIVAL – Day 2 – The UC Theatre Taube Family Music Hall
Saturday, January 21st, 2023
Sometimes it feels like the glory days of the San Francisco bay area music scene are behind us; a scattered geographic area well-known for making waves in Thrash Metal and Punk has been wildly gentrified the past couple of decades, pushing out artists and venues, and diminishing the number of new artists that have sprouted up. Thankfully, there are area natives like Ceremony's Anthony Anzaldo, and venues like the non-profit The UC Theatre Taube Family Music Hall, still championing the local scene, and giving the annual HomeSick Festival a place to reside.
Now in its fifth year (and the third at UC Theatre), HomeSick has become a bit of a destination event even for non-locals, and before the lineup is announced people are usually excited for whatever roster of talent Anzaldo has carefully curated. 2023's lineup included a wealth of local underground bands, but also imported acts like Fiddlehead from Boston and Tempers from New York. And the venue, ran mostly by volunteers and students looking to enter the live music profession, has been an incredibly welcoming place for me for the past six or so years.
Only able to cover one day of the festival this year, I was thrilled for Saturday and its arguably heavier lineup with a focus on punk and shoegaze sounds. Let's dig into who played.
zzzahara
Kicking off day two of the HomeSick festivities were Los Angeles natives zzzahara – a solo project of Zahara Jaime that slathered thick layers of shoegaze and dream pop onto a delicious grunge rock crust. The live four-piece featured fuzzy guitars, peppy drums, driving bass, and Jaime's soulful and slightly raspy vocals with a gradual building of energy that helped shake the scattered and sleepy attendees from their late afternoon stupor. A last-minute addition to the lineup, zzzahara was likely unfamiliar to most, but had a good portion of people lightly shuffling and bopping along by the end of their set – which they capped off with the catchy and moderately energetic "Get Out of L.A." The track seemed especially appropriate given they had driven up from Los Angeles just hours before, and it's one that has remained on my playlist the past week.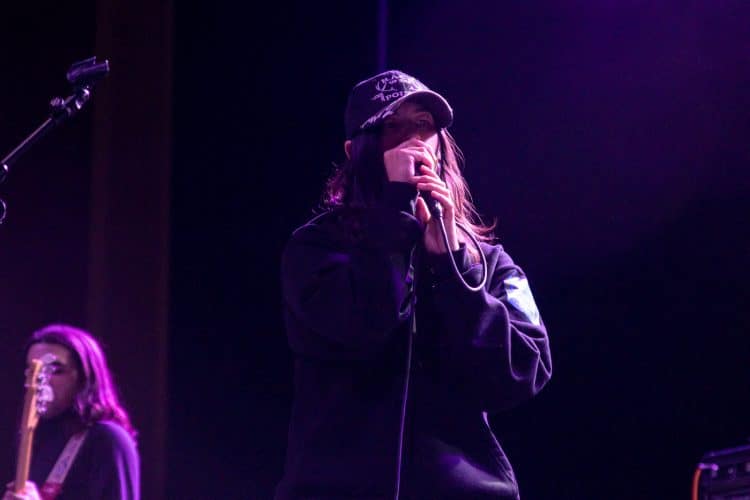 Margaritas Podridas
Hailing from Hermosillo, Sonora, México, this band – whose name translates as "Rotten Daisies" – kicked the volume up a notch. Vocalist/bassist Carolina Enriquez's vocals were frequently hushed and feminine, and then sometimes these blood-curling horror film-esque screeches. More reverb and spacey guitar tones gave their sound depth, and Enriquez had an understated intensity driving the set. The band was so efficient and tight that it seemed they went under their allotted time and tacked on a couple of extra songs. I was disappointed their co-vocalist and guitarist Esli Meuly was absent, but they were still a treat to witness.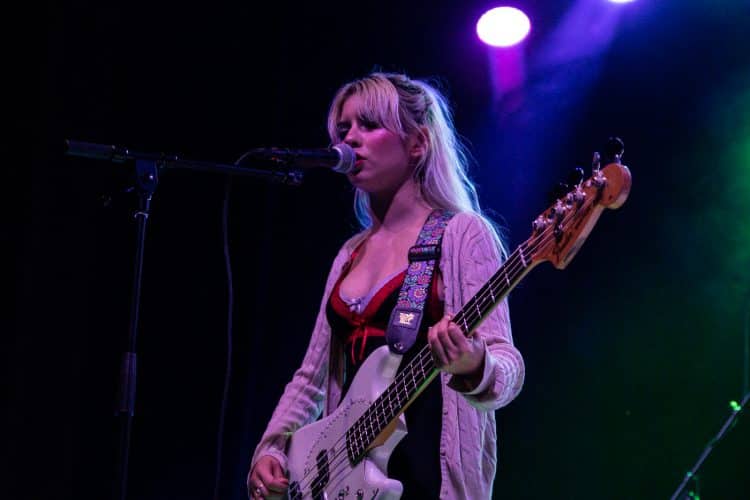 SPY
SPY – a band with an almost impossible-to-Google name – has been on my radar for quite a while, but I hadn't seen them live. Which is, frankly, inexcusable. They've been incredibly active with shows and acting as a flagship band for the resurgence of new punk talent in the south bay area. They are, simply, hardcore punk. Stripped down and bare, they are this throbbing nodule of angry punk on your arm that you can't ignore, threatening to explode, and they showed it live. Frontman Peter, with his long black hair, and black jean and t-shirt combo looked like an "evil" Andrew W.K. who was less about partying hard and more about breaking shit and fighting fascism. The man never stood still and spent most of his time letting out guttural screams, throwing himself onto the ground like a stunt dummy in an action film, or arching his back in ways that would worry a chiropractor. The squealing feedback of guitars, driving bass, and fierce drums had people losing their shit in the pit, and Spy's set had to be the most aggressive point in the evening, and it's probably a good thing that it only lasted around 13 minutes or people would have probably died.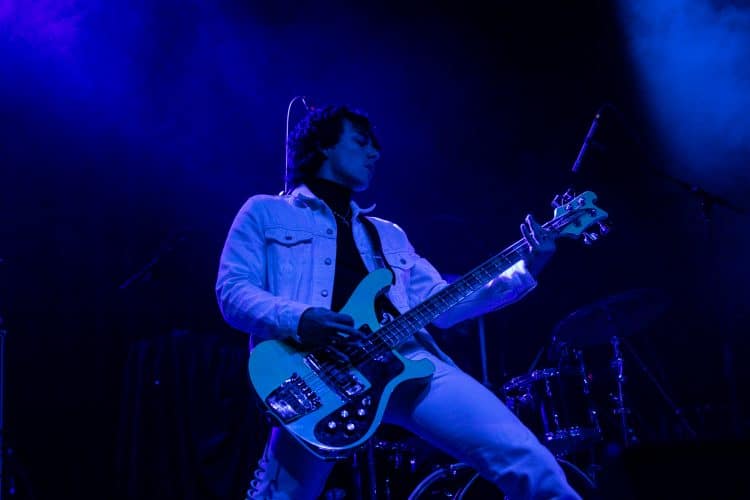 Screaming Females
In a lineup that so far felt very DIY and heavy, new jersey's Screaming Females came onstage with a kind of commanding, professional energy you'd get from a legacy rock band like The Pixies or Garbage. Bassist Mike Abbate and drummer Jarrett Dougherty both smiled much of the time, had little flourishes in their playing, and seemed to just be having a fun time onstage. The singer Marissa Paternoster, though diminutive in stature, had a powerful voice with lots of vibrato and style that was crisp and strong. Everyone in the band played as a tight unit, and Paternoster's guitar work was incredibly skilled and technical without coming across as flashy. Their seven-song set leaned heavy into their album "All At Once", with four cuts from it bookended by songs from earlier albums, and a new track, 'Brass Bell', kicking off the set. Strangely, the band felt a little out of place; more mature in sound than the previous bands, and more polished. I assumed their demographic to be a tad older, too, but I saw many of the kids that were slamming to Spy also moshing along to Screaming Females.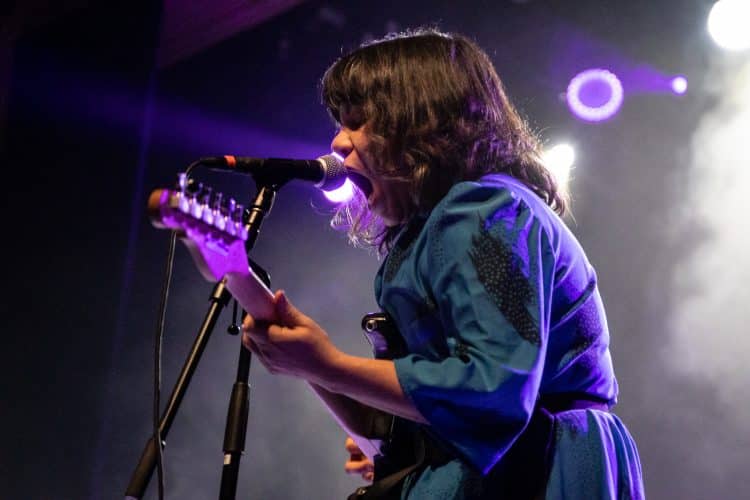 Tempers
I'm probably a bigger fan of synth-focused music than all of the other genres represented at this festival, so seeing Tempers live was a treat. The New York-based dark electronic duo was an interesting palate cleanser in the middle of the second day. Vocalist Jasmine Golestaneh and guitarist/keyboardist Eddie Cooper slowed things down, with some stripped-down synth pop-style tracks, while a portion of the kids in attendance kept swaying along. Despite a few sound hiccups in the beginning, the duo confidently played their set. The performance could have been more visually interesting, but I understand that's not necessarily what this duo is going for, and spent much of their time in shadow. And following aggressive, in-your-face acts like Spy and Margaritas Podridras is tough. I do feel like the goth club kind of vibe they have would be better suited to a small space where the audience's attention can be focused on them and the mood they create, instead of a larger venue full of distractions and the expectation of greater spectacle.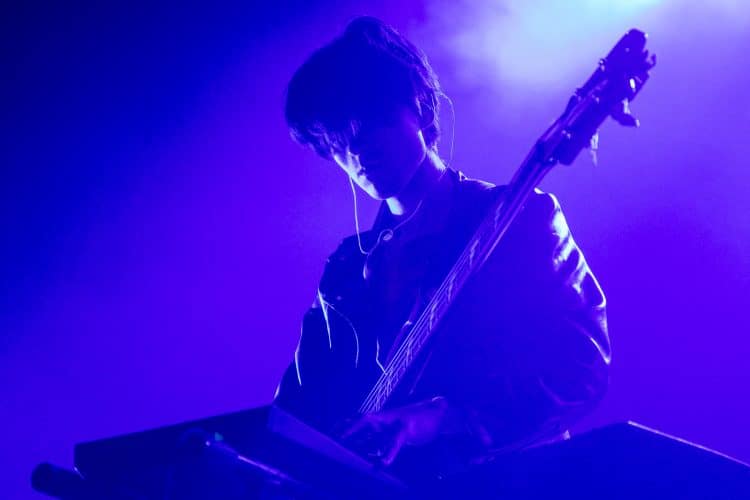 Fiddlehead
Post-Hardcore punk supergroup Fiddlehead rarely tours due to professional commitments, so this was a rare treat for bay area fans. Playing before the headliner (and coming all the way from Boston), Fiddlehead played a lengthier set of punk that had the crowd moshing and crowd surfing, and everyone seemed to be digging it. I honestly don't have much to say about their set. It was skillfully played, energetic, and felt very substantial and sincere. But they weren't on the fringes of genre or style enough to keep me in rapt attention.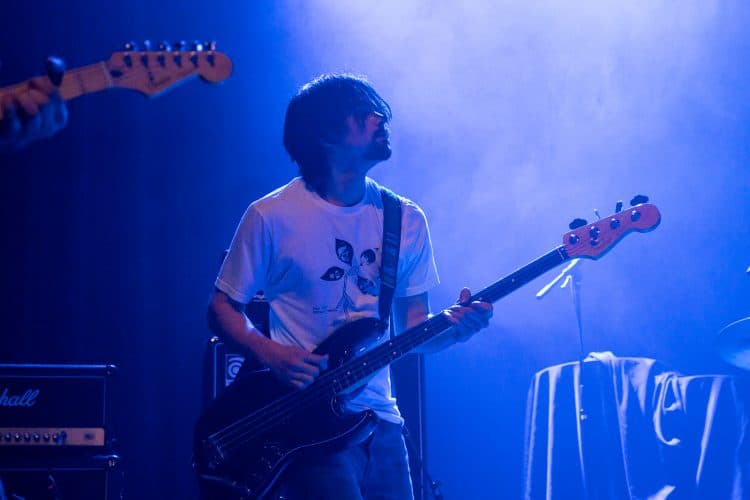 Deafheaven
San Francisco's "black gaze" heroes whipped the crowd into a frenzy. I adore both their atmospheric post-metal work like "Sunbather" and their newer more dream pop-leaning tracks with conventional vocals and immersive soundscapes off of "Infinite Granite". The back and forth in styles over the course of their set was jarring, though. As usual, vocalist George Clarke was actively running around the stage, interacting with the audience, hefting his microphone stand, and beckoning for their attention with all manner of wild gesticulations and intense expressions like some kind of wild-eyed preacher. Crowd surfers made their way to the front, and the singer never broke character. As their catalog expands over the years it will be interesting to see how they tackle the genre changes live, but genre dissonance aside, they were a perfect end to two days of subversive and mostly heavy music.