At last! The debut Cruciamentum album is finally upon us. And damn, was it well worth the wait. Carving a path much like fellow countrymen Grave Miasma (which makes sense, seeing as how they share members, duh) Cruciamentum was quick to make waves with their initial releases like the demo Convocation of Crawling Chaos and the brilliant 2011 EP Engulfed in Desolation. And like Grave Miasma, despite already having made quite a name for themselves, Cruciamentum has managed to take a massive leap forward on their debut album Charnal Passages.
Sticking to their bread and butter mish-mash of old school stylings, nothing here will be hard to wrap your mind around in terms of the band's approach; if anything, what you'll have a hard time comprehending is just how they were able to expand upon it so effectively. What made Cruciamentum notable in the first place was their unique marriage of Incantation-esque murk, Bolt Thrower-like brutality and Swedish riff mastery, paired with a keen ability to craft well-written songs that never felt derivative in nature. On Charnal Passages, that formula has now reached all new epic heights, as the songs that make up this A+ effort are what you come to expect and yet, are much more grandiose in scope than ever before.
Label: Profound Lore
Take the first track, "The Conquered Sun (The Dying Light Beyond Morpheus Realms)," for example. After an ominous, cryptic introduction, the opening riff takes center stage, taking its sweet time as the other elements come into play, delivering pure OSDM goodness, complete with powerful, enunciated vocals as the words "THE FLESH ERODES!" are bellowed forth with great clarity before an eerie atmospheric shift takes place around the three minute mark. And this is precisely what I'm talking about when I speak of the album being more "grandiose" in nature as sepulchral chimes ring out, and as this progresses the composition becomes downright unsettling, setting the stage for a catchy uptick in pace that makes the opening track one that perfectly sets the tone for the rest of the album.
The spine-chilling shifts continue on the following orations, as it becomes ever clear that Cruciamentum simply know all the sweet spots and just when to hit them. Whether it's the grim, beckoning winds of blasphemous doom or a barrage of blast beats and searing vocals, these songs flow incredibly well. I mean, if you're not foolishly head banging in your computer chair and knocking shit over like a caveman during "Tongues of Nightshade," then you might just want to stop listening to OSDM altogether, because it really doesn't get any better in this day and age.
Take the following track "Rites to the Abduction of Essence" as another example of this band's prowess and skillset for writing top notch Death Metal. I could listen to it over and over again were it not for the emotional toll it takes from just one listen alone. It really has everything; atmospheric build up, crushing, head banging riffs, more atmosphere (but heightened this time, think back to the chimes on the opening track), terrific lead work and absolutely hammering, perfectly timed riff changes. If you're not impressed by a song like this, then well, you're probably a poser. 'Nuff said.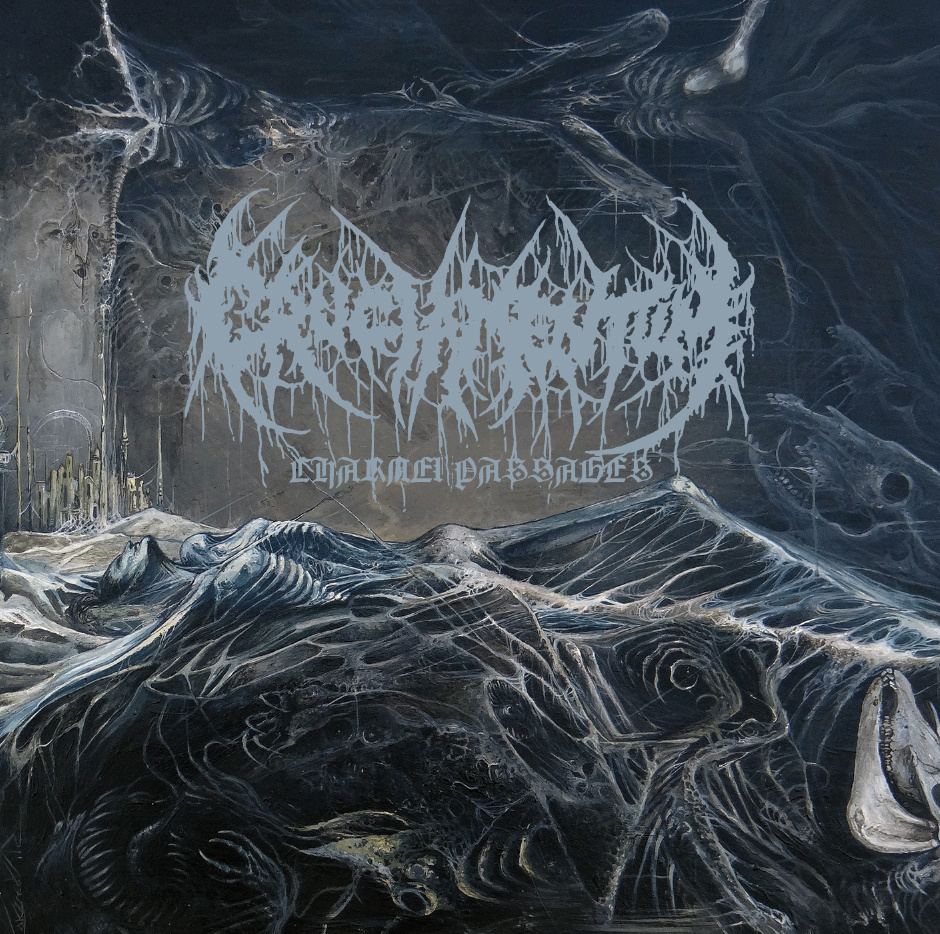 And with regards to another thing that I alluded to earlier, I just want to say the vocal performance here is terrific. Never sterile, always diverse (much like the music), it's always a treat to hear certain moribund lines come through clear, as I feel, despite liking many indecipherable vocal stylings, that it does sometimes add to the overall effect. I find myself clinging to and remembering many of these moments.
That aside, I'll try not to say too much about the last two songs on this record, but goddamn, both are seriously monumental. "Dissolution of Mortal Perception" is simply a song you get lost in, but in the best way possible, while the final track, "Collapse" begins and ends with the same sort of sepulchral atmospheric s that opened the album, albeit this time, paired with a nice contrast of chugging riffs. Furthermore, the peaks and valleys of this song are just mind blowingly massive and memorable as it gets. The section that follows around/after the 2:45 mark will resonate with anyone that has a passion for dark, doomy music, as will the furious, ever ascending theatrics that follow before you're greeted with that same precision chugging and catacomb atmosphere that kicked things off in the first place.
In the end, Charnal Passages is the magnum opus we've all been waiting been waiting for from Cruciamentum, and is one of the more robust, thrilling, heart-stopping pieces of Death Metal I've heard in the last decade or more. Buy or die, seriously.