Since his split with breakthrough synthpop outfit Ritual Veil, Tim Iserman also known as Salo, has been cranking out singles and videos faster than we can keep up with. Largely standing out in the music world for his DIY approach, Salo writes, records, mixes, masters, films, and edits all of his own releases. Hot on the heels of 2020's latest single Suadade comes a video curated intently for this collective moment of isolation and loneliness, leaving some of the single folks among us in a perpetual haze of confusion and longing, wondering when we'll bask in the light at the end of the tunnel. The name of the track is "Tapestry" and the music video rips a hole in our hearts and bleeds us dry –
It's out on now on the brand new label Dream Friends Records, so Noel Maggia of the firm interviewed him:
NM: Musical Influences; who inspires you as an artist. What inspired you to create Salo?
Salo: Musically I have spanged from many haha. I have always held a deep affection for anarcho-punk in its various articulations (the exposure to bands like Crass and the Poison Girls being life-changing…a tribe of many living their idealism and making a lot of joyful racket in the process). I do remember having an especially effusive moment of bliss hearing Hit Parade for the first time.
The 'Bad News' 7" opened many doors of intrigue into the many intersections of electronic music and DIY punk. Both respective genres, if you will, coming from that same bedrock of 'fuck, it was working with what we got..together… we're doing it regardless of a million obstacles.' (Usually capitalism, always capitalism). Mix in MEN/JD Samson, Old electro, a lil disco, Daft Punk, early house and a pinch of replacements on the side.
The agit- approach and evocative allusion to…yes…that Salo, also is of a certain deliberation. I have an affinity to the parables set by Pasolini in those respects. The only way to face the evil of this world is by shining a light into the dark depravity of our own complicity to it. Leashed within the economics of top-down barbarism…we all kneel at the pleasure of their banquet ready to eat what's given; ready to collude in the worst of cruelties for less pain in exchange.
The foremost important thing in this world is to subvert this dominant paradigm wholly and unashamedly. Within and without reservation.
I truly appreciate and have kindred ethos/inspirations from artists and bands like Crass (obviously), Neurosis, Fugazi, Dolly Parton, James Baldwin, The Specials (Two-tone movement), Leonard Cohen, and David Lynch.
And from a philosophical/lifestyle I believe it is fairly self-evident that anarchism and anti-capitalism is a pretty strong undercurrent in my music.
I also really love Townes Van Zandt. Like, a lot.
NM: Similar artists; who would be listed in your "Recommended if you like" section
Salo: Fad Gadget, The Sound, Solid Space, The Screamers, The Chromatics, Soft Kill, Body Of Light, Ritual Veil, LCD Soundsystem, The Replacements
NM: Story of what brought you to play music. What are you aiming to express with Salo. What is your history of being a musician?
Salo: Mentioning Crass being a life-changing band for me is no understatement, when I was 13 I had bought a shitty used Ibanez stagestar guitar, I was terrible and gave up..then discovered punk; bands like the Dead Kennedys, X, The Jam, and above them all and whom immediately cut into my core was Crass. A motley assemblage of anarchists, punks, and old hippies/merry pranksters grabbed whatever instruments (conventional or not) they had regardless of comprehension and made really deep, urgently beautiful, and important art. In an instant of epiphany, I knew there were no rules and that at the very least I could fall back on N.A. Palmer's method in Crass, rake the fretboard and tune all the strings open to each other haha.
From that spark of connection to the music I have been involved and dedicated to the punk ethos; anarchism and DIY and have played in a myriad of bands over the years within the umbrella/community of punk, post-punk, darkwave, and goth. About 8 years ago I started getting really more serious about deepening my understanding of synthesizers as I was always mystified and in awe of them. The electrical current in all its magical articulations….as vast as one's imagination and an exercise in one's patience. I was also wanting to have a self-contained sustainable project to fall back on as the nature of times of band lifespan is one of uncertainty (well, in punk I'd say 2). So in the early fall of 2018 and Salo began. I made some extremely rough demos of a few songs. And in September of 2020, the 'Mercy' EP emerged.
NM: What are the themes of "Mercy"? What story are you trying to tell with that album.
Salo: Anxiety. Haha
Or more accurately facing anxiety. Facing the darkness within yourself saying the things you need to say to disarm the person they made for you versus who you really are and have only yet to become.
It's about desperation and urgency and love.
Love in the verb sense.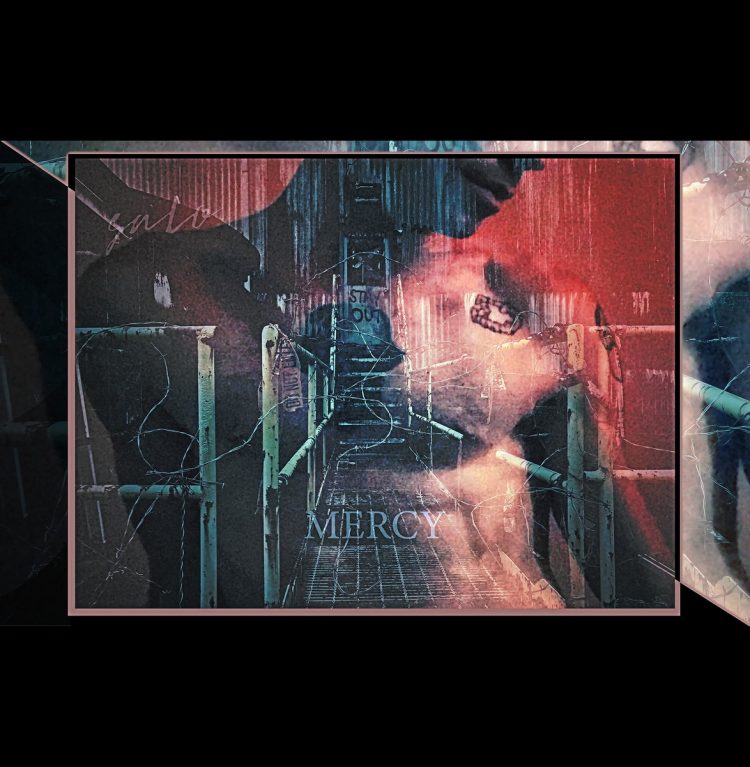 NM: Let me know about any press you have gotten or any notable accomplishments as a band/musician.
Salo: Salo thus far has been featured in online magazine blog DESTROY//EXIST with EP single 'crucifix' receiving a daily featured song position. The song 'Mask' was also given a single feature from online magazine/blog Screaming for Years. 'Mercy' has also been in regular rotation on KSPC radio in LA.
Also notable of mention my old group Ritual Veil received quite a bit of attention/appreciation in the postpunk/goth/darkwave community. With multiple features in online magazines/blogs such as CVLT NATION, and POST-PUNK.COM, as well as being featured on Part-Time Punks in LA.