CHRCH "Unanswered Hymns" Live at Roadburn 2016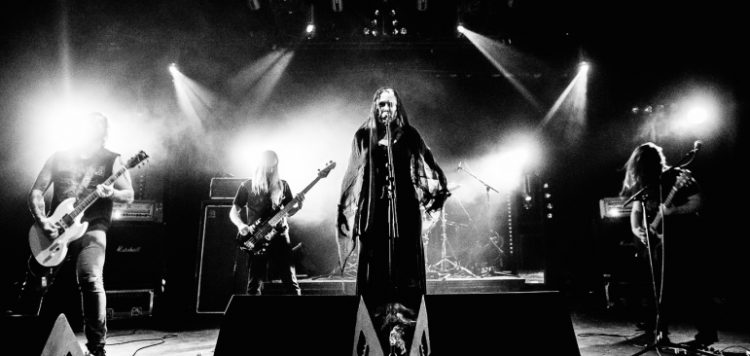 This majestic footage of CHRCH at this year's Roadburn gives me chills! If you are an avid reader of CVLT Nation, then you know that we have been HUGE fans of this band since we first heard them. I'm almost at a loss for words to express how fucking happy we are for them – it makes us so stoked to see humans get to do what they love for a global audience. I want to say nuff respect to Jay over at Transylvanian Tapes for releasing Unanswered Hymns on cassette, which was followed by the vinyl treatment handled by Battleground Records! I remember the day as I was trolling twitter and saw Kim Kelly say that an amazing band named CHURCH (I'm pretty sure they were opening for YOB) blew her mind – it was the first I heard of them. From that moment, I did what I had to do to find out more about them, and they did not disappoint. Unanswered Hymns is American Doom classic, and if you don't have it you should do your best to get it! Thank you so much to Frank Huang, aka Pit Full of Shit, for capturing this beyond stellar live footage. Respect due to the whole Roadburn crew for creating such an awesome platform for the music we all LOVE! I can smell the weed smoke coming out of the screen!
Top Banner Photo by John Gallardo for Shoot Me Again 
May 30th – Fresno, CA @ Dynamite Vinyl
May 31st – Last Vegas, NV @ 11th Street Records
June 1st – Flagstaff, AZ @ TBA
June 2nd – Albuquerque, NM @ Launchpad w/ Dopethrone
June 3rd – Phoenix, AZ @ Pub Rock w/ Dopethrone
June 4th – Los Angeles, CA @ All Star Lanes w/ Dopethrone, 16
June 5th – Oakland, CA @ Oakland Metro Operahouse w/ Dopethrone
June 6th – Eugene, OR @ Wandering Goat
June 7th – Seattle, WA @ Highline Bar
June 8th – Portland, OR @ High Water Mark Lounge w/ Hands of Thieves, Will
June 9th – Chico, CA @ TBA
June 16th – Salt Lake City, UT @ Crucialfest
June 18th – Boise, ID @ Wasteland Studios
June 19th – Reno, NV @ Jub Jub's Thirst Parlor
Enjoy this post? Donate to CVLT Nation to help keep us going!