CHELSEA WOLFE Tour Diary: Dallas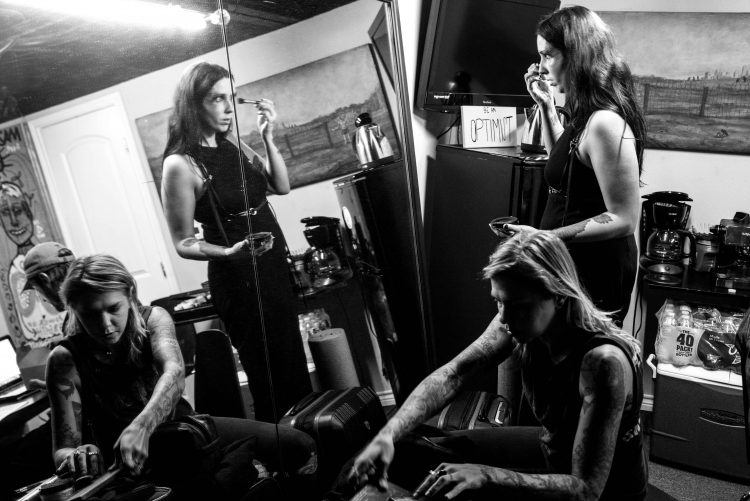 The last of Chelsea Wolfe's Texas shows took place at the Kessler. Jess was DJing in the green room playing Deftones and other 90s/2000s songs that were direct inspirations on Hiss Spun. Chelsea and Sara began applying their makeup, which reflected the music they make exactly; Chelsea's eye mask of abstract black brush strokes and Sara's ever-evolving Frank Iero-esque smudged red eyes. Fred relayed a few stories of his time with Marilyn Manson and Ryan explained his thoughts on the stupidity of guitar solos. Tour manager Justin Scala delivered a new coffee bean grinder, as the current apparatus was obnoxiously large. Members of True Widow filtered in and out throughout the night and Kennedy Ashlyn, formerly of Them Are Us Too and currently of SRSQ, spoke of being inspired to pursue music because of Chelsea. Surrounded by friends and a room pulsing with excitement, Dallas seemed like it would be the highlight of the trio of Texas shows.
If possible, Youth Code's energy doubled night to night. Whether from the coffee or Red Bull, they were at 200% as Sara cavorted across the stage in what was becoming her uniform Einstürzende Neubauten shirt and Ryan held his spot at his table full of electronics. Having worn a Pantera shirt backstage and branded her water bottle with a Marilyn Manson sticker, their never-ending array of influences began to make more sense and to become apparent in their show as days passed.
As with the previous nights, different songs rose up to shine throughout the set. Tonight, the rock-infused live performance of "The Warden" followed by the thus-far unparalleled emotional roller-coaster that is "The Culling" seemed to grab my attention. "Scrape," the industrial album closer, became more cathartic and unhinged as the crimson lights fed into the already intense, intimidating atmosphere the song created. Kenny, the older gentleman working security that night, cheered throughout the show and seemed to be the most enthusiastic and devout Chelsea fan in Dallas; the band signed a setlist for him and his glee was contagious.
After the show, everyone made their way to The Church, an industrial-goth club perfectly suited for the likes of Youth Code and Chelsea Wolfe. In fact, upon arrival it was obvious that a goth celebrity was indeed on the premises. The women's bathroom turned into a selfie spot and people lingered at arm's reach to talk to and take photos with Chelsea. Thank goodness the next day was an off-date for travel to Nashville…
Enjoy this post? Donate to CVLT Nation to help keep us going!