Caustic Wound Death Posture should be the soundtrack to a fear-mongering news special about how heavy music will lead your children down the path of evil. It is ruthless. It is fearsome. It sounds like it could be played in the tape-deck of a dead Chevy at a tailgate party for a Death concert thirty years ago, and it is fantastic.   
Drawing from the ranks of Mortiferum, Cerebral Rot, Fetid, Magrudergrind, and Owen Hart/Earth Control, Caustic Wound is a whirling maelstrom of rage and venom. On their debut album, Death Posture, these death and grind veterans combine their skills and experience to create something that maximizes their talents, something that is entirely its own beast, hulking, sprinting, and bloodthirsty.
Death Posture is a breathless hurtle from start to finish. It is vicious, angry, and hungry. The album harkens back to the golden ages of death metal and grind, drawing comparisons to early Napalm Death, Autopsy, Repulsion, Brutal Truth, and Possessed. Along with a spare production, guttural vocals, and shredding guitars make these songs feels Promethean, as if they themselves are discovering the fire that made death metal and grindcore so innovative and rebellious in the first place.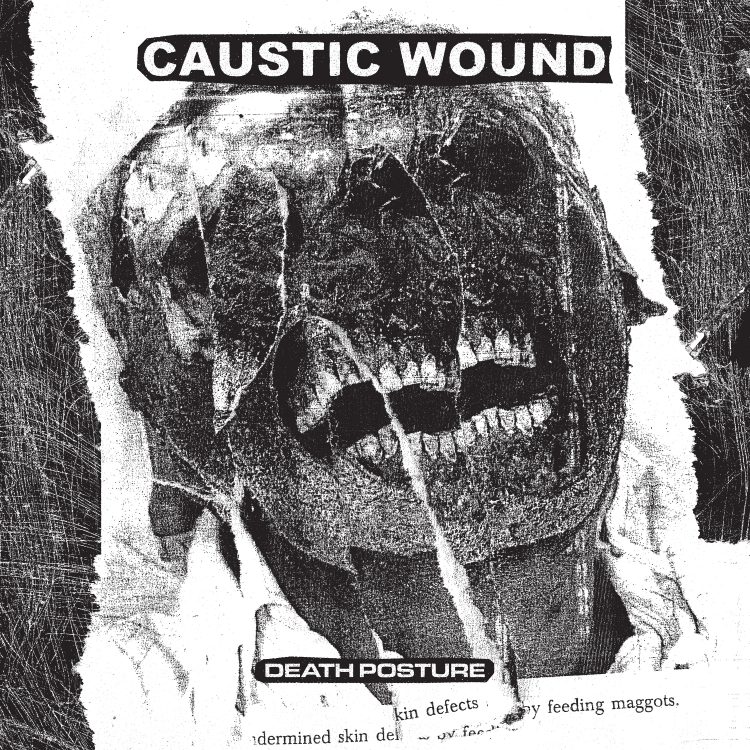 Caustic Wound is an apt name for the corrosive, infected sounds that these five masters-of-the-craft create together. Chase Slaker and Max Bowman of Mortiferum work wonders as dueling shredders, gouging songs with squeals, dive-bombs, and blazing, classic soloing. From powerhouses Cerebral Rot and Fetid, Clyle Linstrom's gurgling growls are hellish, taking command over the grinding chaos spinning out throughout the album. Tony Wolfe hails from the excellent and underrated Owen Hart, which became Earth Control following a lawsuit from the Hart family, and his bass manages punch through the cacophonous din, taking main stage during some memorable solo moments, such as at the beginning of the militant, marching "Visions of Torture." Effortlessly tying this burning miasma together is Magrudergrind's Casey Moore, whose versatility on drums is nearly unparalleled in modern grind.
In 2018, Caustic Wound released their demo, Grinding Terror. Simultaneously and extremely heavy and fast, the demo was a cannonball, hurtling, hot, and heinous. "Guillotine," "Visions of Torture," and "Cabal," earworms from that demo, are revisited on Death Posture with new polish but with no less grit. On this album, the band capitalizes on the acidic chemistry they found on that demo and add to it until it boils over.
This band never sacrifices heaviness for speed, as even at their fastest, when it sounds like Moore must be using power tools instead of drums, it is a quickness of sledgehammers and battering rams, tearing down cities and leaving only splinters and rubble. This surplus of speed and heaviness is especially apparent in songs "Blast Casualty" and "Ritual Trappings." The first single, "Uranium Decay," is a showcase of five musicians with unquestionable skill. It is catchy, complex, and challenging. Single two, "Black Bag Asphyxiation," promises to be a fan favorite, with quickly changing but immediately identifiable riffs.
Caustic Wound has nothing to prove. They are skilled musicians and songwriters; their other bands have earned the respect of millions of fans; and they are clearly scholars of old schools death and grind. For anyone who is dissatisfied with the current state of death metal and grindcore, Death Posture is a must-listen. For every band who calls itself "old school," this is how it's done. Fully modern and fully classic, Caustic Wound makes use of all musical innovation these genres have seen since their inception while reverting back to the attitude and the approach that created them in the first place.
Parents really should keep Death Posture away from children; not because it will make them skip school, do drugs, or sacrifice animals; but because it will make them cynical about much of the newer music that is being made today.
Caustic Wound's Death Posture is out through Profound Lore on April 10.