Bones Crumble… NADJA Unleash "Tangled" – Review + Stream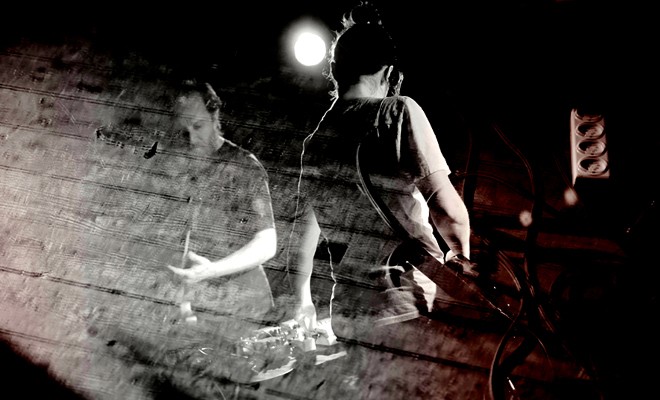 NADJA are fresh from releasing their brand new masterpiece full-length album Queller earlier last month, but that doesn't seem to be enough for the prolific Canadian shoegaze-doom duo, and now the band brings us another unbearable barrage of shimmering destruction in the form of Tangled, or what they call "our grindcore album". And in fact, when you press play on this thing, you will be very surprised to hear the fastest NADJA songs ever put to tape, six tracks in under fifteen minutes of completely unrelenting, fucking pulverizing industrial sludge destruction.
This feat kicks off with the monstrous Like A Hand On Your Brain, two and something minutes of punishing drum machines lost in a suffocating mist of fuzz and complete downtuned riffage annihilation. The EP then unfolds along these coordinates, deploying one industrial cyber-doom clobbering after another, all wonderfully encased in a monstrous sarcophagus of ultra heavy doom-infested riffing. The BPMs never fall below a certain number, keeping the rhythms for the most part unrelenting and constantly fucking punishing, while the riffs always follow suit never loosening their grasp of intensity and delivering one mammoth blow after another to ensure the maximum yield of destruction possible. Some gnarly screamed vocals appearing from time to time, lost in the utter shitstorm of cacophony created by the instruments, just elevate the amount of heaviness and annihilation this EP is packed with to the next fucking level. The result is something totally beautiful and unheard of that stands somewhere between My bloody Valentine, Godflesh, Ministry, Red Harvest, Agoraphobic Nosebleed, Jesu and Codeine. Out now on the band's own label, Broken Spine Records. Fucking incredible.
Enjoy this post? Donate to CVLT Nation to help keep us going!