The time has come. After imposing their unholy existence with the release of their 2021 debut demo/EP Malefic Obliteration, Portland, OR black/death metal/grindcore exterminators DISIMPERIUM prepare to launch a full-scale assault on the underground with the abominable birth of their debut album "Grand Insurgence Upon Despotic Altars", which we're excited to stream in full exclusively for you today and which is set to be released tomorrow July 21 2023 on LP, CD, tape and digital formats via Sentient Ruin.
Anything from the title to the artwork should easily give away what to expect from this release: bestial annihilation, exclusively. But it would be far too easy and simple to just leave it at that. Truth be told, "Grand Insurgence Upon Despotic Altars", is all of that, and then some. First of all, let's talk about the "grindcore" aspect here. The word is tossed around a lot and to be fair the genre isn't precisely that far up the "reinventing the wheel list" these days, having somewhat stagnated and had a hard time bringing something new to the table in recent times (aside from some few examples like Internal Rot, Caustic Wound, Vomi Noir, or Filth Chasm), so for one thing, Disimperium have accomplished wonders by taking Grindcore and replacing it at the epicenter of everything, re-envisioning it as a weapon of darkness and reigniting it as a serious means to a musical end. In fact "Grand Insurgence Upon Despotic Altars" just sprawls with that mindless, uncontrolled, and reckless chain reaction feel of carpet bombing antihuman blasting that for decades has made grindcore one of the most berserk and extreme styles out there.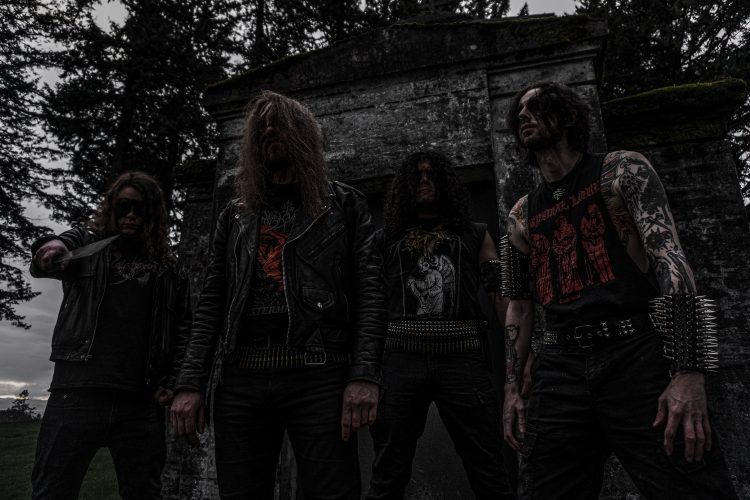 Then, of course, you have the malevolent ways of black metal enshrouding everything in a malefic and diseased aura, which has little to do with grindcore but which springboards off of it to initiate a "phase two" of "Grand Insurgence Upon Despotic Altars"'s harrowing controlled demolition of the listener: first, the speed, insanity, and violence, then the antihuman, dark and misanthropic atmospheres, moving Disimperium dangerously close to bands like Knelt Rote or Heresiarch. And then comes the third piece to the crucible is missing. Yes, how could it not be DEATH, FUCKING METAL? Bludgeoning cavernous riffs by the tonnage, downtuned to a low-end bottom caving stampede, adding themselves to the aforementioned speed and hatefulness to complete the daunting picture and bring you something abominable begotten of an infernal sonic critical mass escaped to any reason or control. If human annihilation hasn't quite precisely started here, to say the least, "Grand Insurgence Upon Despotic Altars" is one of its turning points in the year. Simply put, there is no escape from this record.
Get Grand Insurgence Upon Despotic Altars tomorrow, July 21, 2023 on LP, CD, tape, and digital formats via Sentient Ruin, HERE or HERE.