Vancouver, BC. Where it all started. The cradle of bestial war metal descending the lineage started by Blasphemy seems to find no end and its generational triumph only gets bolder and more weaponized. Proof? Look no further, for Vancouver's war-mongering bestial death metal cult Ceremonial Bloodbath, will issue their long-awaited sophomore album Genesis of Malignant Entropy tomorrow, November 17, via Sentient Ruin, and today we have the first exclusive full listen of this monster for you, behold:
Don't make the mistake of supposing that this record will just bring you more of the same, however. Far From. Where most bands in this style triumph, Ceremonial Bloodbath dominates. And they do so via the sheer force of music, vision, and talent, not of gimmick or revivalism. Genesis of Malignant Entropy can be in fact summarized as hallucinatory, a descriptive term you wouldn't normally apply to the many legions bearing the undying torch of bestial war metal where other more familiar concepts like primitivism, violence, warfare, and satanism prevail. Ceremonial Bloodbath seems to have a different opinion and take on the subject matter, instigating fear and confusion in the listener not only by the sheer violence and raw tonnage of the carnage perpetrated but more so by bending their music to some kind of obscure and demented spell. Letting it get ravaged and consumed by some cryptic supernatural power that dominates it, disfiguring it and mutating it into an enigmatic, "mental" horror.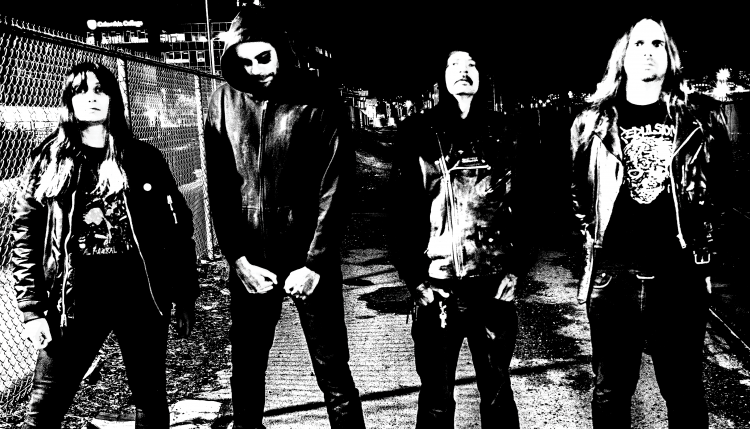 The closest comparison that can be drawn is to the equally schizoid ways of Antediluvian, but where death metal is the medium there, here it's bestial black/death metal, and the results are both mind-bending and horrific. Derailing leads absent of any logicality and bent out of shape, dissolving into a spastic continuum. A dual attack of overlapping vocals that yields some kind of trance-inducing echoing effect, and an utter stampede of berserk Neanderthalian drums and bludgeoning bass lines chaotically hammering away at the fabric of reality until it's dissolved and pummeled into a disfigured pulp. The term "Blasphemy on ACID" may seem simplistic and unfair to a band that overflows with a unique creativity bolstered by an unbeatable vision, but it's hard to put it another way and better definitions lack in witnessing the primeval carnage of war metal as its literally deformed into an hallucinatory, mangled putrescence of absolute, abstract annihilation.
Genesis of Malignant Entropy drops tomorrow November 17, on LP, CD, cassette, and digital via Sentient Ruin, find it HERE or HERE.