I have traversed the web far and wide in my search for information about the mysterious Estonian leather and iron accessory line Anu Tera, but my search uncovered few words. However, the lack of words was made up for by the vast landscape of achingly beautifully imagery. As I scrolled through one atmospheric product shot after another, the height of craftsmanship involved with each and every handmade piece really became apparent. It's not that difficult to imagine the jewelry and hair pins being forged by dwarves in caverns deep under the earth.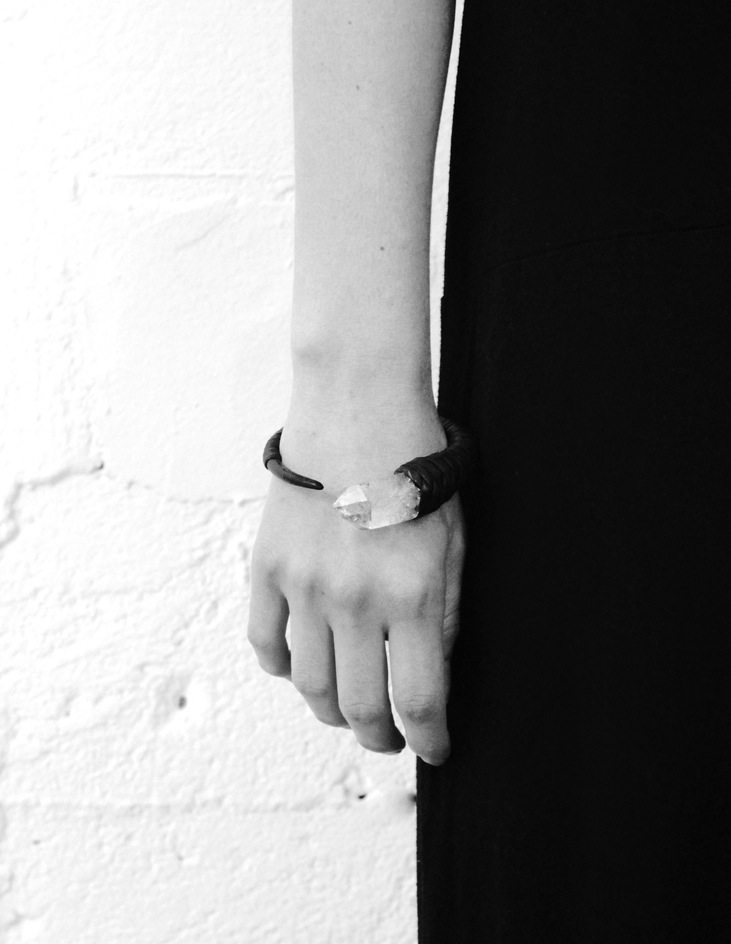 One of my favourite pieces is the Quartz Arm Cuff, which can be worn in a variety of ways. With a base of brass wrapped in deerskin, and completed with a quartz crystal, the cuff also comes with a vegetable tanned leather strap so it can double up as a necklace.

The Iron Cage Bracelet is another favourite. What looks like some sort of epic medieval torture instrument, is actually a vegetable tanned leather cuff, which fastens at the back with three straps and black brass clasps.
If I could have anything in my hair today, it would be The Quartz Hair Pin. Handmade by metal artist Tarvo Porroson, it's a piece of iron finery fit for a female warrior.
As well as jewelry and hair pieces, Anu Tera crafts tops out of Italian cowhide, and high-waisted shorts from lambskin. Everything available in her web shop is perfect for the modern day shield maiden who wants to add a certain fierce edge to her ensemble.