Foundational post-hardcore/emo band SHOTMAKER has curated a beautiful record of their time together called a moment in time: 1993​-​1996. It comes out October 27th via Solid Brass Records — pre-order it here and get the box set here. We're premiering their single "The Game" off of a moment in time: 1993​-​1996, and listening to this song takes me back to that time when I was hearing music that felt new and unexplored. The angular riffs and emotive vocals speak to the tumultuous, helpless feeling I woke up with almost every day of the 90s. I found my way into the post-hardcore/indie scene after they had parted ways as a band, but it feels like fate that as I unravel that decade's influence on me, Shotmaker is my soundtrack. Today we're honored to present an interview with Nicholas Pye and Tim McKeough of SHOTMAKER and find out what molded a band that made music history, so check that out below and listen to "The Game"…
And I say what good are you for me
But I know this game we play
All I see lies before me
But I take a hit anyway
Game we play
Lies
And the ship must sink
And we must sink this ship
Does it burn?

Does it burn?

Or do we burn?

"The Game"
Take us back to your childhood—what music did you hear around your home, booming out of the cars in your hood, or in your headphones?
Nicholas: Public Enemy, Dead Kennedys, Depeche Mode, The Cure, David Bowie, Jane's Addiction, Talking Heads, The Clash. I had older sisters so I would always pinch their records. So much good music, these are only a few examples.
Tim: I grew up in a house where there wasn't a lot of music and I spent a lot of time searching out new bands — I was definitely on the hunt for something I couldn't find. I don't think Nick and I have talked about this before, but my older brother was also into some classic rock and punk rock, which is how I found out about bands like Dead Kennedys, Love and Rockets and the Pixies. Thrasher Magazine also pointed me toward bands like Suicidal Tendencies.
A Moment in Time: 1993-1996 is kind of like a Shotmaker time capsule that's being opened by a new generation. What messages did you put in it that have stood the test of time?
Nicholas: For me, the time capsule, then and now, would hold the values of not waiting for someone to "do it" for you but to making "it" happen for yourself. If you want it (whatever it is) put in the work, make mistakes, learn and grow.
I also feel this time capsule would have the messages of believing in creativity and allowing the creative process to occur organically. When we were writing the music, we didn't know what it would sound like or where it would end, we didn't doubt the creative process and let it evolve naturally. So, in a way, this time capsule would hold action, trust and creativity.
Tim: I think an important message is that you don't have to just accept things as they are, or work according to other people's definitions of success. Do what you're inspired to do and you'll probably meet like-minded individuals and find a path forward.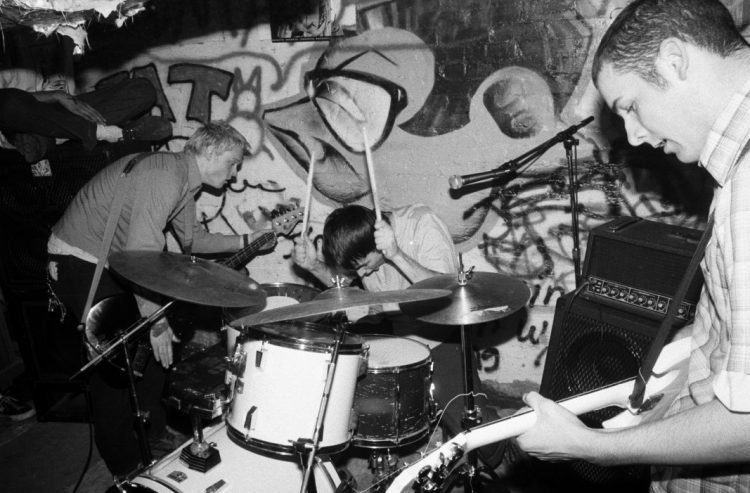 What two albums had the biggest impact on Shotmaker before y'all started the band?
Nicholas: There were many, but two that come to mind are NOMEANSNO – Wrong and Fugazi – Repeater
Tim: Very tough question. I'm going to say Dag Nasty's Wig Out at Denko's and Fugazi's first EP. Dinosaur Jr.'s Green Mind would be right up there too, but that would be cheating.
What Shotmaker live shows stand out in your mind and why?
Nicholas: This is a difficult question. If I were asked this on another day I may have a different answer for you. We met so many great people on tour. What was true of "that time" and of "that scene" was people, no matter if were playing in a small town or a large city, were kind, generous and working collaboratively to make something happen.
If I did have to pick a few stand out shows, these would be our homecoming shows after touring. There is nothing like playing your home town after 6 weeks of living in a van; I felt a great sense of accomplishment, relief and an overwhelming love for home.
Tim: We played so many great shows in so many unlikely venues — a church, a parking garage, an ice cream shop, a country bar, someone's house where a drunk neighbor showed up and fell down the stairs.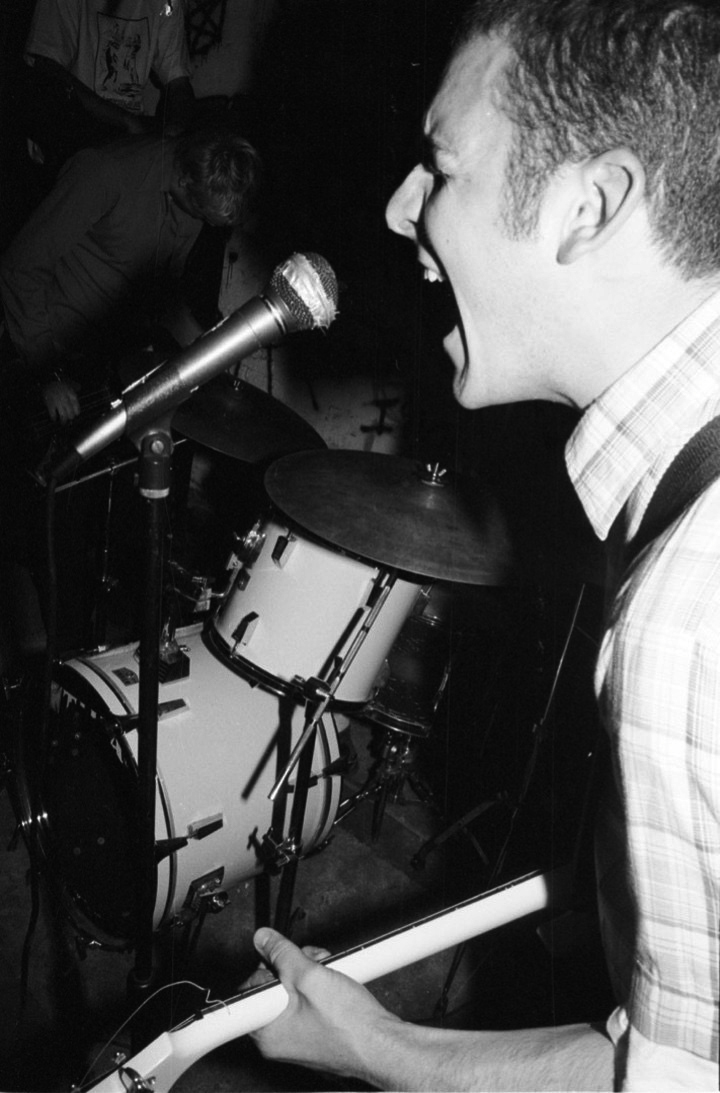 Outside of punk and hardcore, what genres influenced y'all in the 90's?
Nicholas: 70 Rock, 80's New Wave and Hip Hop. I remember on our second tour there was a lot of "The Best of Blondie" on the tape deck in the van.
Tim: Yeah, we listened to pretty diverse things and relatively little punk rock in the van because we were seeing so much of it live. Classic rock, for sure — Blondie, Bowie, The Police, Led Zeppelin — but also metal, hip hop, funk, jazz.
How did your creative relationship with Shawn Scallen start, and did y'all realize that y'all were creating and archiving history together?
Nicholas: I can't remember how we first met Shawn but he was booking shows for Mat and Tim's first band before Shotmaker existed. He was a good friend, supporter and promoter of ours since day one. Shawn always had his camera and was incredibly generous with his time, images and friendship. We used his driveway to park our van in Ottawa, we visited countless vegan restaurants together and saw many shows. It all happened organically, he was Shotmaker family.
Tim: Shawn and I were housemates for a few years! We were really just good friends having fun and trying to be creative in different ways. But I'd say Shawn did an excellent job documenting the 1990s scene.
Can you describe the creative arc between "The Crayon Club" and "Mouse Ear (Forget-Me-Not)"?
Nicholas: I'm not sure I've ever analyzed it this way before. Speaking loosely about the two records, I'd say regarding The Crayon Club, we had just really started to pull together our sonic direction. It was raw, explosive and there was a feeling of newness for me at that time for me about the sound. Between the CC and Mouse Ear, I'd say the arc or progression wasn't considered or spoken about but the sound became more refined, still raw and explosive but in my point of view a more controlled chaos with stronger cohesion of rhythms.
Tim: We tended to write songs pretty quickly as a trio, and they all came together naturally and with input from everyone. I think The Crayon Club sounds a little more raw, probably because we were still in the early days of playing together. We never discussed a change in direction, but I think Mouse Ear does sound a little more intricate and melodic, which was likely the result of continued experimentation.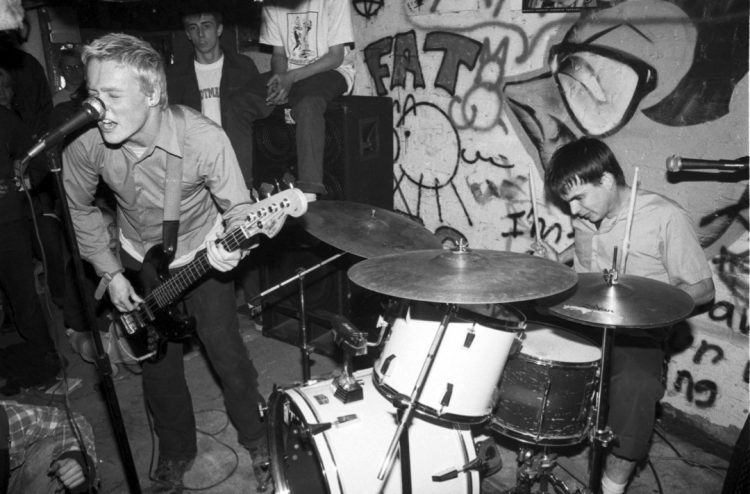 What were some of the lyrical inspirations for Shotmaker? What are some of the emotions at the heart of your songs?
Nicholas: We all wrote our own lyrics. For my 17 year old self, my writing was loose and at times abstracted and were a reaction to the times we lived in. I was very young when I was in Shotmaker. I used to write lyrics at my locker in high school. I was worried a lot about the future, inequitable systems, humanism and equality.