The Wraith "Shadow Flag" EP Streaming and Review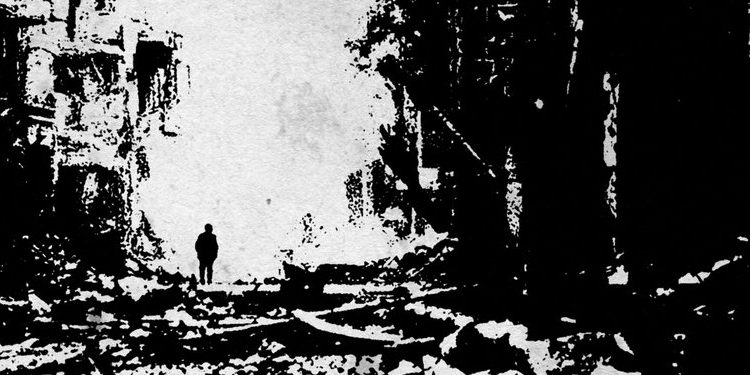 On Friday, May 26th, Los Angeles quartet The Wraith played a live show heralding their new 4-song 7″ EP, Shadow Flag, which is streaming below. The new EP also topped the "post-punk" sales chart at Bandcamp on June 1st, despite the fact that the band are a bit harsher than your average postpunk act. It's been fun to watch singer Davey Bales progress since he sang vocals for the now sadly defunct Lost Tribe, a run that was followed by a brief sojourn on keyboards with Shadow Age. Now The Wraith clambers slowly out of the crypts of Southern California to unleash a slightly more refined take on on a mixture of deathrock and dark punk that the So. Cal. region was once synonymous with – and while Shadow Flag has more leather-and-bristles feel than a lot of LA deathrock, the result is still a success. (Along the way, Davey has also written a chapbook of poetry, Dead Flowers, and is preparing another one for publication soon, too.)
But The Wraith isn't just Bales, of course. The group's TSOL Change Today?-era type of dark punk, which sounds as if it had been mixed in a blender with Initium-style Samhain and a dash of Government Issue's 1987 You LP , is also the product of three other musical forces: guitarist Colin Ambulance, formerly of Los Angeles deathrock vets Cinema Strange; bassist Kaz Alvis, formerly of The Monikers (Kaz also recorded and mixed the Shadow Flag EP); and drummer Scott Raynor, who was a founding member of Blink 182 (!) but left that band by the late 1990s – a fact that never fails to elicit a raised eyebrow or two from listeners hard-pressed to reconcile The Wraith's gritty, doomy goth-punk with Blink 182's tongue-in-cheek mall-punk bounciness, a style from which the Wraith is light years removed.

Bales' vocals are mostly performed in his trademark howling-in-the-wasteland style, but there are a few tracks, especially "Death Knell," where Davey slows down and actually sings. And "Death Knell" might actually be my favorite track on the EP – it has a vibe of some of the early tracks by late 80s DC punk bands like Ignition or One Last Wish. (And sadly, "Death Knell" is only available on the cassette and CD versions of Shadow Flag.) The EP's lead track, "Comatic Romance," appeared on their demo, and is a mid-tempo dark punk rocker in the best tradition of Bales' earlier band, Lost Tribe. Colin's guitar work is restrained but effective; it becomes even more intricate on the second track, "Barbed Wire Somber," which has an opening that reminds me a bit of Dead Cult's "Progression of Fear" but is effectively introspective and nuanced. The final track, "Dolor," is a fitting doomy closer, with stomping, Killing Joke-esque tribal drums supplied ably by Mr. Raynor. On this one, Colin's guitar and Bales' vocals combine forces to deliver an inky-black track resembling an unused cut from Samhain's "Unholy Passion" EP from 1985. In fact, "Dolor" reminds me of Samhain's "The Hungry End," specifically, and in a good way.
You can get the Shadow Flag EP in a variety of formats, and it's on 3 different labels. The 4-song cassette CD and cassette version are out on Poison Cult Records. (I recommend this version for the extra track "Death Knell.") In the US, the 3-song vinyl 7″ is out on Death Shadow Records. In Europe, the 3-song 7″ vinyl EP is being released by Symphony of Destruction.
Recommended.

The Wraith have a Bandcamp page here.
The Wraith also have a Facebook page here.
They also have an upcoming webpage here: http://thewww.wraith.us
Enjoy this post? Donate to CVLT Nation to help keep us going!