In 2018, New York City-based Death metal trio Imperial Triumphant unleashed their third full-length album Vile Luxury on an unsuspecting world. Even though previous albums had certainly hinted at both Avant Garde tendencies and a pronounced Jazz influence, "Vile Luxury" saw the band doubling down on these facets of their sound and integrating them thoroughly into their modus operandi. The result was a mammoth success, producing a vicious Metal album that contained so many unexpected moments ranging from Noir-ish Jazz moments to bouts of Free Improv, all seamlessly woven into their harrowing brand of Blackened Death Metal. Imperial Triumphant are now set to release the follow up to that album, the highly anticipated Alphaville, due out on July 31st on Century Media Records.
Had the trio been content to produce an album that was merely more of the same material contained on "Vile Luxury", they would've still been one of the most cutting edge groups in the underground. Yet "Alphaville" sees them leap forward in ways that are both stunning but also consistent with what has come before.

The first and perhaps most apparent change is in the production. While Vile Luxury sounded great, it relied more on a standard Death Metal production. Here, the band has opted for a more balanced mix, not unlike classic Rock and Jazz trios, in which each instrument is on equal footing with the others. The bass of Steve Blanco in particular is much more prominent in the mix. This new approach is well illustrated on the second track "Excelsior". Blanco starts the song with what sounds like the Metal equivalent of a walking bass line and is soon joined by drummer Kenny Grohowski playing a fierce double kick pattern and guitarist/vocalist Zachery Ezrin playing his own discordant guitar line. The impact of the production is apparent with the realization that every member is playing something different from yet complimentary to one another. On "Excelsior", Ezrin attacks his guitar in ways reminiscent of Luc Lemay on the classic Gorguts' album "Obscura", while Blanco outlines any number of rhythmic and harmonic ideas underneath. Grohoski, for his part, adds hyperintense beats underneath, yet he's not just a blasting machine. Rather he adds to every section a wealth of color and accent worthy of his deep Jazz background.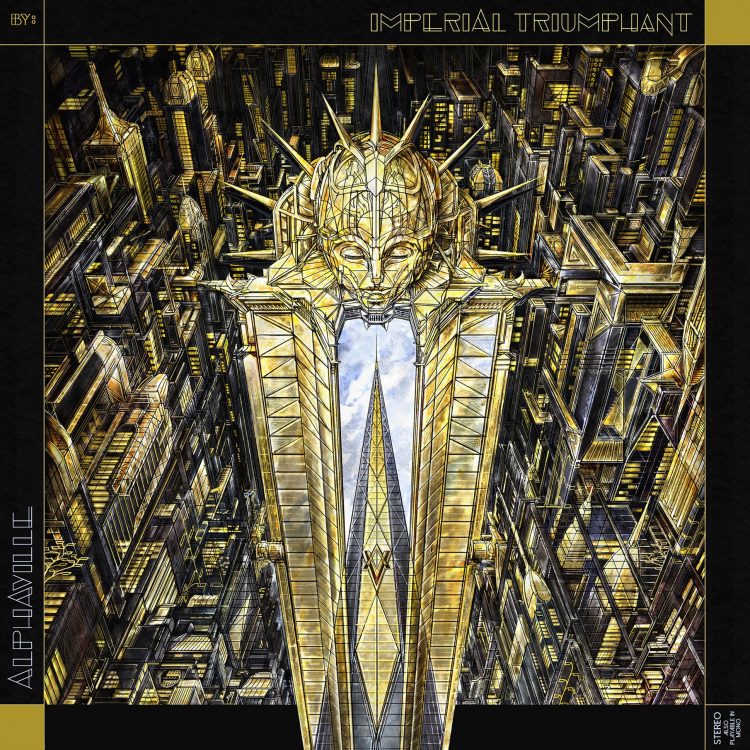 With the change in production values, the band's dynamics also are drawn into sharper focus. Many of the songs, such as opener "Rotted Futures" and "City Swine", contain clean-ish arpeggiated guitar passages that draw a sharp contrast to the band when they are in full on blast beat mode. "Atomic Age" has a long passage where the drums ride an almost martial beat while the guitar sends of bits of slinky and surreal chords while the vocals ritualistically intone something seemingly unknowable over the top. All of this builds to a crescendo, launching them back into a cacophonous section of something that is almost noise if it weren't so well organized. And then this breaks down to a moment of strange 'world music'.

As this passage would indicate, the layering of different instruments and guest appearances is still a major component of Imperial Triumphant's sound, this despite this record simultaneously bringing the core trio into sharper focus. "City Swine" features Meshuggah's Tomas Haake joining Blanco and Grohoski on taiko drums at one point in the song. There are various samples thoughout, not only vocal snippets but also the found sounds of a train station on "Excelsior". There are guest vocals from Phlegeton of Wormed and guitar work from co-producer Colin Marston. "Transmission to Mercury" begins with a bit of sophisticated late-night Jazz work, a piano and trombone duo painting a noir-ish picture in subdued tones. When it arrives, the Black Metal doesn't displace the Jazz, but rather joins it in the same chord progression. The trombone fits smoothly into the cacophony and the mood is amplified rather than replaced.

This same song contains one of Alphaville's most intriguing tools as well, a vocal choir that slides in beneath the blast beat, something seemingly kidnapped from a spiritual Jazz record and completely recontextualized. In "Transmission to Mercury", the choir gives way to the possessed vocals of Yoshiko Ohara (ex-Bloody Panda). But this choir appears throughout the album, providing both an important counterpoint in terms of establishing a tonal center within the chaos, but creating a unique atmosphere as well.

Perhaps the most unexpected moment comes in the form of a barbershop quartet that comes at the beginning of "Atomic Age". At first glance, the lyrics evoke the sort of saccharine love song of ages past, but there appears to be a double meaning at work. "I will love you until the end…" and the vocals give way to noise and one can almost imagine a religious, apocalyptic devotion, absorption and annihilation. This is perhaps a guide to listening to "Alphaville" as well, an act of complete immersion. These is so much going on here, even during the parts that are performed only by the core trio that one must devote their complete attention and even that isn't enough to reveal the record's essence in just a few listens. Many may retreat to the safety of more conventional Metal albums, but for those willing to dig deep into Alphaville this might prove to be one of the most important records in years.