I write this from a place of love and honor for USNEA because it has been so amazing to see them grow into the band that they have become. I'm so thrilled to be streaming their new album Bathed in Light out on May 26th via Translation Loss Records in full below. Also, I want to share with y'all this awesome interview that USNEA took part in with us!
Take us back to your childhood—what music did you hear around your home, booming out of the cars in your hood, or your headphones?
JC: My mom played a lot of 80s soft rock and contemporary country music ( I grew up in the 90s in Arizona). In my neighborhood though it was all about gangsta rap and Norteño music as I was the only white kid on the block. In my early teens, I took the Nirvana/Smashing Pumpkins pipeline to punk rock bands like Dead Kennedys, The Wipers, Crass, and then eventually metal as my tastes got more extreme and complicated. Now I like all types of music selectively… old outlaw country, hip-hop, cold wave, post-punk, avante-jazz, death metal, classical, synth-pop, etc…

ZR: Music was a big part of my childhood. We always had something playing on the tape deck in the living room – Paul Simon, Jimi Hendrix, Rush, Bob Marley, Traffic, Joni Mitchell … My brother who is 7 years older really got me into more modern hard rock and metal like Metallica, Guns N Roses, Iron Maiden, Skid Row, Tesla, Black Sabbath, etc. Things kind of all changed when I became a teenager — alternative and grunge became mainstream and I moved to a bigger town and met so many amazing people who turned me on to underground punk and metal.
What albums have had a major impact on y'all's creative spirit? Each of you pick one.
JC: For me in this band, if I can pick only one, I would pick Atra Mors by Evoken.

ZR: () by Sigur Ros. I love the minimalism of it. The made-up language they used isn't so dissimilar in a way to metal vocals in that you can't understand what it's saying but you get the feeling of it. It was my go-to album to put on the headphones to calm me down before bed on tour for many years.
If you could put three of your songs from your discography in a time capsule to be opened in 2062, what songs would you put in there, and why?
JC: Lathe of Heaven, The Compleated Sage, Detritus. I think these songs are our most dynamic and interesting and cover most of the sonic bases we have built over the years.
ZR: Chaoskampf, Detritus and Lathe of Heaven. My favorite songs from our first 3 albums. I haven't decided what my favorite song is on the new album.
Give us the science behind the title and artwork of your new album, "Bathed In Light"?
JC: I did the artwork thinking of a submerged world and how all of our monuments, art, and accomplishments don't really matter if we destroy ourselves and much of the lifeforms around us. The song 'Bathed in Light' is about the lack of a shared cohesive narrative of reality in this current internet and social media-dominated 24/7 news cycle age. The title track also gave me the idea to have light streaming through the murk of the water illuminating the ruins beneath the sea.
Even as we have probed the secrets of space, split the atom, and mapped the human genome—we are destroying the habitability of our planet all in the name of accumulation, greed, and self-aggrandizement. Will we turn it all around before it is too late? I am personally not sold on the hopeful myth of so-called progress, especially as long as capitalism reigns.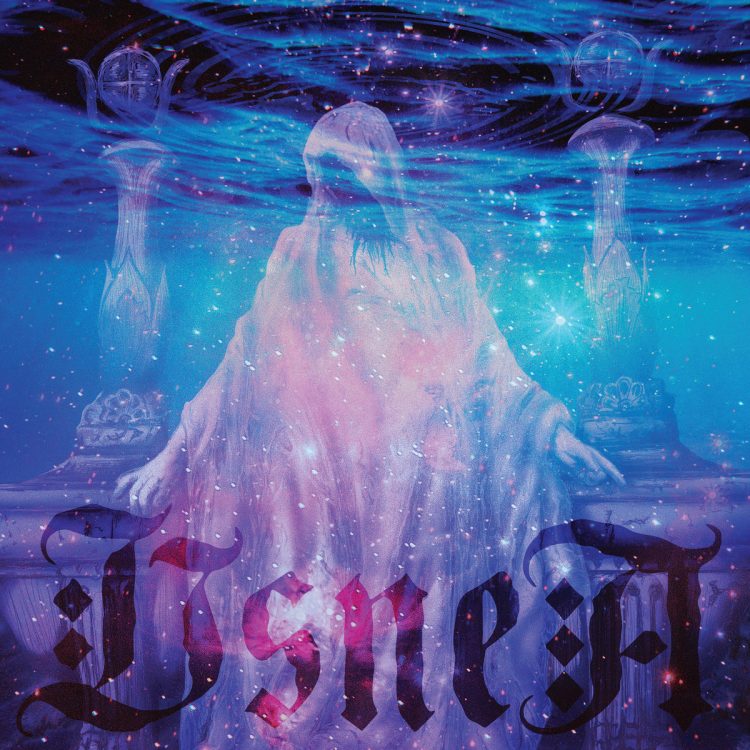 Describe three of your songs in terms of your favorite foods, and tell us how these songs will feed our souls and minds?
JC: Spicy vegan pho or ramen on a rainy grey day in the Pacific Northwest, the trees drenched and swaying, and "Uncanny Valley" playing in your ears to lull you into oblivion.
ZR: If only our songs were as satisfying as a delicious Italian pizza…
Talk to us about the bond of friendship that runs through USNEA, and how that translates into the way y'all create together.
ZR: I think a big part of it is our love and commitment to underground music and our involvement in it before we met in Portland. We quickly became really good friends and genuinely enjoyed and were excited about what we were doing. Probably the biggest part of our success as a band and as friends has been our patience with each other. A lot has happened in our personal lives in the 11+ years we've been in this band and with the exception of a few months of not practicing due to Covid we have seen each other at least once a week and most years have piled into a van and toured somewhere. That's pretty damn special.

When y'all think about how American imperialism/colonialism impacted POC around the world, do y'all channel this rage into your music?
JC: We are absolutely an anti-fascist band and Joel and I are more politically active than the others. Since we write the lyrics and largely guide the concepts of the band, we definitely channel anger and resistance to white supremacy, colonialism, and imperialism in our music and art. Joel would be able to speak more to this being that he is not white and has experienced overt and covert racism both on tour with us and outside of the band context. I think it is crucial to learn as much as we can and sit with the discomfort of our indoctrination as we de-program white supremacist colonizer attitudes as well as tackling the patriarchal, misogynist, homophobic, transphobic, or ableist ones within ourselves. If we can learn from other people whose lives, access, and privilege look very different than our own—we will be able to empathize and meet them in their struggles with solidarity and compassion.
ZR: I got into punk, activism, and politics at the same time as a teenager and they've always been intertwined … for me, music is an act of struggle — resistance, rebellion, rage, anguish. But … it's also beautiful, powerful, cathartic, and hopeful at the same time. That said, it's hard to not feel all the pain and fucked up shit going on all around us, so yeah I think we can't help but channel that into our music.
Describe USNEA's album 'Bathed In Light' as a weapon of mass change or a superpower—what impact do you want to see it have on culture or our society?
JC: I would love for the album to have any kind of positive impact whether that be personally for a listener just helping them to not feel alone in their lamentation, anxiety, and frustrations… or more broadly across our society. That said, I am not sure how potent underground metal music is toward social or cultural change. We all come from punk rock and for most of us, anarcho-punk bands like Crass and The Mob had a massive influence on our politics and lifestyle but even within the overtly political sphere of anarcho-punk, I don't think we have seen a substantial movement emerge beyond lifestyle and attendant political attitudes.
ZR: To me, music is really emotional — I hope people feel that in our music. A while back someone wrote to us saying that they had been through a very difficult time in their life and that our music was one of the things that got them through it. I mean, that's pretty massive, I was really floored by that.
What two historic events or political movements have made an impact on your band?
JC: Aside from obvious events like the pandemic and 9/11 that completely reshaped life in this era… I would say movements that have impacted me are those of the Indigenous Standing Rock Water Protectors and the EZLN (Zapatistas) in Chiapas, Mexico. BOTH of these movements are led by the most disenfranchised people without leaning on any of the systemic reformist supports we are told to utilize and both of these movements have had a massive global influence in spite of their humble origins.
ZR: The Black lives matter protests here in Portland were really, really powerful … and it was wild and disgusting that our otherwise not often mentioned small big city was suddenly the pariah of the country among some and a target of right-wing extremism. Anyway, I'm really proud of everyone who stuck it out and kept the protests going as long as they did, it was pretty fucking amazing.
Talk to us about these two songs "To The Deathless" & "Premeditatio Malorum " — what was the creative process like and what emotions provoked you to create these songs?
JC: "To the Deathless" was one we wrote and rewrote over and over again since before the pandemic. I had several of these riffs kicking around even at the time we recorded "Portals Into Futility" but it just really took a long time for us to work it out collaboratively as a band. The end result is weird and dynamic and that is how I think Usnea is when we are at our best.
"Premeditatio Malorum" is one where I wrote a lot of the riffs on my own and then the band came together to add their own riffs and ideas to it. It is not terribly different from the version I first showed them, but of course, everyone's parts make it much better than it was at that stage. Our whole writing process for this record was much more spacious and slow because of Johnny's health struggles and then the pandemic. I definitely felt listless and impatient some of those five years we spent working on this, but the patience required to finish this record was a valuable lesson for me and I believe that it helped us achieve a more mature body of work for this album. Ironically, the songs are shorter and less slow than our previous work even though they took longer to write.
Can you break down your creative arc from your debut LP to "Bathed In Light"?
JC: Oy vay. We started out as a scrappy doom band with black metal, funeral doom, and death metal influences. Over the course of our four records, we have matured a lot and expanded our influences and tonal explorations to a point that I think keeps us all engaged and excited about the music. It is my opinion that we have gotten better and more interesting with each successive record, and I hope that continues to be the case. We all still love each other and what we are making and the world is still a really depressing and dark place so I don't think we will run out of material any time soon.
Thank you for the interview and for always being the amazing underground DIY music and culture supporters that you are! We love y'all at Cvlt Nation and you've been there right beside us all these years!