Peace Test hates you. It's nothing personal. Peace Test hates everyone and everything.
A grunting resentment characterizes each of the six songs on Peace Test's new 7", Uniform Repression. Vocalist Nolan Cambra is fed up, and his pissed-off attitude is immediate, engaging, and totally relatable.
Peace Test deserves to be a household name in hardcore, and they're on their way. The Providence quintet started as a duo, and fans with keen ears who listen to their first two releases, Demo and 3 Song Promo, may draw comparisons to some of the bands who give New England hardcore its reputation as a bastion of angry, innovative punk music. Those first two releases sound like Boston Strangler, Siege, Mind Eraser, and Dropdead, but there are bolder connections to The Rival Mob, Straight Razor, Wolf Whistle, Wound Man, Brother (vocalist Heather Vaughan shares singing duties on "Tears of a Clown"), and Breathing Fire. Those ties are inarguable because, at that time, the band comprised Cambra and Jeff Novak (who joined for the second release and who is also in the great post-punk/shoegaze act Darklands), as well as the inimitable Trevor Vaughan, patron saint of New Bedford hardcore and the brains behind MA Glory. The tracks from those releases are unbridled and frothing, typifying the approach to hardcore that has made Vaughan such a respected name in the genre.
In 2019, Peace Test's track "Fixed" was at home on Atomic Action's celebrated compilation Every Winter is Cold, alongside vital acts such as Free, Restraining Order, Pummel, and the aforementioned Dropdead, Wound Man, and Brother. This was the first release for Peace Test where they were a fuller band, now a four-piece and Vaughan-less (though he still recorded and mixed the track). Despite the shift in personnel, "Fixed" became a quick favorite among the many who listened to the comp, and excitement about a more complete release began to build.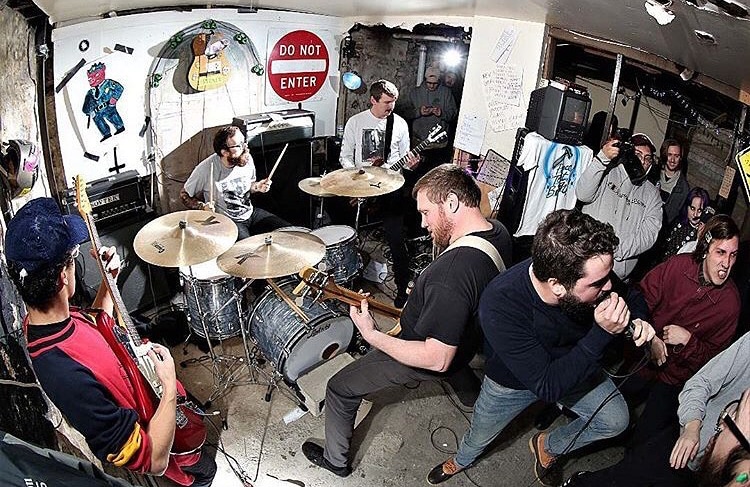 Uniform Repression is worth the fervor.
It is common wisdom in theater that, in order to effectively portray a drunk, you have to act like you're not drunk. On Uniform Repression, Peace Test appears to take a similar tack. This is a more suppressed release than the first two, and while it is less explicitly violent, it is no less seething. This is the boiling anger of the everyman. This is the anger of Harvey Pekar. This is the anger of Falling Down. This is your anger, and Cambra's voice is its channel.
This pressure-cooker of a 7", compared to Peace Test's previous output, sounds more influenced by some fantastic chemistry of early Ceremony, Think I Care, Black Flag, Infest, Negative Approach, Pissed Jeans, and Weekend Nachos. The last three are due primarily to Cambra's growling shout, which combines the disgruntlement of John Brannon, the angst of Matt Korvette, and the hatred of John Hoffman.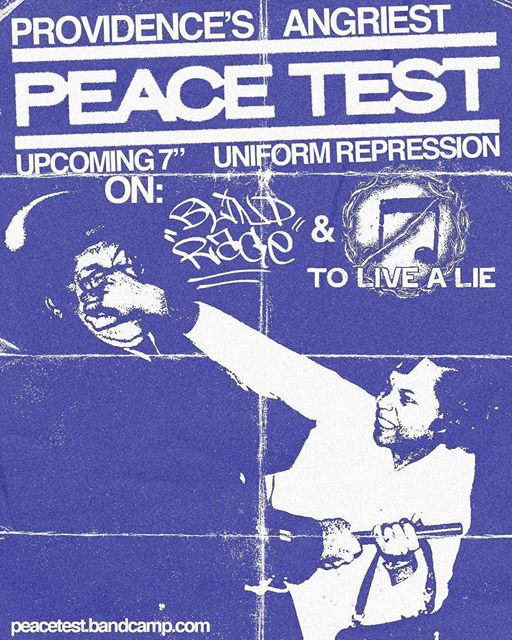 Uniform Repression is six teeth-grinding tracks in under six wall-punching minutes. "Uniform," the album's first track and second single, featuring tremolo squeals straight out of an 80s hair metal song, is a moderately paced, brow-furrowing DC-style hardcore anthem, intent on reminding you that "The world doesn't care about you!"
"Contractor" is a threatening dervish of a grindviolence song, and it feels as if you've personally crossed a line with the whole band, as if you're being backed into the corner of an unfinished garage by a team of five grouchy lunatics wielding nail guns.
In "Sterilized," the lyrics are personal but universal. "It's hard to care about your problems when I can't fucking solve my own" the closing lines of the song, landing right before a powerful breakdown, are delivered at about the midpoint of this six-track 7″, and they are a fitting centerpiece. The scowling frustration that characterizes this whole album is a delicate balancing act between internal angst and external perturbation. Wise people know not to interrupt the guy yelling at himself on the sidewalk because you might be the new recipient of his generous and undifferentiated ire.
"Vegetative State," in it's literal interpretation, is a violent, rallying animal rights protest, as persuasive and as filled with pathos as one of Bob Otis's powerful stage diatribes. Taken figuratively, though, it would be hard for anyone to avoid identifying with "a helpless fucking animal, born with no control," especially as they drift through the mundanities of everyday life.
The lyrics to "Authority" are destined to be tagged on skate parks and DIY punk venues across the country when they inevitably become a rallying cry for youths sick of being told what to do and what not to do by people in uniforms, particularly those with badges.
Bookending the 7″ with more tremolo squeals, the hostility of "Repression" shows the disdainful climax of Uniform Repression. It has Cambra spitting mad at self and other, and is the perfect fast-paced, crossover jam to end this red-hot coal of an album.
The songwriting is tight, concise, and catchy, and the lyrics are emotional and meaningful. Furthermore, the production is uniquely suited to deliver these tracks in the perfect audio package. The recording and mixing was done by former Peace Test member and overall musical savant Trevor Vaughan, and the mastering was done by none other than Will Killingsworth of Orchid, Ampere, Bucket Full of Teeth, Failures, and Vaccine, among others. The album was mastered at Killingsworth's Dead Air Studios.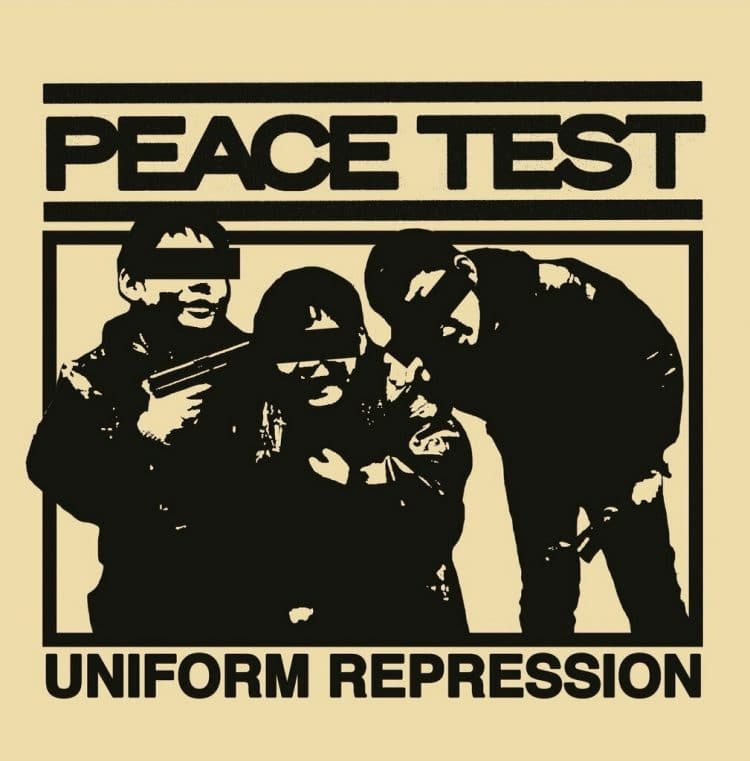 Watch for the release of Uniform Repression this summer through To Live A Lie Records and Blind Rage Records. In the meantime, listen to Peace Test's discography, released by Blind Rage.
Art and Layout by Cedrick Gustave of The Blackfists.