The apocalyptic HIP HOP of ENDS on some punk shit!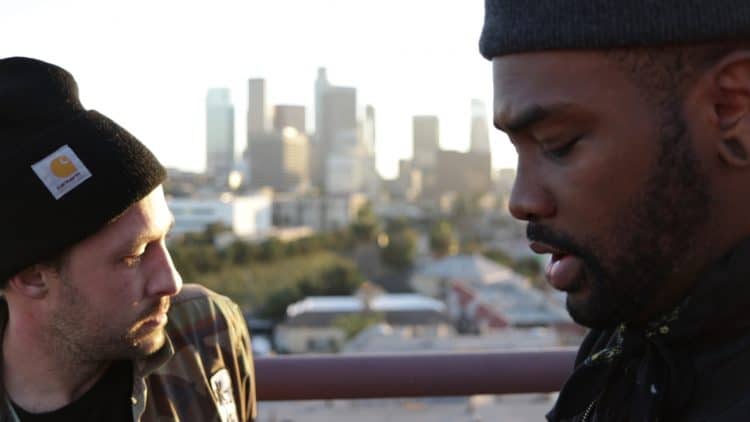 Growing up in LA, you get exposed to all sorts of music. Even if you're mostly into punk or metal, you're still hearing techno and rap around every corner. The multiplicity of styles consumes you unless you cordon yourself off in navel-gazing. This phenomenon is how we got electro, G-funk, cholo rap and many more genres that fused formerly separate elements. That tradition of symbiosis continues today with black metallers like The Black Twighlight Circle blending indigenous central American music into the distorted speed race of predominantly Norwegian origin. But in 2019, we have newer traditions combining once again and newer subsequent products. This is how LA duo ENDS has come to overwhelm us with such a novel amalgam.
Their new self-titled EP out now on Dune Altar records is one of the most 2019 releases that has hit the stage so far. While employing the psycho gangster motifs of Denzel Curry and Ho99o9, many of the beats break down the single-worthy barriers with stark changes and complex layered melodies a la Flying Lotus and Jpegmafia. There's plenty of contemporary mumble rap drug rumbling as the listener is strung along some drooling benzo lurch but the remedy to keep it from getting too foggy is both the use of enveloping, cavernous percussive breaks and the occasional groovable and coherent R&B laden chorus. Visible always as a source of influence is the hardcore punk they grew up with snaking its way into tracks with an aggressive and confrontational attitude that illustrates the current phase of LA and their societal surroundings. Stream the EP below and keep your ear to the ground for upcoming tours and releases.
Enjoy this post? Donate to CVLT Nation to help keep us going!