Sunn O))) are towering figures of dread. Their live shows are the stuff of frightening legend, a ritual to pure volume, pushing the concept of metal – and the human body's capacity for aural punishment – to its absolute limit. White1 is a curious record in a curious discography, marking a shift from their previous bass-y rumblings on Flight of the Behemoth to a diverse, collaborative approach.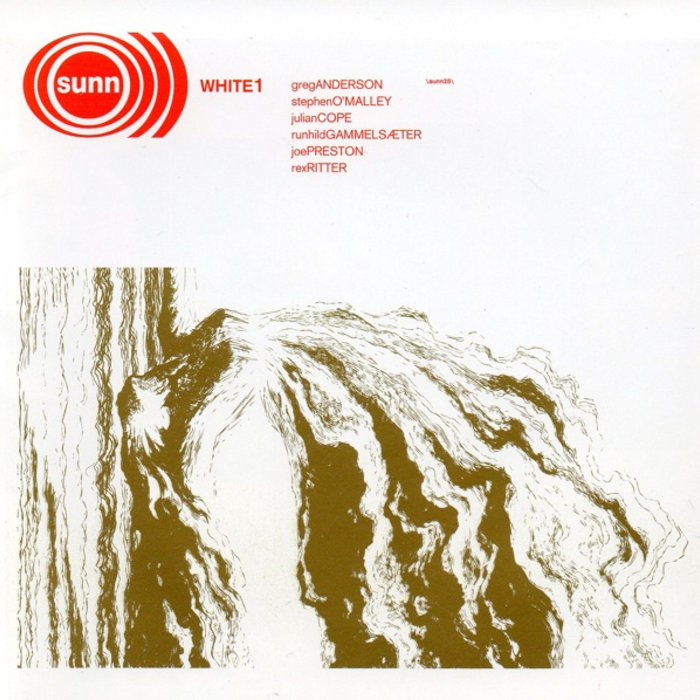 White1 celebrates its 15 year anniversary in 2018. It's wild, bemusing and unpredictable. The three-part record opens with My Wall; here volume swells in familiar Sunn O))) fashion before acid-archaeologist Julian Cope delivers bewildering verse, merging ancient mythology with wild tales of Anderson's and O'Malley's bass tones. This isn't the most leftfield collaboration they've attempted, but it's dramatic and evocative, difficult and frightening in ways that only Sunn O))) can manage.
Gates of Ballard opens with chanting in Norwegian, courtesy of Runhild Gammelsæter (Thorr's Hammer) and breaks into a more straightforward tortured stoner riff with off-kilter percussion. This pattern breaks down a little further along, like someone feeling their way through a song. The clumsy bass drum pattern sounds like death metal stripped and stretched out and mangled, like an autopsy of a medieval torture victim. It's reminiscent of Houdini-era Melvins taking a drum solo and stretching it out to infinity; a melted, warped version of a metal song. A Shaving Of The Horn That Speared you is bleaker, scrappier and less focused, harder to get a handle on. No less effective by virtue of being less outwardly experimental, the track is much more representative of their earlier style.
White1 takes the sound that Sunn O))) would become famous for – the bitter grind of their endless drone, amplified and distorted – and mixes it with distinctive, active sections, balancing hypnosis with wild experimentation. The record helped cement their reputation as extreme noisemakers tinkering on the extreme fringes and laid some serious foundations for future out-there collaborations; not only experiments with Ulver but the unbound hubris of Soused, their project with Scott Walker.
It's interesting to think of My Wall as a blueprint for future joint ventures. I'd always heard Soused as a dark mirror of Metallica and Lou Reed's Lulu (released three years earlier, in 2011). Lulu is just as brash, but the final product is stodgy and incoherent; both My Wall and Soused show both performers working around each other, leaning into their strengths, the collaborators adding a sheen and edge to Sunn O))'s formless matter. It's also interesting to see them leaning into the riff-worship aesthetic that crops up in stoner doom culture. Cope's reference to the members of the bands in the same breath as Odin, Mercury and Thor plays on Sunn O)))'s alt-druid vibe, and this motif can be seen in the "Praise Iommi" shirts as well as Sleep's references to Sabbath members on The Sciences.
It might have been a risk for them to present something like this, but White1 is an underrated record in their cannon and a testament to their phenomenal capacity for mass, volume and experimentation, as well as solidifying their open-door policy to anyone who could help them facilitate their uniquely strange vision. By re-shaping their drone around brave new focuses, Sunn O))) presented their terrifyingly bleak version of heavy music that would dominate their niche for years to come.