See the strange, sexual and surreal art of PAUL DELVAUX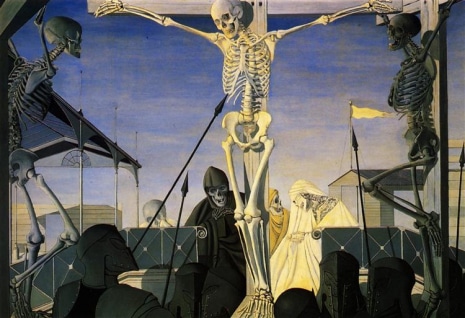 PAUL DELVAUX was a Belgian artist whose work spanned the 20s through the 80s, and his muses were nudes and skeletons. Although his paintings hearken Renaissance masterpieces, he was heavily criticized for his use of nudity and for the morbidity of his work. After his mother's death in 1933, he even destroyed over 100 of his early paintings out of grief and as a response to his critics. What remains of the late artist's legacy now sells at over $1 million at auction. His work is strange, sexual and surreal; by placing the naked, usually female, body next to the stripped down human form, he masterfully combines death and sex in unsettling circumstances. Looking at his art now, I don't see how it could offend anyone – although I guess Jesus crucified in a room full of animated skeletons might have shocked my forebears. Check out a wonderful gallery of his works below, and to read more about Delvaux, check out this post on Dangerous Minds.
Images via Dangerous Minds
Enjoy this post? Donate to CVLT Nation to help keep us going!