Sonic Cathedrals Vol. CXL Gravecode Nebula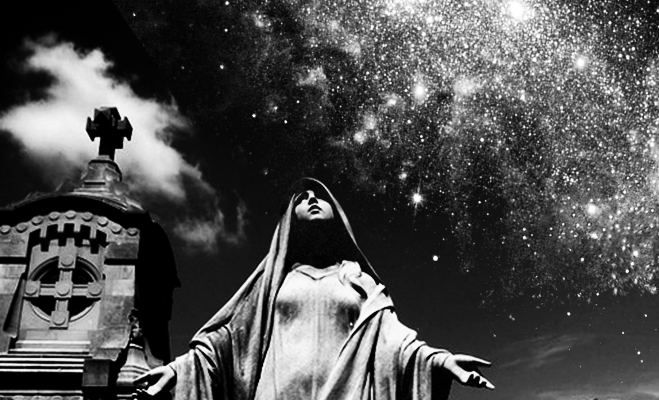 Get ready for a truly epic mixtape from Gravecode Nebula, Sonic Cathedrals Vol. CXL! Read what they have to say, stream and download below!
Doom trippers, we've been summoned to do a mix tape…I'll start by saying that one of the things about Gravecode Nebula is that we are inspired by and are avid, rabid, maniacal fans of music ranging from the 60's up until the present. There has been a variety of sounds that inspire us to do what we do. Obviously any musician will tell you this but we hope this is more of an eclectic mix than what you might expect from us….It contains everything from psychedelic, prog, classic rock, to ambient and noise music, to your typical extreme metal fare which is what we all like. Everyone in the group chose a few tracks to put onto this mixtape, also many apologies for the lack of brevity, but we have 6 members in our group (and we like long songs….) One thing I'll say is that not necessarily all of these groups are direct influences either, as some are just inspiring by them doing exactly what they do! Yet, we deem this all to be highly unique, original and just plain good tunes….so we just ask that make yourself comfortable as one does when they listen to music and expand your mind into darkness, into the chaotic yet ethereal tranquil sensory awareness and maybe forget the prattle of the world for a spell…as Friedrich Nietzsche said "without music, life would be a mistake."
Cheers, diehard….
– Dyingnysus, on behalf of Gravecode Nebula
Stream/Download Sonic Cathedrals Vol. CXL Gravecode Nebula
[audio:http://www.cvltnation.com/wp-content/audio/Sonic Cathedrals Vol CXL Gravecode Nebula.mp3|titles=Sonic Cathedrals Vol CXL Gravecode Nebula]
[wpdm_file id=1]
Sonic Cathedrals Vol. CXL Gravecode Nebula Track List
1. The Pink Floyd – A Saucerful Of Secrets (Live at Pompeii)
2. Esoteric – Psychotropic Transgression
3. The Blue Angel Lounge – Ashes Around Your Skull
4. Pest – Nebel
5. U.S. Christmas – Silent Tongue
6. NON – Serpent of the Heavens
7. Bethlehem – Luftstehs'lbläh
8. Virus – Strange Calm
9. Genesis – White Mountain
10. Summoning – Beyond Bloodred Horizons
11. Dolorian – Blue Unknown
12. Ordo Rosarius Equilibrio – I Am the Sun – Anus Dei
13. Hollenthon – Enrapture – Hinc Illae Lacrimae
14. The Black Angels – Vikings
15. Peccatum – The Sand Was Made of Mountains
16. Angst Skvadron – Negativitetens Kveletak
17. Raison D'etre – Memento Mori
18. Lifelover – Mental Central Dialog
19. Sigh – Desolation
20. Neil Young & Crazy Horse – Cowgirl in the Sand
Enjoy this post? Donate to CVLT Nation to help keep us going!