The status quo is what got us here in the first place.

ANATOMY
When I watch the desperate masses clawing for crumbs of hope that everything's going to "get back to normal," I'm struck by the ludicrousy of it all. It's ludicrous to yearn for ignorance. It's ridiculous to cry for apathy. It's insane to want to repeat cycles of oppression and trauma again and again.
And above all, it's seriously fucked in the head to not see how much effort has gone into manufacturing sky-high levels of fear and stress in our lives, to distract from the small sector of the population manufacturing sky-high levels of profit at our expense. But don't worry, they're pretty confident that Botox sales will be back up after the pandemic—so some things will return to normal, like our paralyzing fear of aging.
No passion so effectually robs the mind of all its powers of acting and reasoning as fear.

Edmund Burke (1729–1797)
The main vehicle for fear and distraction is the never-ending news cycle. Does anyone else think it's weird we went from one hour of news at 6 o'clock to 24 hours of news around the clock? Meanwhile, investigative journalism as a profession was gutted, and local and national news media were eaten up by a handful of massive corporations. Massive corporations that have their greedy fingers in every fucking pie they can reach—government policy, big pharma, arms trade, industry, banking, prisons, agriculture—and it's in their vested interests to make sure we keep all of them making money. AKA, the status quo, the return to "normal."
That's why I am so fucking stoked on Brooklyn-based producer and former Pawns bassist, Jenna Rose, and the art she makes for her solo electronic project ANATOMY. She's reenvisioned Soundgarden's video for "Black Hole Sun" for 2021 in a brilliant, cinematic, reality horror flick. It asks us, who do we trust? Who do we hand control of our reality over to? Who's let off the hook when we're collectively robbed of our powers of acting and reasoning? Her single "Black Hole Sun" is now available here, and today I'm very happy to be sharing the awesome video for it with you below.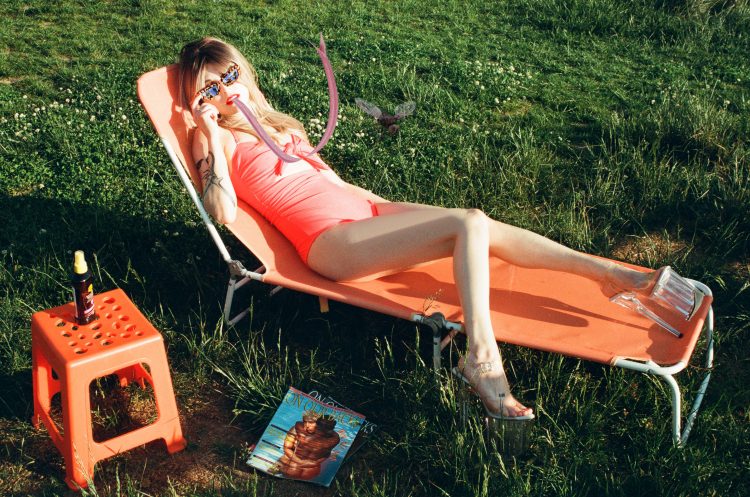 In the latest release by the genre-bending solo project of Brooklyn-based producer and former Pawns bassist, Jenna Rose delves into cinematic scoring in her reinterpretation of Soundgarden's Black Hole Sun. Accompanied by a re-creation of the iconic music video from the nineties, utilizing deepfake technology, the apocalyptic sentiment of the original video rings true now, perhaps more than ever for millennials and Gen-Z. A retrospective, or quite frankly, a post-traumatic stress trip, this piece shines light on the masses' collective subconscious quietly suppressing the events of 2020 in an attempt to restore "normalcy" in a post-Trump America as Covid mandates lift. Anatomy hopes we don't forget, because the status quo is what got us here in the first place.