All of Vancouver's fetish events moved online last year, which is ironic considering how a large part of the fetish community is about rubber gloves and latex masks – you'd think it would be the safest place to be in a pandemic with all that germaphobic coverage. And maybe I'm just an exhibitionist, but I can't justify sliding into my tight and squeakies if I don't have anywhere to go besides my living room. So instead of enjoying the gaping stares of regular folks while I head out to party with the freaks, I find lovely things to look at like this 2004 catalog from Amsterdam's DeMask fetish shop and clothing company. Founded in 1990 in the Red Light District, DeMask clearly took their aesthetics very seriously, because this catalog is a work of art. The photography is stunning and the clothing is to die for – literally some of these masks look like they would suffocate me.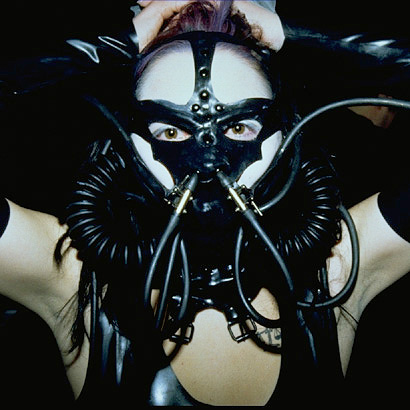 Today I wanted to share a gallery of images from this stunning catalog, as well as an excerpt from an interview with DeMask's founder, Steve English.
Interview via The Fetishistas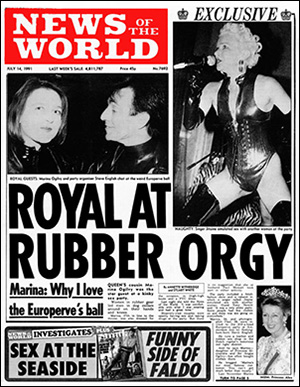 Something that undoubtedly helped put bums on seats was the News of the World's front-page exposé that followed close on the heels of the first Europerve. It was headlined Royal at Rubber Orgy.
Among that party's guests had been Marina Mowatt — daughter of Britain's Princess Alexandra and then about 28th in line to the throne — and her photographer husband Paul.
Soon after the party, we published Issue 11 of Skin Two, including a last-minute report on Europerve complete with Tim Woodward's picture of Steve chatting with Marina at the event.
That picture was lifted by the News of the World to provide the 'money shot' supporting its front-page story about royals caught indulging in pervy partying.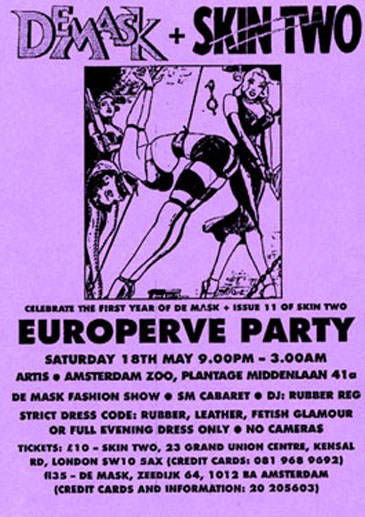 'I hadn't known who these people were. They came into the shop before the party and I chatted with them. I just knew them as Paul and Marina'
And quite a few people who considered Steve English to be pretty media-savvy thought he had set the whole thing up. So — had he?
"No, no, it was a total surprise," Steve insists. "It was a Sunday afternoon, I was still in bed here at the flat, and Joe [DeMask production manager] rings the doorbell, I let him in and he says 'I've just been down to Central Station, walking past the newsstand, and I saw this'.
"And he threw a copy of the News of the World on the bed, with its front page banner headline Royal At Rubber Orgy.
"I hadn't known who these people were. They just came into the shop on the Friday before the party and I got chatting with them. I just knew them as Paul and Marina.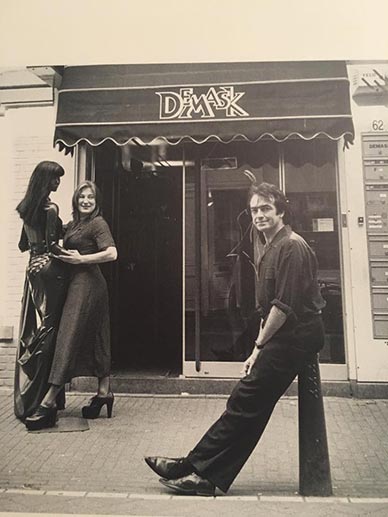 "They were nice people and they spent some money, but I didn't know who they were until the Sunday when the newspaper hit me over the head!
"But all publicity's good publicity isn't it? That was a real coup. It was a major boost both for the parties and the clothing company."
And, adds Steve, the subsequent success of the clothing operation largely rode on the back of the parties. And on the business put its way by one big German retailer — LGS.
LGS (Leder Gummi Studio) was then, and still is, one of the world's largest bricks-and-mortar fetish stores, located in Gelsenkirchen, not far from Essen where Fetish Evolution Weekends are held.
The relationship with the giant store began after copies of DeMask's first print catalogue, the Mask Collection, were sent out to all fetish retailers across Europe.